Big 12 News
West Virginia Rises to No. 12 in Latest D1Baseball Top 25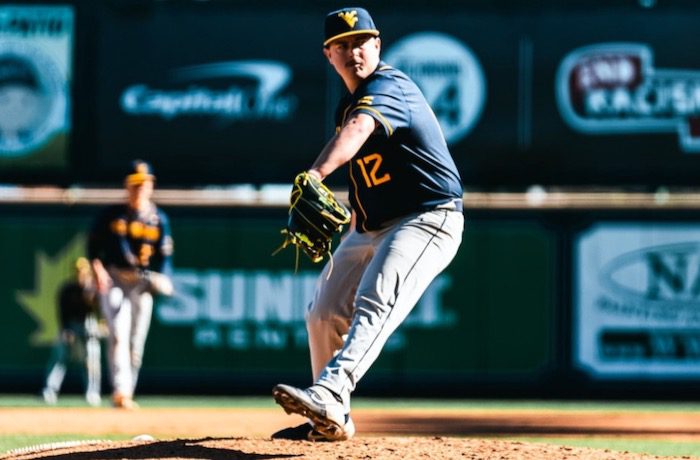 The dust has settled after a crazy Week 12 in college baseball, and the Big 12 conference had no shortage of chaos this past weekend.
Texas Tech, who was ranked 14th in last week's Top 25, lost a road series at Kansas State and subsequently dropped all the way out of the Top 25. The Red Raiders (30-19) are now 9-9 in Big 12 play and in fifth place in the conference race.
The only other Big 12 team in last week's Top 25 was West Virginia at No. 18, and the Mountaineers were this week's biggest riser, jumping six spots all the way up to No. 12. At 33-11 and 11-4 in Big 12 play, West Virginia holds a 1.5-game lead in the Big 12 race, with Oklahoma State and Kansas State just behind.
As the Big 12 Twitter page points out, WVU is rolling right now, having won each of their last eight games.
After a 5-4 win in Waco to get things started, the Mountaineers' offense exploded for 28 runs over the next two games to complete the sweep, leaving last-place Baylor to lick its wounds and regroup this week for some nonconference action.
There are still five teams well within reach of taking the Big 12 though, so West Virginia will need to keep things rolling if they want to be the last team standing at the end of the regular season.
The Big 12 race has been wild for the past several seasons, and its shaping up to be the same story this season. However, with West Virginia in the driver's seat, expect lots of winding country roads ahead.
Here's a look at the complete Top 25, courtesy of D1Baseball.
| RANK | SCHOOL | RECORD | PREVIOUS |
| --- | --- | --- | --- |
| 1 | LSU | 35-8 | 1 |
| 2 | Wake Forest | 37-6 | 2 |
| 3 | South Carolina | 35-8 | 3 |
| 4 | Florida | 35-10 | 4 |
| 5 | Vanderbilt | 32-11 | 5 |
| 6 | Arkansas | 33-11 | 7 |
| 7 | Stanford | 28-13 | 8 |
| 8 | Coastal Carolina | 28-14 | 6 |
| 9 | Connecticut | 32-11 | 10 |
| 10 | Duke | 31-13 | 20 |
| 11 | Miami | 28-16 | 16 |
| 12 | West Virginia | 33-11 | 18 |
| 13 | Campbell | 31-10 | 9 |
| 14 | East Carolina | 31-13 | 12 |
| 15 | Oregon State | 30-13 | 22 |
| 16 | Dallas Baptist | 34-10 | 19 |
| 17 | Oregon | 30-13 | 23 |
| 18 | Tennessee | 30-14 | 24 |
| 19 | Boston College | 29-14 | 11 |
| 20 | Arizona State | 29-15 | 17 |
| 21 | Virginia | 35-11 | 13 |
| 22 | UTSA | 33-11 | 25 |
| 23 | Maryland | 30-15 | NR |
| 24 | Cal State Fullerton | 26-13 | NR |
| 25 | Northeastern | 35-7 | NR |