Baylor Bears
HCS Softball Bracketology: Field of 64 for Week 13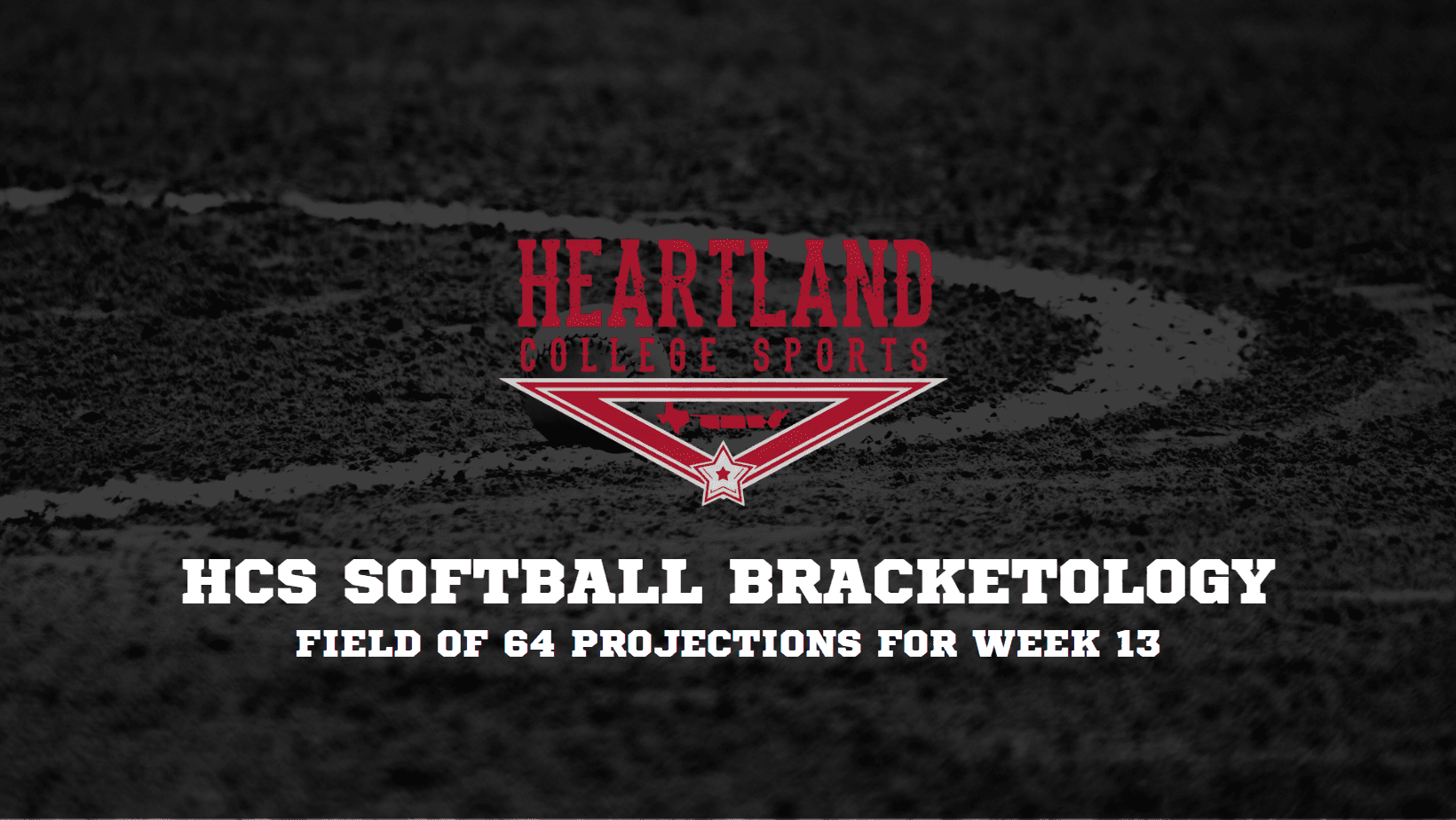 We've reached the final week of the regular season in what has been a crazy year of college softball. It's now officially May, which means that conference tournaments, and then the NCAA Tournament are just right around the corner.
We have taken the liberty of compiling the data and coming up with their projections for the entire Field of 64, as of Tuesday, May 2.
The field consists of 32 automatic qualifiers and 32 at-large bids. Of the 32 automatic qualifiers, 30 of them will earn bids by winning their conference tournament (the Big West and WCC regular season champions will earn the other two bids).
The Ratings Percentage Index (RPI) is used heavily in these projections, as it is when the selection committee creates the field during the Selection Show.
16 national seeds will be selected, with each team hosting a regional site for the first round of the tournament. At each campus site, a four-team, double-elimination tournament will be held, and the 16 winning teams advanced to the Super Regionals.
Super Regionals are hosted on eight campus sites, determined by Regionals winner's seeding. At each site, two teams will play in a best-of-three tournament, with the winners going to Oklahoma City.
AUTOMATIC BIDS
America East: Binghamton*
American: Wichita State*
ACC: Florida State*
Atlantic 10: Dayton*
Atlantic Sun: Central Arkansas*
Big 12: Oklahoma*
Big East: UConn*
Big Sky: Sacramento State*
Big South: Campbell*
Big Ten: Northwestern*
Big West: Cal St. Fullerton*
CAA: Delaware*
C-USA: Charlotte*
Horizon: Robert Morris*
Ivy: Princeton*
MAC: Miami (OH)*
MAAC: Canisius*
MEAC: Morgan State*
Missouri Valley: NIU*
Mountain West: SDSU*
NEC: Saint Francis*
OVC: SEMO*
PAC-12: UCLA*
Patriot League: Boston*
SEC: Tennessee*
SoCon: UNC Greensboro*
Southland: McNeese*
SWAC: Prairie View A&M*
Summit League: S Dak. State*
Sun Belt: UL Lafayette*
WAC: Grand Canyon*
West Coast: Loyola Marymount*
NATIONAL SEEDS
1. OKLAHOMA
2. UCLA
3. FLORIDA STATE
4. STANFORD
5. TENNESSEE
6. TEXAS
7. OKLAHOMA STATE
8. NORTHWESTERN
9. LSU
10. DUKE
11. WASHINGTON
12. GEORGIA
13. CLEMSON
14. ARKANSAS
15. ALABAMA
16. OREGON
REGIONAL BRACKET
NORMAN REGIONAL
1. Oklahoma (1)*
4. Robert Morris*
2. Cal
3. Nebraska
LOS ANGELES REGIONAL
1. UCLA (2)*
4. Loyola Marymount*
2. Cal State Fullerton*
3. Mississippi State
TALLAHASSEE REGIONAL
1. Florida State (3)*
4. Dayton*
2. Florida
3. UCF
PALO ALTO REGIONAL
1. Stanford (4)
4. Grand Canyon*
2. Ole Miss
3. San Diego State*
KNOXVILLE REGIONAL
1. Tennessee (5)*
4. Delaware*
2. Utah
3. Miami (OH)*
AUSTIN REGIONAL
1. Texas (6)
4. Prairie View A&M*
2. Texas A&M
3. Texas State
STILLWATER REGIONAL
1. Oklahoma State (7)
4. Saint Francis*
2. Wichita State*
3. South Carolina
EVANSTON REGIONAL
1. Northwestern (8)*
4. NIU*
2. Kentucky
3. Louisville
EUGENE REGIONAL
1. Oregon (16)
4. Princeton*
2. Auburn
3. South Dakota State*
TUSCALOOSA REGIONAL
1. Alabama (15)
4. SEMO*
2. Central Arkansas*
3. Penn State
FAYETTEVILLE REGIONAL
1. Arkansas (14)
4. Binghamton*
2. Baylor
3. Ohio State
CLEMSON REGIONAL
1. Clemson (13)
4. UNC Greensboro*
2. Minnesota
3. Charlotte*
ATHENS REGIONAL
1. Georgia (12)
4. Canisius*
2. Virginia Tech
3. Boston*
SEATTLE REGIONAL
1. Washington (11)
4. Sacramento State*
2. Indiana
3. UConn*
BATON ROUGE REGIONAL
1. LSU (10)
4. McNeese*
2. UL Lafayette*
3. Notre Dame
DURHAM REGIONAL
1. Duke (9)
4. Morgan State*
2. Liberty
3. Campbell*
Other Potential Hosts: UL Lafayette, Wichita State, Florida, Central Arkansas
Last Four In: Notre Dame, Texas State, Mississippi State, Ohio State
First Four Out: Missouri, South Alabama, Boise State, Arizona
Next Four Out: Arizona State, Maryland, BYU, Marshall