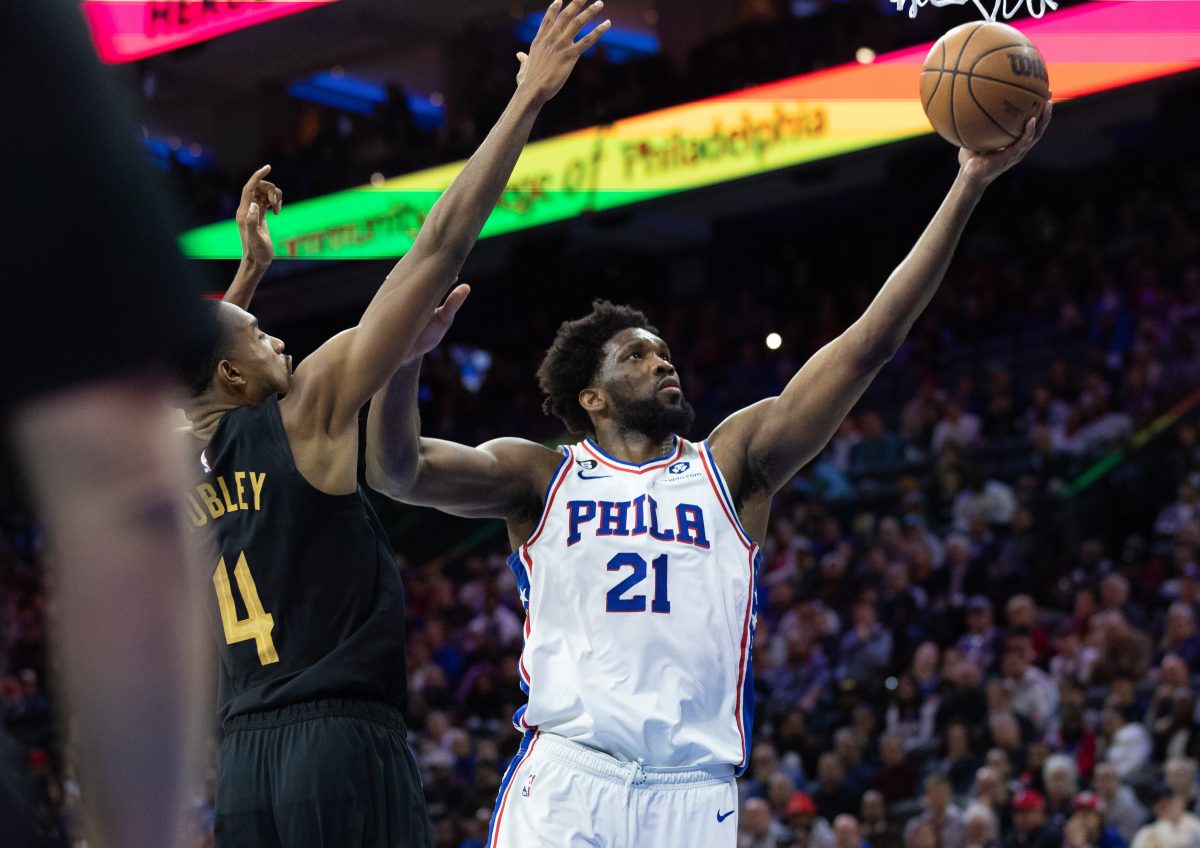 Joel Embiid on Tuesday became just the second Kansas men's basketball player to be named the NBA's Most Valuable player.
He joins Wilt Chamberlain in that rare club of league MVPs.
Embiid was the runner-up for the award each of the previous two seasons, behind Denver center Nikola Jokic.
Embiid had another tremendous seasons for the Philadelphia 76ers, as he led the NBA in scoring with 33.1 points per game. He also averaged 10.2 rebounds per game, tied for ninth. He played in 66 games in the regular season and finished with 39 double-doubles. He shot 54.8 percent from the field, 33 percent from the 3-point line and 85.7 percent from the free-throw line.
The 76ers are playing in the Eastern Conference semifinals against the Boston Celtics, the defending Eastern Conference champions.
Embiid played just one season at Kansas before he was selected No. 3 overall by the 76ers in the 2014 NBA Draft, in spite of the fact that he had foot surgery less than a week before the draft.
With the Jayhawks, he played in 28 games his freshman season and averaged 11.2 points and 8.1 rebounds. Embiid was named the 2014 Big 12 Defensive Player of the Year and was an All Big-12 Second Team selection. He was also named to the 2014 Big 12 Newcomer and Big 12 All-Defense teams.
Embiid set the record for most blocked shots in a single game as a freshman with eight blocked shots in a game against Oklahoma State. He also set the Kansas freshman record for most rebounds per game (8.1), most blocks in a single freshman season (72) and posted the highest field goal percentage in a freshman season at Kansas (62.6 percent).
Chamberlain won the NBA MVP award four times, including three straight awards in 1966, 1967 and 1968. Only LeBron James (four), Bill Russell and Michael Jordan (five) and Kareem Abdul-Jabbar (six) have as many or more as Chamberlain.
You can find Matthew Postins on Twitter @PostinsPostcard