Baylor Bears
Big 12 Baseball Postseason Picture: Who's In and Who's Out?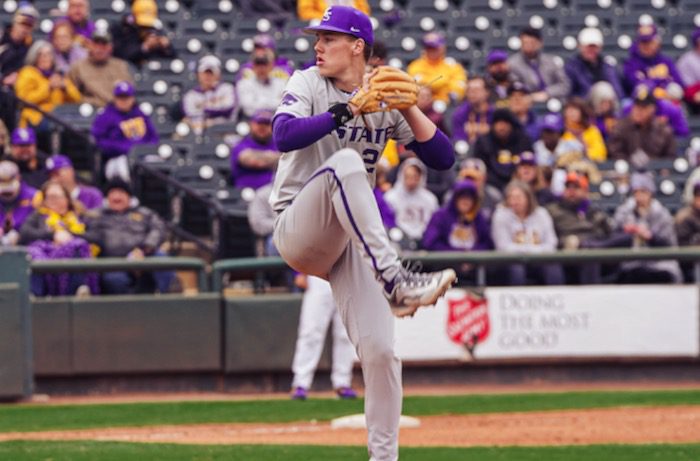 It felt like just yesterday that college baseball started. Now here we are in the month of May and the regular season is coming to an end soon as teams will prepare for a conference tournament in a couple of weeks. Outside of West Virginia, most teams have just six or fewer conference games left on their schedule and the window of opportunity to make an impression on the committee is slowly closing.
There is no doubt that the Big 12 has been one of the most entertaining conferences in all of college baseball. However, due to everyone beating up on each other, it may end up hurting the conference in the long run when selection time rolls around. Let's take a look at each Big 12 team and see where they currently stand when it comes to the postseason picture.
Potential National Seed
West Virginia
The Mountaineers are currently inside the top 15 and appear to be the clear frontrunner in the whacky Big 12 Conference. To me, they are the most balanced team in the conference because they have the pitching (Blaine Traxel and Ben Hampton) to complement a great offense led by JJ Wetherholt who just may be the best hitter in college baseball. West Virginia has three conference series left against Oklahoma, Texas Tech, and Texas. If they can win four or five more conference games, then I really like their chances at hosting a regional in Morgantown. But there is also a chance for them to even become a national seed which means they would have an opportunity to also host a super-regional if they can make it that far.
Potential Regional Hosts
Oklahoma State
While the Cowboys aren't in the top 25, they have two Big 12 series left on their schedule with Oklahoma and Kansas State. With an RPI inside the top 20, this team has a chance to become a top 16 seed and host a regional if they can win these next two series. The offense for Oklahoma State has always been there but if they can become more consistent on the mound then this team becomes dangerous in my opinion.
Kansas State
Don't look now but the Wildcats are currently in third place in the Big 12. This team has really come out of nowhere and has caught fire over the last couple of weeks. Kansas State has beaten Kansas, UC Irvine, and Texas Tech in their last three series which is pretty impressive if you ask me. They are right on the cusp of being a top-25 team and with series left against TCU and Oklahoma State, there is a chance for them to move up and possibly host a regional in Manhattan which would be huge.
Texas
I wouldn't count out the Longhorns just yet despite falling out of the top 25 a week ago. Their loss to Oklahoma at home really hurt this team but they do have six conference games left against Kansas and West Virginia. That Kansas series may not do much for their RPI but that series against West Virginia at home will be huge. I believe Texas will have to win at least four or five of their last six games to potentially host a regional. They may also need to make a little run in Arlington as well at the conference tournament.
In the Tournament
Texas Tech
If you asked me today if Texas Tech would make the tournament, then I would say yes. I still really like this Texas Tech team simply because they have the offense to compete with anyone in the country. The problem for them has been pitching which is one of the big reasons why they are sitting at .500 in Big 12 play right now. Their RPI is at 60 which isn't great, but they will get a chance to redeem themselves after losing to Kansas State last weekend as they travel to Morgantown to take on the first-place Mountaineers. A series win this weekend would be huge for them and would probably guarantee them a spot in the postseason if they can finish the year strong.
On the Bubble
TCU
A team that was once a favorite to win the Big this season is now on the bubble to make the postseason. It's been over a month since TCU won a weekend series, and they have an 8-10 record in conference play. They are going to need some help to get in, but the good news is that they will have some big opportunities ahead of them. The Frogs will host a top-25 Cal State Fullerton team this weekend and still have six conference games against Baylor and Kansas State. If they can reel off three straight series wins then I would say the Horned Frogs are in. However, that is a big if because this team has been wildly inconsistent all season long.
Oklahoma
Just a few weeks ago, I thought Oklahoma was potentially the worst team in the Big 12 and here I am talking about them as a possible tournament team. That just goes to show how crazy this season has been. The Sooners are peaking at the right team as they have now won six out of their last seven games which include a sweep over Texas, a series win over Kansas, and a nice out-of-conference win on Tuesday night against a top-25 Dallas Baptist squad. Oklahoma has a chance to really make some noise in the month of May as they will face off against the two best teams in the Big 12 (West Virginia and Oklahoma State). If they can somehow win those series, then they have a real chance at making the tournament.
Out of the Tournament
Kansas
The Jayhawks have no chance at making the postseason unless they can pull off a miracle at the Big 12 tournament which they need to clinch a spot in.
Baylor
Baylor will need to win their final Big 12 series against TCU to even have a chance at making the Big 12 tournament. If they can somehow do that then they would need to win the conference tournament as well. I am sorry Baylor fans but there is a better chance of me hitting the lotto twice than that happening.