Big 12 Previews
Big 12 Baseball Weekend Preview: Oklahoma and TCU's Postseason Hopes Are on the Line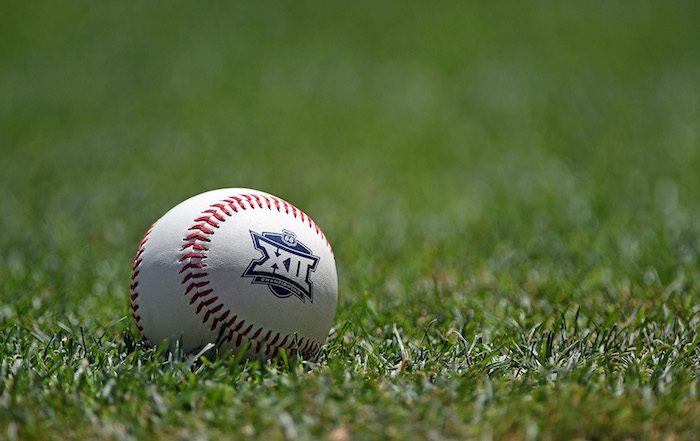 Big 12 baseball is officially in full swing as we are starting to get a feel for how the conference hierarchy is going to play out this season.
It felt like just yesterday that opening weekend was here and now we are entering the final month of the regular season.
Let's take a look at the upcoming weekend for Big 12 baseball. Keep in mind that Baylor is off this weekend.
Oklahoma at #12 West Virginia
There are only two conference matchups this weekend and this is without a doubt the biggest one. The Sooners are sitting at 9-9 in Big 12 play and desperately need a series win to keep their postseason hopes alive. Easton Carmichael, Kendall Pettis, and Anthony Mackenzie have been leading the Sooners offensively, but they are still searching for their ace on the mound despite winning two series in a row.
Meanwhile, West Virginia is the top team in the Big 12 as they are in a great position to potentially host a regional and win a conference title. Blaine Traxel and Ben Hampton are arguably the best duo on the mound in the Big 12 while JJ Wetherholt may be the best hitter in all of college baseball. But Wetherholt isn't doing it alone because Tevin Tucker, Caleb McNeely, and Landon Wallace have all been great this season as well.
My Pick: West Virginia
Texas at Kansas
With Kansas out of the postseason picture, this series is all about Texas. The Longhorns are in fourth place in the Big 12 and they need to rack up some more wins to stay in the title hunt. While Kansas does have a couple of nice pieces in their lineup with Kody Shojinaga and Chase Jans, Texas has two excellent starters on the mound in Lucas Gordon and Lebarron Johnson Jr. Plus Kansas doesn't have the arms to slow down the offense of Texas as Porter Brown, Eric Kennedy, and Peyton Powell continue to stay hot at the plate. And of course, I can't forget about Garret Guillemette and Dylan Campbell who have also been key players for this Texas team.
My Pick: Texas
#24 Cal State Fullerton at TCU
While this may not be a conference series for TCU, this is a huge weekend for them. Right now, TCU is on the postseason bubble with an 8-10 Big 12 record, and they have already lost 20 games this year. The Horned Frogs will have their hands full because the Titans are for real this year and are ranked inside the top 25.
Cal State Fullerton is a very balanced team. They have a dynamic duo on the mound with Fynn Chester and Evan Yates who are extremely talented. And while the offense may not have a ton of power, they have a couple of consistent hitters in that lineup. The Titans' pitching should be a fun matchup to watch against the bats of TCU with Anthony Silva, Tre Richardson, Cole Fontenelle, and Karson Bowen. But the key to this series will be TCU's pitching. If they can't get some quality starts from their rotation, then they will not win this series.
My Pick: Cal State Fullerton
Southeast Missouri State at Kansas State
While the Wildcats take a break from Big 12 action, they welcome in SEMO this upcoming weekend. The RedHawks are a little interesting despite their subpar record. While they may not wow you a ton on paper, they have two legitimate stars on their roster. Josh Cameron has hit 16 home runs this season and pitcher Noah Niznik has the second-best ERA in the Ohio Valley Conference (2.92). Outside of those two, nothing else really sticks out to me about this team.
Kansas State is coming off a big win against Texas Tech and the trio of Cash Rugely, Brady Day, and Nick Goodwin played a big role in that. The pitching was a lot better last weekend, which is good to see as well. Kansas State is a team who is right on the edge of making the postseason and a series win here would keep those hopes alive.
My Pick: Kansas State
East Tennessee State at Oklahoma State
If you are looking for teams going in different directions, then this surely is an interesting series. ETSU has a team average of .300 at the plate this season but has struggled on the mound despite having the second-best ERA in the Southern Conference. They don't have a ton of offensive power, but they do have three guys in their lineup hitting over the .340 mark which is impressive. When I look at ETSU as a whole, they are a team that hits the ball well, but they really have trouble on the mound.
Their struggles on the mound are good news for Oklahoma State because Roc Riggio, Nolan Schubart, David Mendham, and Carson Benge should have plenty of opportunities to get some quality at-bats this weekend. The interesting battle will be between the pitchers of Oklahoma State going up against ETSU. If the Cowboys can keep them under four or five runs a game, they should have no issues taking care of business.
My Pick: Oklahoma State
Sam Houston State at Texas Tech
The first-place team in the WAC makes the trip out to West Texas to take on the Red Raiders. Despite being from different sides of the state, these two teams have quite a bit in common. Both teams hit the ball extremely well and both teams lead their conference in batting average. Sam Houston State has three guys hitting above the .350 mark and their leader Tyler Davis is fourth in the country in batting average (.453).
The Red Raiders also have some great bats with Gavin Kash, Kevin Bazzell, and Nolen Hester. Plus, they also have three more players hitting over .300 right now. Both of these teams can obviously score some runs but both teams will also give up plenty of runs themselves. Outside Mason Molina (Texas Tech) and Coltin Atkinson (Sam Houston State) neither one of these teams has much behind their ace. I expect plenty of runs to be scored this weekend but since this series is in Lubbock, give me the Red Raiders.
My Pick: Texas Tech