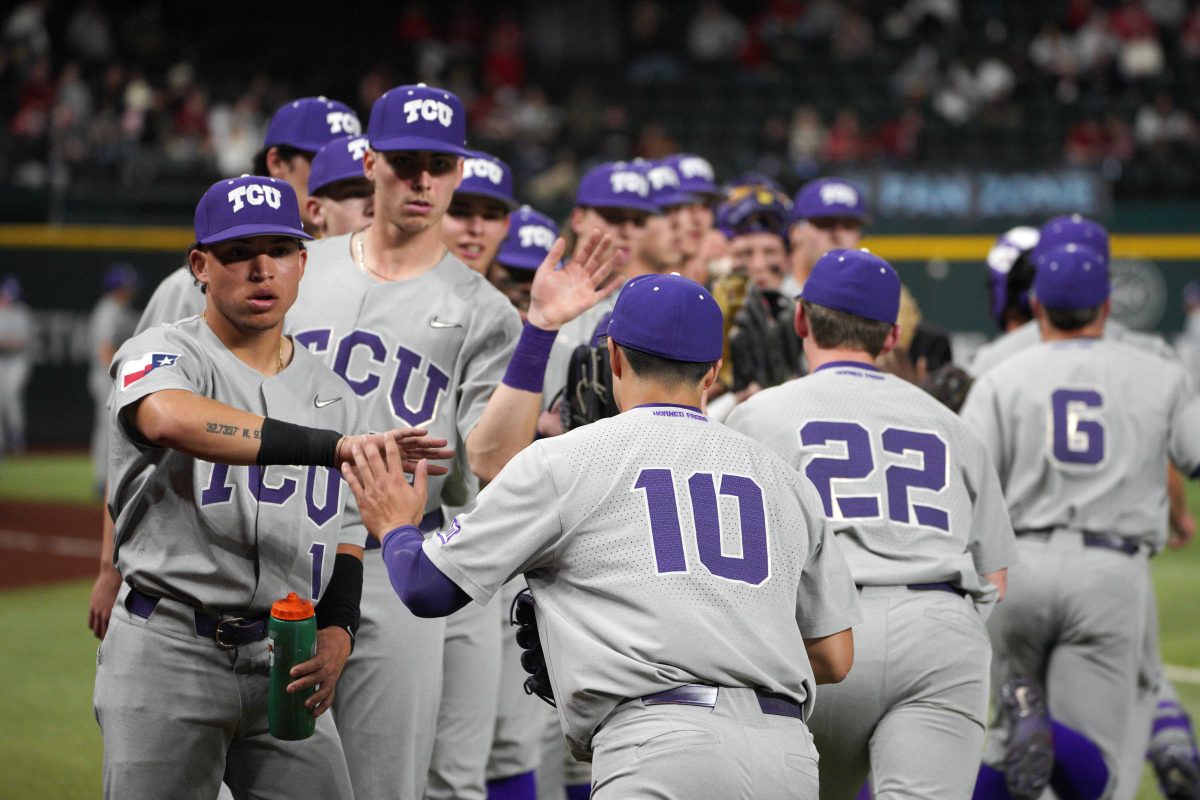 Is there anything better than cold beer and baseball? It's a combination that is hard to beat during the season. No matter what kind of beer you drink (or how many), let's take a look at some of the best action on the Big 12 baseball diamond from Sunday with a nice six pack.
Best Game
Texas at Kansas
With the series tied, the winner of Sunday's game would take the rubber match. Both teams traded a pair of runs before Jansen Reeder's RBI double that gave Kansas the lead. Each team would score a run in the third inning, but Texas finally tied the game back up in the fourth with Jack O'Dowd's RBI single.
Texas would take the lead back in the seventh inning where they scored four runs. Dylan Guillemette and Porter Brown came up with big before Eric Kennedy's massive two-run blast that gave the Longhorns a 7-3 lead.
Kansas ended up making a late push by scoring a couple runs in the ninth inning, but Texas held on for the one run victory. This win was big for Texas as they remain in the Big 12 title hunt.
Best Win
TCU Over #24 Cal State Fullerton
It was a big day for the Horned Frogs as they looked to get the series win over the Titians. After winning on Saturday, TCU tied the series and needed one more win to finish the job on Sunday afternoon. Kole Klecker got the start for TCU before Cam Brown came in later in the game. Both guys did an excellent job as they held Cal State Fullerton to just a single run in five innings.
While it took a while for TCU to get on the scoreboard, the wait was well worth it. In the fifth inning, Logan Maxwell tied the game with his big RBI before a wild pitch helped TCU take the lead.
But this game was really taken over in the sixth inning where Cole Fontenelle, Karson Bowen, and Kurtis Byrne all came up with big hits to help the Horned Frogs put four more runs up on the board. From there, the pitching took over and held on for a 6-1 victory.
With the win, TCU takes the series and while this may not help their conference record, it does boost their resume which is big because they will need all the help they can get right now.
Worst Loss
Oklahoma
Coming into the weekend, Oklahoma had a 9-9 record in Big 12 play. Their series against West Virginia was going to be huge for them and they really needed to win this series to have a shot at making the postseason. While they did take game two on Saturday, they fell flat in game three on Sunday. I know their weather wasn't good at all and the delay didn't help any.
However, it's not like they were playing well before the rain delay. The Sooners have just one conference series left against Oklahoma State, and I have a tough time seeing them win that one which means this team will likely need to make a serious run in the Big 12 tournament.
Sunday MVP
Oklahoma State LF Nolan Schubart
It's not often that we see a player hit a grand slam, but it has been a long time since I have seen a player hit two grand slams in one game. Not only did he hit two grand slams, but he also hit another home run on top of that. He finished the game with a whopping ten RBIs which ties a school record. This was without a doubt the best hitting performance I have seen this season.
Pitcher of the Day
Kansas State RHP Mason Buss
Mason pitched five innings in Kansas State's run rule win over Southeast Missouri State. He allowed just two hits and zero runs while striking out three batters during his time on the mound.
Best Home Run
Oklahoma State LF Nolan Schubart
This was a pretty easy decision here. A guy hits two grand slams in a single game? You know how much I love grand slams and I am not talking about the ones from Denny's. Feel free to pick either one as your favorite.
Full Scoreboard
#13 West Virginia: 9, Oklahoma: 3
TCU: 6, #24 Cal State Fullerton: 1
Texas: 7, Kansas: 6
Oklahoma State: 20, ETSU: 7
Kansas State: 10, SEMO: 0
Texas Tech: 10, Sam Houston State: 8