Big 12 News
Chris Klieman Finalizing Big Contract Extension with Kansas State: Report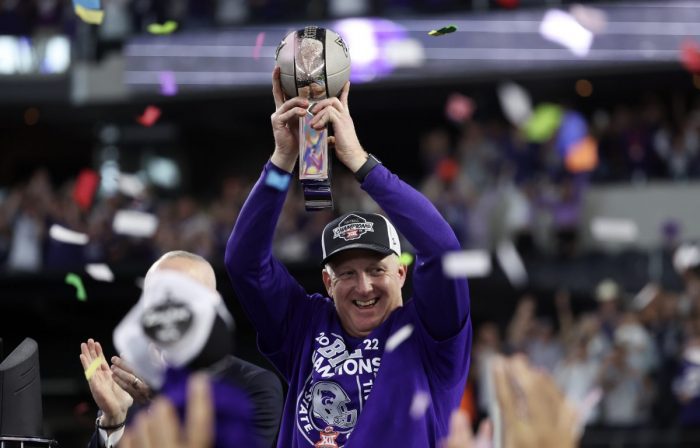 Kansas State is wisely doing everything in its power to lock up head football coach Chris Klieman for the long term. According to ESPN's Pete Thamel, Klieman and K-State are finalizing a new contract worth $44 million over eight years.
Klieman will make an average of $5.5 million per year over the course of the deal. The deal, which goes into effect on July 1, is expected to be completed and announced in the near future. Klieman's new contract will start this fall at $4.5 million per year and increase from there. The head coach's current deal runs through the 2026 and averages about $4 million per season.
The Wildcats are fresh off winning the 2022 Big 12 Championship, which was the first for K-State since 2012. The Cats went 7-2 in Big 12 play and then upset an undefeated TCU team in the conference title game at AT&T Stadium in Arlington, TX. Kansas State finished the season with a 10-4 record, ending the season with a loss to No. 5 Alabama in the Sugar Bowl.
Klieman is 30-20 (20-16 in Big 12 play) through four seasons at Kansas State, the most wins through four seasons for any coach in school history. In every full season since Klieman took over, Kansas State has won at least eight games. His worst season came during a 4-6 campaign, however it was during the shortened COVID-19 season.
Klieman took over for the legendary Bill Snyder after winning his fourth FCS National Championship in five seasons at North Dakota State. As a head coach at all levels, Klieman has a career record of 102-33.
Kansas State opens the 2023 season with home games against Southeast Missouri and Troy before traveling to Missouri on Sept. 16.