Baylor Bears
Big 12 Softball Power Rankings: Sooners Way Out Front To Finish Regular Season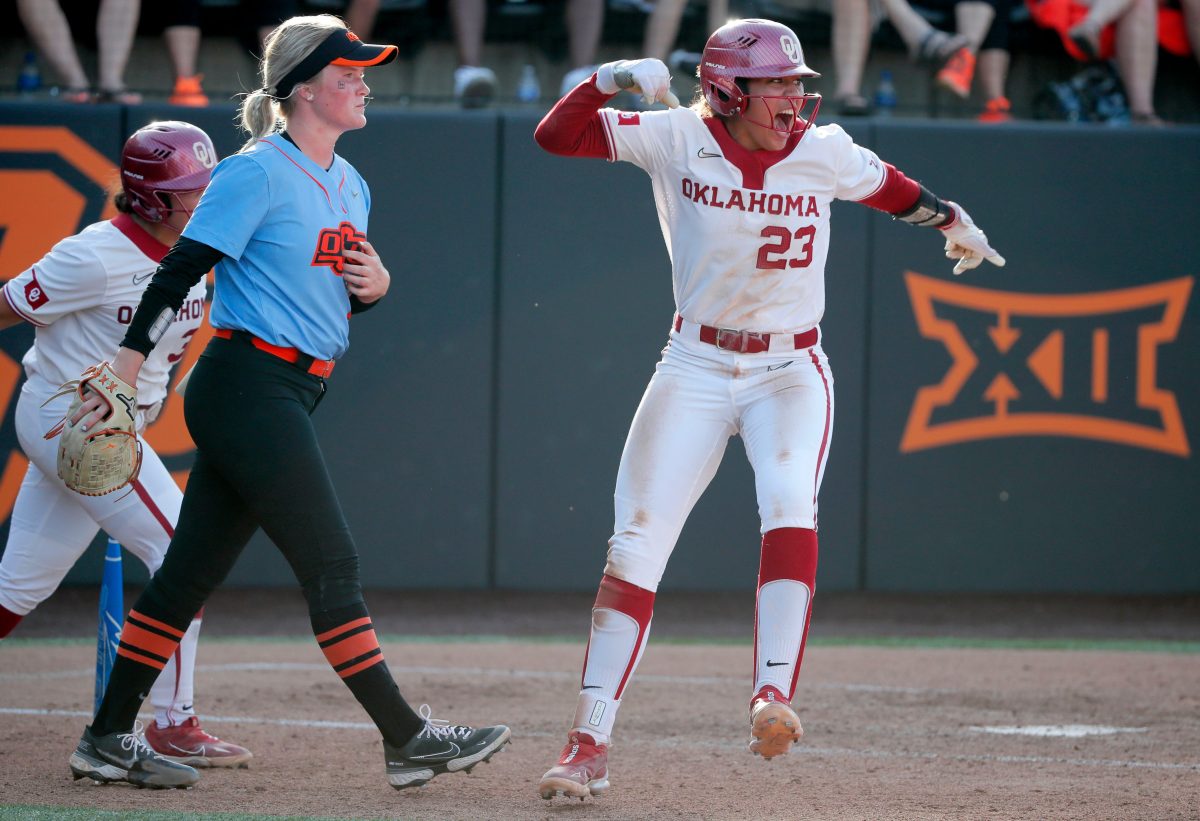 The Big 12 softball regular season is over, and the race is finished. With a perfect 18-0 record in conference play, the Oklahoma Sooners left the rest of the league in the dust on its way to an 11th-straight regular season title.
After sweeping No. 6 Oklahoma State this past weekend, the Sooners have extended their winning streak to 41 games, tying their longest streak in program history.
Meanwhile, south of the Red River, the Sooners' arch-rivals, Texas, found themselves on the business end of a broom, getting swept by Baylor to finish the regular season. Baylor needed that kind of performance to keep its hopes of hosting a regional alive.
With Baylor's sweep of Texas, and the Sooners sweep of Oklahoma State, there's some shakeup in this week's Power Rankings
Here's a look at the final Big 12 Softball Power Rankings of the 2023 regular season.
Oklahoma's 41-game winning streak speaks for itself, but there's an even more impressive stat to back that up. This is the Sooners' fourth winning streak to reach 40 games since 2019, and only five times in history have teams gone that long without a loss. In 1996-97, Arizona went 47 games without a loss, the only team to own a streak longer than the Sooners' current feat. OU ranks first nationally in batting average (.368), ERA (0.87), fielding percentage (.988), scoring (8.16), on-base percentage (.462), home runs per game (1.82), slugging percentage (.664), shutouts (29), and winning percentage (.979). We're getting into ridiculous territory here.
What a weekend it was for the Baylor Bears. After going 1-5 in their last six Big 12 conference games, Baylor turned it on and found a way to sweep the fifth-ranked Texas Longhorns. The series sweep not only locked up the No. 4 seed in the tournament, but it also sends Baylor surging in the RPI, up five spots to No. 17. The Bears are right on the cusp of locking up Waco as a fourth Big 12 site for regional weekend, which would be a major accomplishment for the program. Baylor gets a shot at Iowa State, a team that took a series from them two weeks ago, on Thursday.
Texas just needed to keep this series competitive and win a game to stay in the Super Regional host discussion, but found itself on the wrong end of a sweep come Sunday. Now, sitting at No. 10 in the RPI, the Longhorns are likely on the outside looking in when it comes to grabbing a top-eight seed. When the offense is rolling, Texas is one of the top five teams in the nation. However, getting outscored 16-4 by Baylor was concerning. The good news is, Texas locked up the No. 2 seed in the Big 12 tournament and will take on Texas Tech on Thursday.
Oklahoma State is in the biggest slump I have ever seen under Kenny Gajewski, and I'm just hoping they can find a way out of it before the tournament starts. OSU has now dropped 10 of its last 12 games, leaving them in a precarious spot ahead of Selection Sunday. Despite their struggles, OSU sits a No. 4 in RPI and still has a great shot at hosting a Super Regional in Stillwater. The Cowgirls need to wake up though, as the NCAA Tournament has a way of weeding out teams that aren't locked in.
I don't even know where to begin with this team, but I will say this: Iowa State has made a fool of me over the last couple of weeks. Winners of eight of their last 10, Iowa State has suddenly become the team in the Big 12 tournament that nobody wants to play (outside of Oklahoma). The Cyclones have knocked off Baylor and Kansas in each of their last two series and got the Oklahoma State tumble started in Stillwater a few weeks ago. This team is peaking at the right point, but it would take a Big 12 title to get them into the tournament. Still, a great turnaround to finish the year by Jamie Pinkerton's group.
Just like they have the rest of the season, Kansas found a way to make things harder on themselves this week after an amazing triumph. The Jayhawks took down Wichita State in their midweek clash, setting KU up to sneak into the NCAA Tournament if they could take care of business against Iowa State. Instead, they lost two of three at home and all but locked themselves out of the dance. Still, after taking down Wichita State, and Texas Tech before that, KU deserves to be at six this week.
Well, Texas Tech finished the season a week earlier than the rest of the Big 12, and they find themselves in the seventh spot in our power rankings and in the Big 12 tournament. Drawing an angry Texas team on Thursday is tough, but the Red Raiders had their chance at the Longhorns earlier this season and took them to the wire. Maybe a week off will be just the thing that gets them over the top this time around.