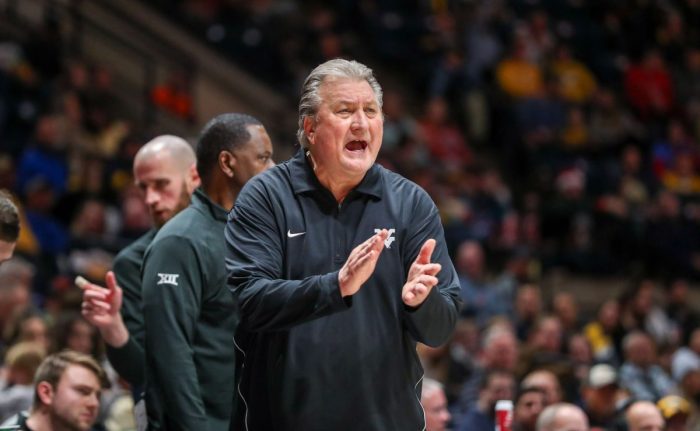 West Virginia basketball coach Bob Huggins found himself in hot water on Monday afternoon. The head Mountaineers basketball coach went on a Cincinnati radio show and used a homophobic slur twice in one sentence when talking about the old days of the Cincinnati-Xavier college basketball rivalry, which Huggins was a part of early in his career.
Predictably, Bob Huggins' career is being ended by many in sports media. SI's Pat Forde wrote on Monday, "It could be fireably offensive for Huggins, whose West Virginia campus will likely be the scene of LGBTQ protests by Tuesday if he's still employed."
I believe it to be a requirement to take a stance like that when you take a paycheck from SI.
USA Today's Dan Wolken, a.k.a. Wok-en, said, "This is an easy call. Any company in America with a public-facing employee making the same comments would fire them by the end of the day. There is no justification for holding a basketball coach to a different standard."
I could continue this list, but you know most of what sports media has become.
With that being said, is Bob Huggins allowed to learn? Is he allowed to grow? Bob Huggins is nearly 70 years old. Like it or not, while the word is no longer acceptable, it is used in the context of sports banter between fans, and has been for the last several decades. Are there words your grandparents have used, where you've had to correct them as no longer being socially acceptable?
That's Bob Huggins. He just happens to also be one of the most successful college basketball coaches in the history of the sport.
Does that make it right for Huggins to use? No. We've evolved as a society beyond the word. But for that evolution to continue, it does not have to include ending the career of an all-time legendary college basketball coach.
Who win's then?
However, for too many who want to see Huggins gone, it's not about what's actually in the best interests of furthering the conversation and improving society at large through a learning experience. They're simply doing what they think they need to do to remain employed in the cultural dynamics of the moment. They're looking for that next scalp. Following the mob. After Huggins, it will be on to the next one.
In their eyes, he's just the next domino to fall.
I don't know what's in Bob Huggins' heart. I'll leave that to the powers at West Virginia University to decide.
But I do hope that while this issue can be taken seriously, allowing grace and forgiveness is not a sign of weakness, it's a sign of strength, because despite what some might lead you to believe, we do not create a utopian society by destroying the lives of everyone who makes a mistake in 2023. And then, turning this into a learning experience for anyone who stands to benefit can be a win-win for all involved.
I suppose there is one group who would not stand to win: The internet trolls, and their enabling media cohort. To them we should all say, "Good riddance." They'll be in search of their next scalp before long.