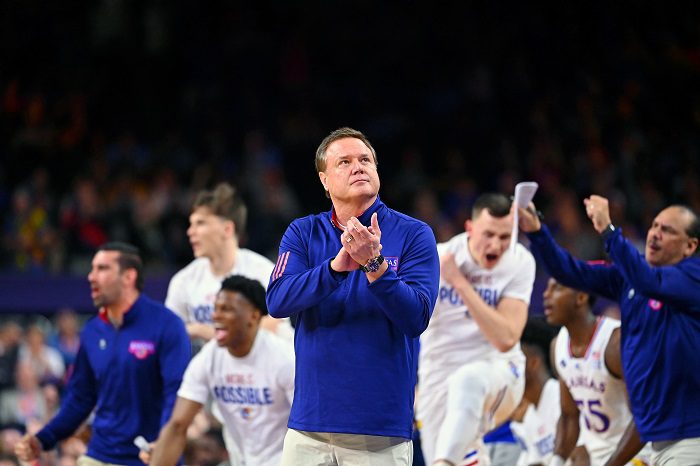 The Kansas Jayhawks are working on assembling their 2023-24 men's basketball roster and we'll track every move here throughout the offseason.
Departures
F Jalen Wilson: The Big 12 Player of the Year averaged 20.1 points and 8.2 rebounds per game. His declaration was not unexpected. He went through the NBA Draft process last offseason, got his report card and put himself into position to be drafted in June. Wilson declared for the NBA Draft on April 5.
G Gradey Dick: He averaged 14.1 points and 5.1 rebounds per game as he started him from the beginning of the season and he was one of two Jayhawks that shot 40 percent from the 3-point line. Dick declared for the NBA Draft on March 31 and surrendered the rest of his college eligibility.
F Cam Martin: The former Division II National Player of the Year was at Kansas for two seasons but rarely played due to injuries. He transferred to Boise State after the season.
F Zach Clemence: He spent two seasons with the Jayhawks, both of which saw him come off the bench. He averaged five minutes per game. He transferred to UC Santa Barbara.
G Bobby Pettiford Jr.: Pettiford spent two seasons with the Jayhawks before deciding to transfer to East Carolina. He was a solid contributor off the bench last season, averaging 12 minutes per game as point guard Dajuan Harris Jr.'s primary backup.
G M.J. Rice: The five-star recruit and member of the 2022 recruiting class opted to transfer after injuries limited him to 23 games and seven minutes per game. He transferred to NC State.
G Joseph Yesufu: He played two seasons at Drake before transferring to Kansas before the 2021-22 season. He played in nearly every game of Kansas' national title run. Last season he averaged 4.1 points in 12.7 minutes per game. After the season he transferred to Washington State.
Arrivals Via Transfer
C Hunter Dickinson: The 7-foot-1 center announced his transfer to the Jayhawks on May 4. With Michigan last season he averaged 18.5 points and 9.0 rebounds for the Wolverines. He brings Kansas an interior presence it did not have last season.
G Arterio Morris: The former Texas guard transferred to Kansas in April. In one season with the Longhorns he came off the bench to average 4.6 points and 1.4 rebounds per game. He still awaits trial on a misdemeanor domestic violence charge, but he played all season at Texas while those charges hung over him.
G Nicolas Timberlake: The Towson transfer brings a solid backcourt game to Lawrence. He averaged 17.7 points last season and has been a 40 percent 3-point shooter for the last two seasons.
In the Transfer Portal
G Kyle Cuffe Jr.: A member of the 2021 recruiting class, Cuffe played just two games last season. He has not settled on a transfer destination. He was a redshirt his first season so he has three years of eligibility left.
F Zuby Ejiofor: Ejiofor joined Kansas before last season as a part of the Jayhawks' 2022 recruiting class. He played a role off the bench, but after the announced transfer of Dickinson to Kansas, Ejiofor opted to head to the transfer portal.
In the NBA Draft Pool
G Kevin McCullar Jr.: The former Texas Tech transfer declared for the NBA Draft on April 6 after he averaged 10.7 points and 7.0 rebounds per game. He also consistently defended the opponent's top wing player. He still has a year of eligibility remaining so he can return. This is what he did last offseason, when he declared for the NBA Draft, went through the process and then returned to transfer to Kansas. Should he return, it will be his sixth year of college basketball.
Expected to Return
G Dajuan Harris Jr.: When it comes to the backcourt, it's Harris' show now. He's evolved into one of the best point guards in the game. Harris only averaged 8.9 points per game, but he shot 40.5 percent from the 3-point line and he averaged a team-high 6.6 assists and 2.2 steals. He was the Big 12 Defensive Player of the Year.
G Wilder Evers: The preferred walk-on did not play in a game last season.
G Charlie McCarthy: He's been a walk-on each of his first two seasons at Kansas and has a national championship ring from the 2021-22 season.
G Michael Jankovich: The invited walk-on has been on the roster for four years. His first year was 2019-20, so he could have a COVID waiver to return.
F Dillon Wilhite: The little-used forward has two years of eligibility remaining.
F Ernest Udeh Jr.: As a true freshman, Udeh came in off the bench to average 2.6 points and 1.8 rebounds per game. With Dickinson's transfer, Udeh should be his primary backup next season.
F KJ Adams Jr.: Last year Adams adapted to a 'small five' role for the Jayhawks, making his way into the starting lineup and averaging 10.6 points and 4.3 rebounds.
Class of 2023 Signees
G Elmarko Jackson, 6-foot-3, South Kent School (South Kent, CT): The highest-rated player in the Class of 2023 for the Jayhawks, Jackson is the No. 20 recruit in the nation per 247Sports.com. He is a five-star recruit.
G Chris Johnson, 6-foot-4, Montverde Academy (Montverde, FL): Johnson is one of three four-star recruits in the 2023 Class and is the No. 50 player in the nation. Montverde Academy knows how to crank out quality players.
F Marcus Adams Jr., 6-foot-8, Narbonne (Harbor City, CA): The four-star player is ranked No. 101 in the nation. What's interesting is that Adams accelerated his commitment to Kansas, reclassifying so he could join the Jayhawks next season.
G Jamari McDowell, 6-foot-4, Manvel, TX: The final four-star recruit in the class, McDowell is ranked No. 108 in the nation.
You can find Matthew Postins on Twitter @PostinsPostcard