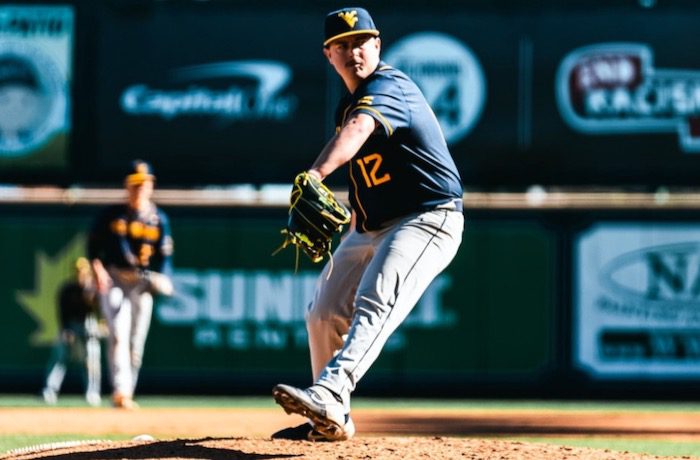 The 2023 college baseball season has had some remarkable storylines so far this season. In fact, you can look at every conference and find a team that has exceeded or failed to meet expectations by a mile.
In the Big 12, the team that has exceeded expectations is West Virginia. Before the season started the Mountaineers were picked to finish sixth in the conference and nobody expected much from them at all. In fact, if you go back and look at preseason postseason projections, West Virginia wasn't on anyone's radar at all.
Yet here we are in the month of May and West Virginia is sitting in first place in the Big 12 and is ranked 12th in D1Baseball's Top 25 poll. With seven games left on the schedule, every game matters at this point with six of those being conference matchups.
Their next two series against Texas Tech and Texas will be extremely important for West Virginia. They have a chance to do something really special depending on how these next seven games go. For starters, they are in the driver's seat for the Big 12 regular season title. Since joining the Big 12 conference, the Mountaineers have never finished higher than third, and as far as a conference title goes, they haven't won one in over 25 years. The last time this program won a conference crown was when they were in the Big East. Besides the fact that a Big 12 regular season title is within reach, they also are a lock to host a regional in Morgantown.
The good news is that this isn't head Coach Randy Mazey's first rodeo when it comes to being a regional host. His team did back in 2019 when they hosted the school's first regional since 1955. Since Mazey took over back in 2013, West Virginia is about to make their third postseason appearance in the last seven seasons. Prior to his arrival, the Mountaineers hadn't made the NCAA tournament since 1996.
While the program is certainly making strides under Mazey, they have a chance to do something else they have never done in the modern era which is become a national seed. What does that mean exactly? That means the road to Omaha would run right through Morgantown for the first time since 1955 when super regionals didn't even exist.
So, what makes this team so good? It's all about being balanced. Their combination of solid pitching and consistent hitting has done wonders for them. When you look at the Big 12, no other team is as balanced as West Virginia. Thanks to the dynamic duo of Blaine Traxel and Ben Hampton, the Mountaineers have arguably the best one-two punch on the mound. Plus, it helps to have the nation's best hitter with J.J. Wetherholt who has a .463 average right now and should be in consideration for the Golden Spikes Award at the end of the season.
As good as those three key players are, what makes this team a complete one is the rest of their lineup. Outside of Wetherholt, West Virginia has four other players (Tevin Tucker, Landon Wallace, Braden Barry, and Caleb McNeely) batting over the .300 mark. This offense is also top three in the conference in runs scored, batting average, slugging percentage, and on-base percentage to go alongside a pitching staff that has the second-best ERA in the Big 12.
I could go on and on about how much I like this West Virginia team. They have gotten to where they are today by being balanced and by being consistent. Exactly how consistent have they been on the field? This team has lost just one weekend series since opening weekend. Throughout all the ups and downs of a college baseball season, this team has surged to the top of the Big 12. The question is no longer if they are talented enough to make a postseason run because they are. This team has an opportunity not just to be one of the best stories in college baseball but to be the story in college baseball. Only time will tell but don't be surprised to see this team singing country roads all the way to Omaha for the first time in program history.