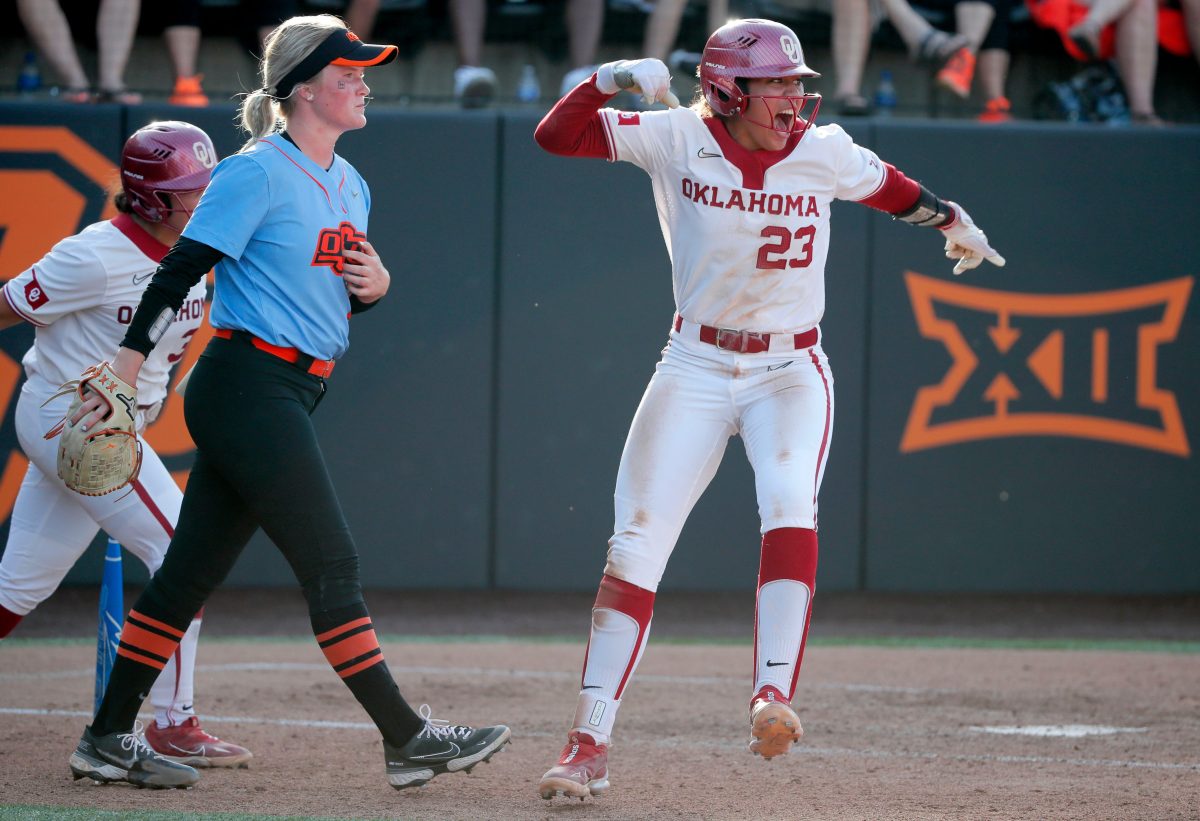 The 2023 All-Big 12 softball team has been announced ahead of the conference tournament, which is set to begin on Thursday.
The conference teams are comprised of 12 selections for the first and second teams and 10 selections for the all-freshman team.
Oklahoma leads the First Team with seven selections, the most by a team under the current 12-member format that started in 2013, while Texas leads the Second Team with five honorees. The Longhorns lead with five players on the Freshman Team, the most by a program since the inception of the team in 2015.
The 2023 Phillips 66 Big 12 Softball Championship will be held May 11-13 at the USA Softball Hall of Fame Stadium in Oklahoma City. The Championship is in its second year of a single-elimination format with the regular season champion, Oklahoma, receiving a first-round bye. The winner will collect the Big 12's automatic bid to the 2023 NCAA Division I Softball Championship.
Here's a look at the selections, courtesy of a Big 12 press release.
ALL-BIG 12 FIRST TEAM
| NAME | SCHOOL | YR. | POS. |
| --- | --- | --- | --- |
| Shaylon Govan* | Baylor | So. | INF |
| Jordy Bahl* | Oklahoma | So. | P |
| Jayda Coleman* | Oklahoma | Jr. | OF |
| Kinzie Hansen | Oklahoma | Sr. | C |
| Tiare Jennings* | Oklahoma | Jr. | INF |
| Haley Lee | Oklahoma | RS-Sr. | UTL |
| Grace Lyons | Oklahoma | RS-Sr. | INF |
| Nicole May | Oklahoma | Jr. | P |
| Rachel Becker | Oklahoma State | Gr. | INF |
| Kelly Maxwell* | Oklahoma State | RS-Sr. | P |
| Mia Scott | Texas | So. | INF |
| Ellie Bailey | Texas Tech | Sr. | INF |
*-Denotes Unanimous Selection
ALL-BIG 12 SECOND TEAM
| NAME | SCHOOL | YR. | POS. |
| --- | --- | --- | --- |
| Dariana Orme | Baylor | Jr. | P |
| Milaysia Ochoa | Iowa State | Jr. | OF |
| Alex Storako | Oklahoma | RS-Sr. | P |
| Katelynn Carwile | Oklahoma State | Jr. | OF |
| Chyenne Factor | Oklahoma State | Gr. | OF |
| Lexi Kilfoyl | Oklahoma State | Sr. | P |
| Reese Atwood | Texas | Fr. | C/1B |
| Leighann Goode | Texas | Fr. | INF |
| Citlaly Gutierrez | Texas | Fr. | P |
| Ashton Maloney | Texas | RS-Fr. | OF |
| Mac Morgan | Texas | So. | P |
| Kailey Wyckoff | Texas Tech | Fr. | C/OF |
ALL-BIG 12 FRESHMAN TEAM
| NAME | SCHOOL | POS. |
| --- | --- | --- |
| RyLee Crandall* | Baylor | P |
| Lizzy Ludwig | Kansas | P/UTL |
| Kyra Aycock* | Oklahoma State | P |
| Micaela Wark | Oklahoma State | INF |
| Reese Atwood | Texas | C/1B |
| Leighann Goode | Texas | INF |
| Citlaly Gutierrez | Texas | P |
| Ashton Maloney | Texas | OF |
| Viviana Martinez* | Texas | INF |
| Kailey Wyckoff* | Texas Tech | C/OF |
*-Denotes Unanimous Selection