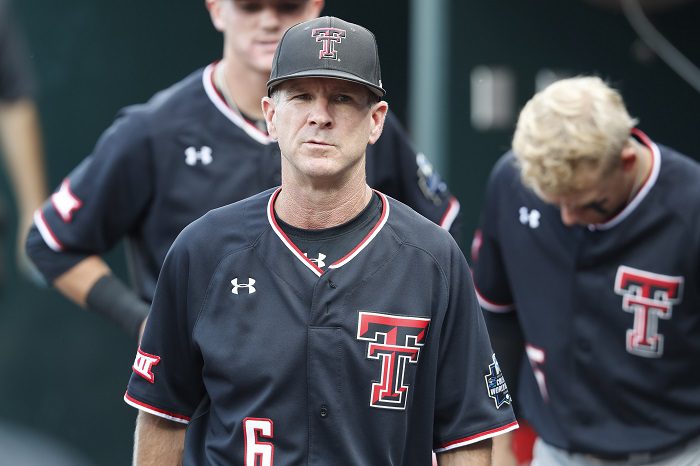 If you all would do me a favor and just think back to the morning of February 17th with me, and college baseball's opening day. If I had told you that West Virginia was hosting Texas Tech in the next to last weekend, one team was fighting for an NCAA Tournament berth, and the other was holding a two-game lead in the Big 12, surely you'd think it was Texas Tech with the conference in their hands. Nope, it's West Virginia that has defied all expectations and looks to win its first-ever Big 12 Title and its first conference championship since 1997.
After they dropped their to Kansas at home, I thought they'd just be looking to get into the tournament, but series wins over the Oklahoma schools and sweeps over TCU and Baylor changed all of that. They now hold a two-game lead over Kansas State and Oklahoma State, who also square off this weekend, and can even clinch a share of the Big 12 with a sweep, ahead of their trip to Austin.
On the flip side, Texas Tech has struggled and is now at risk of missing the NCAA Tournament for the first time since 2015. The situation looked especially dire, as Sam Houston State knocked them off on Saturday, and they had a doubleheader with ACU, the first game of which would start with them down 6-0 in the bottom of the fourth. However, a Sunday win helped keep Texas Tech alive, and what happened Tuesday could completely turn the momentum. Texas Tech entered the top of the 7th, as the visitors, down 9-0. Then they batted around in both the 7th and 8th, while posting a pair of zeros, to take a 15-9 lead. They followed this up by run-ruling them 13-3 in the nightcap, to move up to 52 in the RPI, and into D1 Baseball's bracketology. Thus setting up a crucial series in Morgantown, for both teams.
Pitching
Texas Tech fans certainly have some reason to complain about the pitching situation, as West Virginia ace Blaine Traxel was ejected Sunday for bringing a prop onto the field. Typically pitcher ejections carry a four-game suspension which would've ruled him out for the series. However, Traxel wasn't pitching that day, and he got the position player single-game suspension, overall it could've gone either way, and I'd probably lean that a single game was the correct decision. The part that will anger Tech fans however is that top reliever Brandon Beckel was suspended for the Texas series after they were told the four games weren't able to be appealed. Overall though you'd have to say Traxel pitching this series is a plus for college baseball. 
Focusing on West Virginia first, they have a lethal one, two-punch between Ben Hampton on Friday, and Blaine Traxel on Saturday. Ben Hampton has been solid in his 12 starts posting a 3.95 ERA in 70.2 innings, and West Virginia as a whole has won four straight series openers. Blaine Traxel, though, has been even better, posting a 3.32 ERA in 12 starts, over 86.2 innings. In his last two starts, he pitched a complete game shutout against Baylor, before allowing 5 runs in 7 innings against Oklahoma. On Sunday expect Freshman Robby Porco to take the mound in an opener role, as in his last two outings he's lasted just a combined 4 innings. Porco's role has been good enough both times, as they've won their last two series finales.
For Texas Tech the starting pitching is much different, as Mason Molina is the likely Friday starter, and Trendan Parish should get the ball Saturday. Molina is posting a 4.22 ERA across 59.2 innings, and Parish is posting a 4.65 ERA across 50.1 innings. Molina had a rough outing against Sam Houston State last week following two solid previous outings, while Parish gave up just two earned runs in 10 innings in his last couple of starts. On Sunday it's anyone's guess, Taber Fast was bounced early in his last start, and Zane Petty was pulled after giving up three against Kansas State, and again on Tuesday against ACU. After being pulled Tuesday night following a three-run third, Petty is unlikely to start but could be a solid piece to come in for a couple of innings, with no midweek to look forward to. Brendan Girton has been better out of the pen and could be a long reliever either day in this series.
The Lineups
For West Virginia, JJ Wetherholt has been sensational, posting a .470 batting average, and .834 SLG, with 14 home runs. Overall West Virginia has four guys with over 75 at-bats with over a .300 batting average and 10 guys with over a .250 average. Slugging wise there are eight West Virginia batters posting over .400, and five over .500. Long story short this West Virginia team is stacked, Junior outfielder Landon Wallace is another name to watch as he's posting the Mountaineers third best average at .323 with a .582 slugging, good enough for their second best.
The strength of Texas Tech is its bats, as you could easily tell against ACU. As they have seven guys with at least 75 at-bats, hitting over .300, and 11 over .250. Slugging wise it may be even better, as they have six guys with over a .500 slugging, and 11 over .400. Gavin Kash, Tracer Lopez, and Kevin Bazzell, are mainstays in the infield, with Austin Green likely taking the 2B spot, and also just a few of the guys to keep your eye on at the plate. The reason for optimism for West Virginia fans, other than that deadly Hampton, Traxel duo, is their recent road performance. In a road series loss to Kansas State, Tech batted just .210 across the weekend with just a .340 slugging. For context when they took two of three against a weaker Sam Houston State at home, Tech hit .304, with a .471 slugging.
This Series is Huge
For both teams this series means the world, West Virginia, could get a share or head to Austin tied, or even a game back if the disaster scenario of them getting swept, and if there's a sweep in Stillwater. A series win gives West Virginia an inside path before a tough series in Austin. For Texas Tech, they need to target 40 wins, that'd be winning out, or 4-2 with a pair of wins in Arlington, a sweep, and they'd probably be a 2 seed, a series win and things get comfortable. However, if West Virginia sweeps Tech, the Big 12 race could be put on ice, and Texas Tech may need to win the Big 12 Tournament to make the dance.
(Also apologies to Kansas State fans, I counted you out, then you whooped my Red Raiders, and deserve to make a Regional)