Baylor Bears
Big 12 Baseball Weekend Preview: Postseason Hopes on the Line for TCU, Texas Tech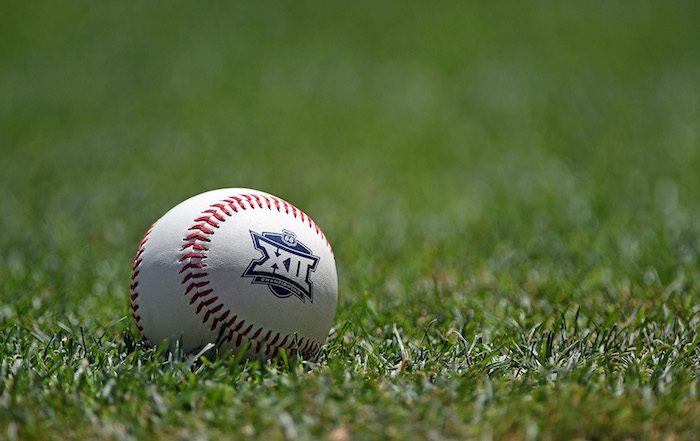 Big 12 baseball is in full swing as we are starting to get a feel for how the conference hierarchy is going to play out this season.
It felt like just yesterday that opening weekend was here and now we are entering the regular season's final month.
Let's take a look at the upcoming weekend for Big 12 baseball.
Texas Tech at #12 West Virginia
There are two huge matchups this weekend in the Big 12 and this is one of them. With a 9-9 record in Big 12 play and an RPI in the 50s, Texas Tech is a team who is on the postseason bubble. We all know the offense they have can compete with anyone in the country. Kevin Bazzell, Gavin Kash, Nolen Hester, and Gage Harrelson have all been great this season, but their pitching simply hasn't been good enough. They will score a ton of runs but they will give up just as many in the process.
Meanwhile, West Virginia is a balanced team. Their combination of Blaine Traxel and Ben Hampton has been key for them on the mound and while J.J. Wetherholt is the best hitter in college baseball, he also has some help around him offensively. Caleb McNeely, Tevin Tucker, Landon Wallace, and Barry Braden have all been key for this team as well, hitting over the .300 mark. This is a big series for both teams but since this one is in Morgantown, give me the Mountaineers.
My Pick: West Virginia
Kansas State at Oklahoma State
Outside of the Texas Tech/West Virginia series, this is the second-best matchup of the weekend. Both teams have the same conference record of 11-7 and with six conference games left for each school, this series has huge Big 12 title implications. While Kansas State may not have the offense that Oklahoma State has, their pitching has improved over the last few weeks. Owen Boermea is a true ace and Mason Buss has stepped up as well. Plus, I like some of their other arms with Tyson Neighbors and even German Fajardo at times.
Kansas State's pitching staff will have their hands full this weekend because Oklahoma State is one of the best offenses they will see all season. Roc Riggio, Carson Benge, Nolan Schubart, and Chase Adkison have been absolutely raking this year, and would be a tough test for any rotation in college baseball. With this game being in Stillwater, I will lean on the home team here.
My Pick: Oklahoma State
Baylor at TCU
While this matchup may not seem like much on paper, it is actually huge for two reasons. TCU is still on the postseason bubble with their 8-10 record in Big 12 play. While their win over Cal State Fullerton last weekend was big, they still need to finish the year strong. As for Baylor, this is their final conference series. Right now, the Bears are sitting at 6-15 and they will need to at the very least win this series to have a chance just to make the Big 12 tournament. Sure, Hunter Teplanszky and Kolby Branch have been bright spots for this team, but they don't have much of anything outside of those two.
Meanwhile, TCU has the talent but has yet to really put it all together this season. Anthony Silva, Cole Fontenelle, Karson Bowen, and Tre Richardson have really held this team together so far, but the pitching has been wildly inconsistent. If the pitching is there this weekend, then TCU shouldn't have any issues taking care of business.
My Pick: TCU
San Jose State at Texas
Texas steps away from Big 12 play as they welcome San Jose State to town. The Spartans have had an up-and-down year, but they do have some interesting pieces. While they don't have a ton of pop in their lineup, the trio of Hunter Dorraugh, Charles McAdoo, and Theo Hardy have been extremely consistent for them at the plate. However, their pitching has really struggled in conference play with an ERA north of 5.90.
Their problems on the mound should be a good thing for a Texas offense that is scorching hot right now as Peyton Powell, Dylan Campbell, Porter Brown, Eric Kennedy, and Garret Guillemette have all been swinging the bat well. Plus, the pitching duo of Lucas Gordon and Lebarron Johnson Jr should cool down San Jose State's offense.
My Pick: Texas
Oklahoma at Gonzaga
It's not often you see a power five team make such a long trip to play a non-conference game this late in the season, but the Sooners are heading to the west coast to take on Gonzaga. With an 18-27 record, the Bulldogs aren't a very good team. They have one solid player on offense with Brian Kalmer, but their pitching has been atrocious. In fact, they have the third-worst ERA (6.89) in the West Coast Conference. I know Oklahoma's pitching has had its fair share of issues, but they aren't as bad as that. At least the Sooners have some capable bats with Kendall Pettis, Easton Carmichael, Anthony Mackenzie, and Bryce Madron.
My Pick: Oklahoma
Kansas at Samford
The Jayhawks take a break from Big 12 action as they travel to Birmingham, Alabama to take on Samford. The Bulldogs can hit the ball well as they have four players batting over .300. That alone is going to give Kansas some problems because the Jayhawks have really struggled on the mound this season as they have the second-worst ERA in the Big 12.
I will be brutally honest here; this series is nothing more than a practice game for the Jayhawks. While Samford is the best team in the Southern Conference, this isn't a conference series. With a 7-14 record in Big 12 play, the most important thing for Kansas right now is making the Big 12 tournament and that final weekend against Texas Tech will l determine if they make it or not.
My Pick: Samford