Big 12 Basketball
Kansas State Wildcats Women's Basketball 2023-24 Offseason Roster Tracker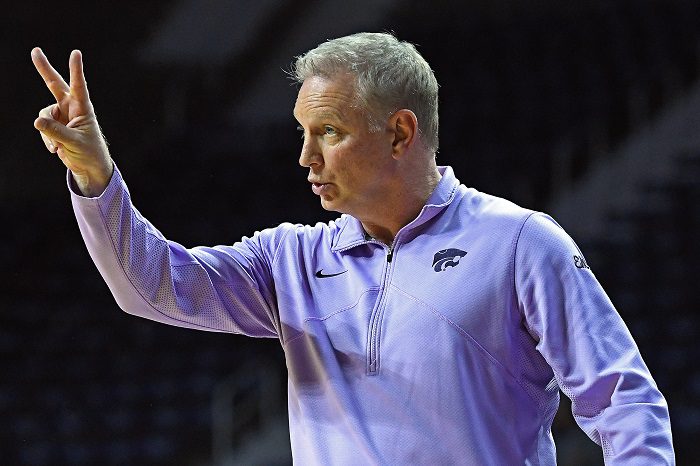 The Kansas State Wildcats are working on assembling their 2023-24 women's basketball roster and we'll track every move here throughout the offseason.
Departures
F Sarah Shemasti: The grad transfer should be out of eligibility. She slid into the starting lineup with Ayoka Lee out for the season and averaged 5.7 points and 3.9 rebounds.  
F Taylor Lauterbach: She transferred to Virginia after the season. She played in 20 games and averaged less than two points per game.
In the Transfer Portal
G Emilee Ebert: The four-year player went through Senior Day ceremonies in March but will use her COVID waiver at another school next season. She averaged 4.8 points and 3.0 rebounds last season.
G Mimi Gatewood: The freshman put her name in the transfer portal after the conclusion of the season.
Arrival Via Transfer
F Imani Lester: She is transferring in from Louisville, which reached the Elite Eight last season. She did not play a game for the Cardinals last season, but she scored more than 1,000 points in her high school career.
G Zyanna Walker: The Wichita, Kan., native is returning home after a season playing alongside Lester at Louisville. She's a former Kansas Gatorade Player of the Year.
Expected to Return
C Ayoka Lee: The All-Big 12 center from two seasons ago will return after missing all of last season due to knee surgery. She was one of the most decorated players in the country in 2021-22 and her K-State bio requires a magnifying glass to read. She averaged 22 points and 10.3 rebounds as she earned All-America honors.
G Gabby Gregory: She transferred into Kansas State from Oklahoma last season and will return as the Big 12's leading returning scorer, as she averaged 18.5 points, along with 5.3 rebounds and 2.0 assists. She will return using her COVID waiver.
G Serena Sundell: She's been one of the most consistently productive performers in the Big 12 each of the last two seasons. She averaged 13.9 points, 4.8 rebounds, 5.1 assists and 1.0 steals and was an All-Big 12 honorable mention selection.
G Jaelyn Glenn: She made a big jump from her freshman season to her sophomore season, as she averaged 11.3 points, 5.4 rebounds, 2.1 assists and a team-leading 2.5 steals.
G Brylee Glenn: She averaged 8.3 points and 2.8 rebounds as she took on a larger role for the Wildcats as a sophomore.
G Rebekah Dallinger: She played in 25 games and made one start but averaged less than two points per game.
F Heavenly Greer: She played in 30 games as a redshirt sophomore and averaged a little more than two points per game.
G Ja'Mia Harris: Part of a large recruiting class that came in last season, Harris played in one game and suffered a season-ending injury in that game.
G Mikayla Parks: The freshman played in nine games last season.
F Eliza Maupin: Another talented freshman, she found a role off the bench and scored 4.1 points per game.
F Gisela Sanchez: The sophomore transferred in from Arizona before the season and did not play.
Class of 2023 Recruits
G Alexis Hess, 6-foot, Fleetwood (Fleetwood, PA): Hess will likely have the chance to redshirt her first season thanks to a stacked roster.
G Taryn Sides, 5-foot-6, Phillipsburg (Phillipsburg, KS): The same should be true of Sides, based on what the Wildcats have coming back.
You can find Matthew Postins on Twitter @PostinsPostcard