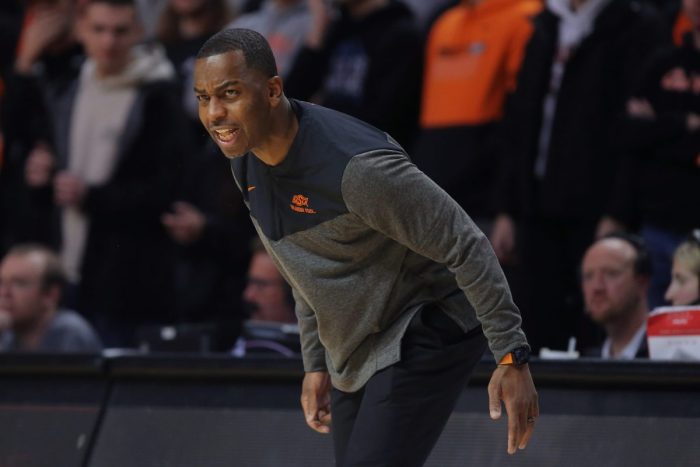 The Oklahoma State Cowboys are working on assembling their 2023-24 men's basketball roster and we'll track every move here throughout the offseason.
Departures
G Caleb Asberry: He said on social media after the season that his playing career was over. Asberry averaged 9.7 points last season.
G Avery Anderson III: He missed the end of the season with an injury, but remained one of the team's top scorers, averaging 11.1 points. After the season he put his name in the transfer portal and went to Big 12 rival TCU.
F Kalib Boone: At times Boone was the Cowboys' best forward. But his play fell off at the end of the season. He averaged 10.6 points and 4.9 rebounds. After the season he transferred to UNLV.
G Woody Newton: The Syracuse transfer became a vital part of the Cowboys' rotation in February and eventually averaged 4.3 points and 3.4 rebounds. He transferred to George Mason after the season.
F Tyreek Smith: Like several other Cowboys, he's transferring for the second time. He started his career at Texas Tech and he'll be at SMU next season. He averaged 5.2 points and 4.4 rebounds last season.
F Bernard Kouma: The little-used forward ran out of eligibility.
In the Transfer Portal
G Chris Harris Jr.: He suffered a torn ACL at the Big 12 Tournament and missed the Cowboys' NIT run. After the season he submitted his name for the transfer portal.
C Moussa Cissé: The 7-footer was at one time the Big 12 Defensive Player of the Year. Last season, despite injuries, he averaged 6.8 points and 8.0 rebounds per game. He is in the transfer portal for the second time. He began his career in Memphis.
Arrivals Via Transfer
C Mike Marsh: The 6-foot-11 center comes to Stillwater after averaging 10.5 points and 4.9 rebounds per game for Jacksonville last season on 55.2 percent shooting from the field.
G Javon Small: He played 18 games for East Carolina last season and he averaged 15.8 points, 5.6 assists and 4.8 rebounds per game. He has two years of eligibility remaining.
Expected to Return
G John-Michael Wright: The guard announced on April 4 that he would return for his final season of college basketball at OSU. Wright became a productive part of the Cowboys last season, as he averaged 9.8 points and shot 34 percent from the 3-point line.
G Bryce Thompson: The former high school All-American led the Cowboys in scoring last season, averaging 11.8 points per game. With Anderson and Boone gone, he's the only returning Cowboy that averaged double figures last season.
G Weston Church: As a junior Church played in seven games last season.
G Naz Brown: The freshman played in 10 games last season. He averaged nearly 16 points per game in high school in Coppell, Texas.
G Brooks Manzer: As a sophomore, the son of former OSU player Bryndon Manzer played in three games.  
G Carson Sager: The junior played in seven games last season.
G Quion Willliams: He earned more playing time as his freshman season progressed. He played in 34 games and averaged 3.2 points per game.
Class of 2023 Signees
F Eric Dailey Jr., 6-foot-7, IMG Academy, Bradenton (Fla.): He signed with OSU in April. He is a Top-50 national recruit and gold medal winner for the USA Basketball Under-18 National Team.
F Connor Dow, 6-foot-5, Broken Arrow (Okla.): The three-star recruit was ranked as the No. 3 overall recruit in the state of Oklahoma. He signed with OSU in November.
C Brandon Garrison, 6-foot-9, Del City HS, Oklahoma City (Okla.): The four-star recruit and No. 1 ranked player in Oklahoma selected the Cowboys over a slew of schools. Last summer he played for the U18 United States basketball team to help the U.S. to a gold medal.
G Jamyron Keller, 6-foot-1, Ellison HS, Killeen (Texas): The three-star recruit played with Justin McBride at the Peach Jam last summer before signing with the Cowboys in November.
F Justin McBride, 6-foot-7, Plano HS, Plano (Texas): The four-star recruit not only played at the Peach Jam but also played on Nike's EYBL circuit with Keller.
You can find Matthew Postins on Twitter @PostinsPostcard