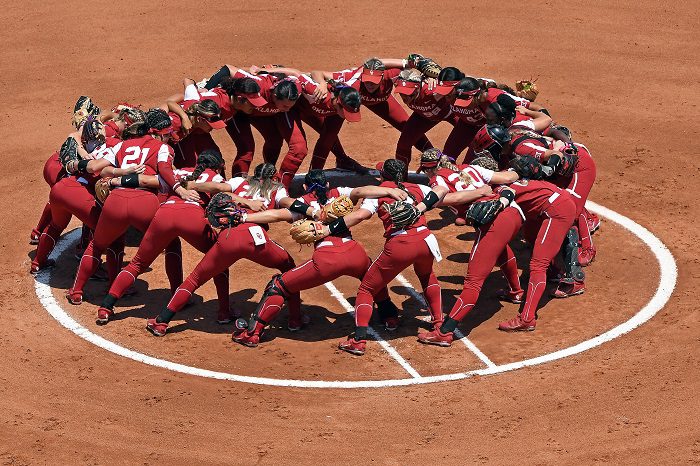 The Oklahoma Sooners were selected as the No. 1 overall seed in the 2023 NCAA Division I Softball Championship and will host a Regional and Super Regional at Marita Hynes Field in Norman, Oklahoma over the next two weekends.
This weekend, from May 19-21, Oklahoma will host Hofstra, California, and Missouri, playing the Hofstra Pride on Friday at 4:00 p.m. CT on ESPNU.
Here is what you need to know ahead of the Norman Regional.
TALE OF THE TAPE
Oklahoma (51-1, 18-0 Big 12) – Oklahoma claimed the No. 1 overall seed and has won each of the last 43 games. The Sooners enter the tournament leading the country in several categories, including batting average (.368), ERA (0.86), fielding (.988), and scoring (8.13).
Hofstra (29-25, 16-7 CAA) – The Hofstra Pride came out of the loser's bracket in the CAA Tournament and took down Towson twice to advance to the NCAA Tournament. The Pride ranks in the top half of the country in fielding (.962) and is led by Meghan Giordano (.352) at the plate with 15 home runs and 48 RBIs.
California (33-19-1, 9-14-1 Pac-12) – The Cal Bears were eliminated by eventual Pac-12 champs Utah in the first round of the Pac-12 tournament. Cal ranks 17th nationally with 1.26 home runs per game and is led by Makena Smith (.352) and Kacey Zobac (.338) who combine for 23 of their 67 home runs.
Missouri (34-24, 7-17 SEC) – Missouri was eliminated in the second round of the SEC Tournament by No. 5 Seed Alabama. Alex Honnald (.414) is the name to know for the Tigers, with 14 home runs and 46 RBIs. Laurin Krings (2.63 ERA) has a 33-21 record in the circle this year with 152.0 IP coming into the tournament.
REGIONAL SCHEDULE
(All Times CT)
FRIDAY, MAY 19 
Game 1 – Oklahoma vs. Hofstra – 4:00 p.m. CT (ESPNU)
Game 2 – California vs. Missouri – 6:30 p.m. CT (ESPN+)
SATURDAY, MAY 20
Game 3 – Winner G1 vs. Winner G2 – 2:00 p.m.
Game 4 – Loser G1 vs. Loser G2 – 4:30 p.m.
Game 5 – Winner G4 vs. Loser G3 – 7:00 p.m.
SUNDAY, MAY 21
Game 6 – Winner G3 vs. Winner G5 – 1:00 p.m.
Game 7 – Winner G6 vs. Loser G6 (if necessary) – 3:30 p.m.
ONE THING TO WATCH
Oklahoma's trio of Nicole May, Jordy Bahl, and Alex Storako have been terrific throughout the season, but we got a tiny glimpse of Keirston Deal in the Big 12 Championship. The No. 1 player from the 2022 class is going to be the next great arm in the Sooners' long line of dominant pitchers. Patty Gasso likes to get her young pitchers action in favorable postseason situations, and OU should have some of those this weekend. If she gets in and shines, it would do wonders for her career trajectory going forward.