Big 12 News
Caleb Grill Cites Mental Health as Reason for Iowa State Dismissal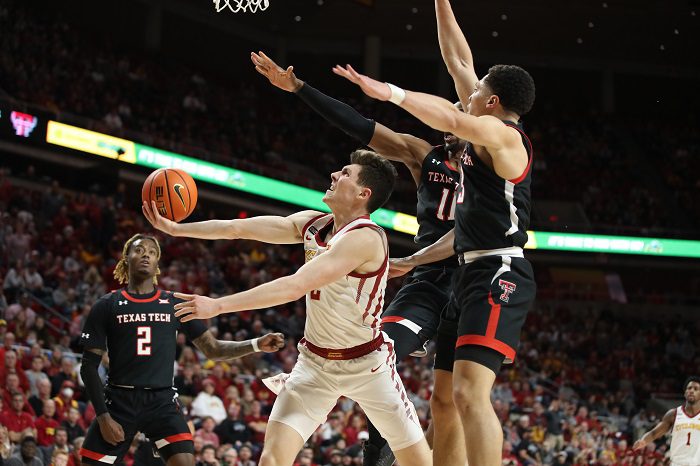 One of the most interesting stories of the 2022-23 college basketball season was former Iowa State guard Caleb Grill's departure from the team.
Grill sat down for an interview with the St. Louis Post-Dispatch to discuss the previous season's scenario detailing what went on behind the scenes in Ames.
After committing to Missouri for the 2023-24 season, Grill spoke about issues both physical and mental that had taken a toll on him.
After nursing a back injury throughout the season, Grill spoke on the injury saying, "I can barely play, I can barely move and, you know, I'm just not healthy," Grill said. "I was on 11 medications, and it was just personally really hard to function at the time."
While there were aspects of his time in Ames that he would have liked back, Grill tweeted on March first that he said something he regretted, and it cost him, "the opportunity to finish out my dream at Iowa State."
Grill's mother, Lena mentioned that the comments that led to her son's dismissal were, "nothing derogatory, nothing racial." The Grill family believes the combination and high volume of his medications led to the comments that got Grill dismissed.
Grill mentioned that he violated head coach T.J. Otzelberger's policies with his actions saying, "That's something that's policy, and I wasn't obeying the policy. I should have just stuck my head down. Keep trusting the process, keep working, keep grinding, but, you know, that's where mentally I couldn't do it. Like, I just couldn't mentally fight through it anymore. And I was just mentally so not healthy at all."
After entering the transfer portal at the end of the season, Grill eventually committed to Dennis Gates and Missouri for the upcoming season saying, "It's been a struggle being back home because I'm just grinding, I'm trying to get healthy," Grill said. "It's just been so long since I've been on the court and around coaches and teammates, and I'm just really excited to be back around that."