Oklahoma Sooners
Oklahoma Listed as School That 'Should Throw Everything' at Bob Stoops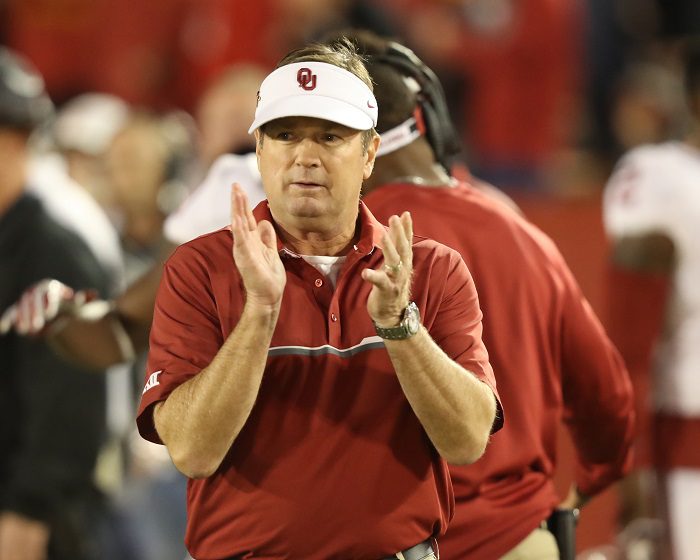 Bob Stoops won another championship over the weekend, this time the XFL Championship as his Arlington Renegades upset the league-best D.C. Defenders 35-26 on Saturday night.
Stoops, who won the 2000 National Championship at Oklahoma and led the Sooners to three more national title game appearances, said he was proud of his team and the "hard work and the way we've turned our season around."
After Stoops won the XFL Championship, his name started to fly around again in college football circles, and has people wondering, "will he come back to college football?" While I wouldn't bet on it, it is fun to think about.
Fansided's John Buhler even put a list together of five teams that "should throw everything" at hiring Big Game Bob. The first team that jumps out on the list? His Oklahoma Sooners.
Here's what Buhler had to say about the Sooners' asking Bob to come back.
Even though is son Drake is one of the Oklahoma Golf Boys, who says you can't go home if you're Coach Stoops? He's like the best thing to ever happen to them. Stoops is beloved in Norman, and he actually knows how to win games. If Brent Venables figures it out fast, then sure, he'll be fine like Mike Norvell is at Florida State. But if they go 6-7 again, Stoops can fix this John Blake mess…
Oklahoma may be joining the SEC, but Stoops would be more than ready to handle all that comes with the gauntlet of a new league. He did work at Florida before. His two younger brothers are chopping it up in Lexington, and doing a mighty fine job of it in the Bluegrass State, if you ask me. Of course, Oklahoma could become an even further west version of Auburn. Does he want that?
See, reaching into one's past to solve a current problem is never a great idea to begin with, but Oklahoma could be lambs for slaughter in the new SEC. This was the preeminent program in the Big 12 for decades … because of Stoops! Switching leagues takes OU from a top-three job in the country to maybe the sixth-best gig in a 16-team league SEC. Whatever, this is Big Game Bob!
If Joe Castiglione has seen enough, he might get the Boomer Sooner boosters to circle the wagon.
Stoops already returned for a short stint at Oklahoma after Lincoln Riley departed for USC, leading the Sooners to a 47-32 Alamo Bowl win over Oregon. Could he come back again if Brent Venables doesn't turn things around in Norman?
It's a long shot, and that's putting it lightly.
Stoops left Oklahoma when he felt is was the right time, and coaching college football is a lot more than most folks realize. The round-the-clock recruiting and the new era of NIL is just something I can't see Coach Stoops jumping back into with both feet. And from what I know about him, if Coach Stoops can't do it with 100% commitment, then he won't do it.
While it's not likely to happen, it's still fun to wonder, "what if?"
Houston, Florida, Iowa, and Texas A&M were the other four programs listed as candidates to go after Stoops.