Baylor Bears
Four Big 12 Players in Top 14 of ESPN's Latest NBA Mock Draft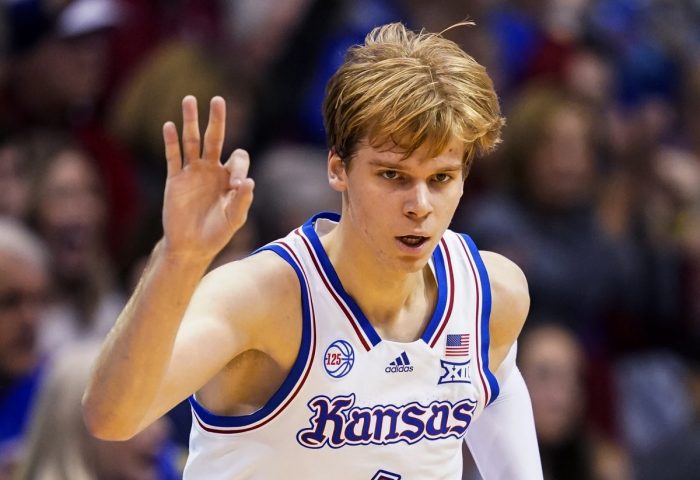 The Big 12 has been widely considered the best basketball conference in the country over the past several seasons.
Prior to the 2023 NCAA Tournament, a Big 12 team was present in the National Championship in three straight seasons.
Two Big 12 squads made the Elite Eight this season, with K-State and Texas both being one win away from making the Final Four. All of that success and talent translates to the next level too, making the Big 12 one of the best places to develop NBA talent.
In 2023 the Big 12 will add Houston, UCF, BYU, and Cincinnati to its membership, making it an even more difficult conference to predict. However, it will also add even more top talent to the Big 12 slate each and every game.
In the latest NBA Mock Draft, the Big 12 has four of the first 14 lottery picks when using its 2023-24 membership.
Picks No. 1-14 are set for the 2023 NBA Draft Lottery, which is set for Thursday, June 22 at 7:00 p.m. CT.
Here are the projected lottery picks from ESPN's latest Mock Draft, with Big 12 players in bold.
San Antonio Spurs: Victor Wembanyama, PF/C, Metropolitans 92
Charlotte Hornets: Brandon Miller, SF, Alabama
Portland Trailblazers: Scoot Henderson, PG, G League Ignite
Houston Rockets: Amen Thompson, PG/SG, Overtime Elite
Detroit Pistons: Ausar Thompson, SG/SF, Overtime Elite
Orlando Magic: Cam Whitmore, SF, Villanova
Indiana Pacers: Jarace Walker, PF, Houston
Washington Wizards: Anthony Black, PG/SG, Arkansas
Utah Jazz: Gradey Dick, SG/SF, Kansas
Dallas Mavericks: Taylor Hendricks, PF, UCF
Orlando Magic (via Chicago): Jordan Hawkins, SG, UConn
Oklahoma City Thunder: Cason Wallace, PG/SG, Kentucky
Toronto Raptors: Keyonte George, SG, Baylor
New Orleans Pelicans: Nick Smith Jr., PG/SG, Arkansas
Of the first 14 picks, just 10 are projected to come from the collegiate route, meaning 40% of the selections are coming from Big 12 schools.
With the new schools coming in, this upcoming season will be one of the most anticipated in recent years. Make sure to say tied in to everything Big 12 right here as we make the new transition right along with you.