Trending Now
'We're Not Unified': ACC Source on Conference's Future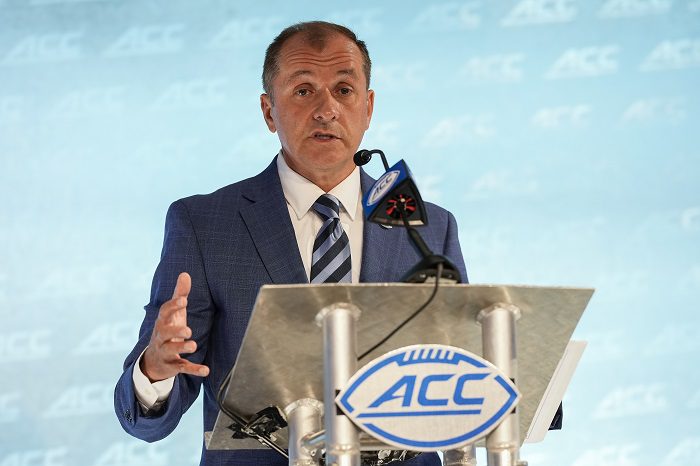 Despite the fact that the ACC left its annual meeting in Amelia Island, Fla., with a semi-united front, a Sports Illustrated article made it clear it's just a front.
Pat Forde spoke to multiple ACC officials for an article that revealed there is a chasm in the league in spite of an agreement to work on unequal revenue sharing among its 14 members.
"We're not unified," an ACC source told Forde. "We're unified until someone offers a school more to go somewhere else. Everyone is going to grab it."
The root of the issue isn't necessarily unequal or equal revenue sharing but the league's television contract, which pales in comparison to leagues like the Big Ten and the SEC and is locked in through 2036 with ESPN.
During the meetings, a group of seven schools — Clemson, Florida State, Miami, North Carolina, NC State, Virginia and Virginia Tech — reportedly met to discuss their options, which included a potential exit from the conference, which has a grant-of-rights through the life of the television deal.
That led to what Forde described as "candid conversations" among the 14 schools, which led to the determination that the ACC would further explore uneven revenue sharing. It also led the 14 schools to not put out a unity statement at the end of the three-day meetings.
Virginia Tech athletic director Whit Babcock was frank about the damned-if-you-do-and-damned-if-you-don't aspect of any potential realignment conversation.
"The tough thing about being an AD in times of conference realignment, real or perceived, is there's nothing you can really say that's the perfect answer," Babcock told the Richmond Times-Dispatch. "If you are undyingly loyal to your conference, which the ACC's been great to us, then your fan base thinks (you're ignoring reality). If you come out and say you want to keep your options open, you're not exactly making friends in the room and with the commissioner."
Despite all of that, ACC commissioner Jim Phillips is optimistic about the league's future while acknowledging the revenue gaps.
"I feel really good about the future of the ACC, I do," he said. "We've got to close that gap, for sure."
You can find Matthew Postins on Twitter @PostinsPostcard