featured
Big 12 Softball: Five Regional Storylines to Watch For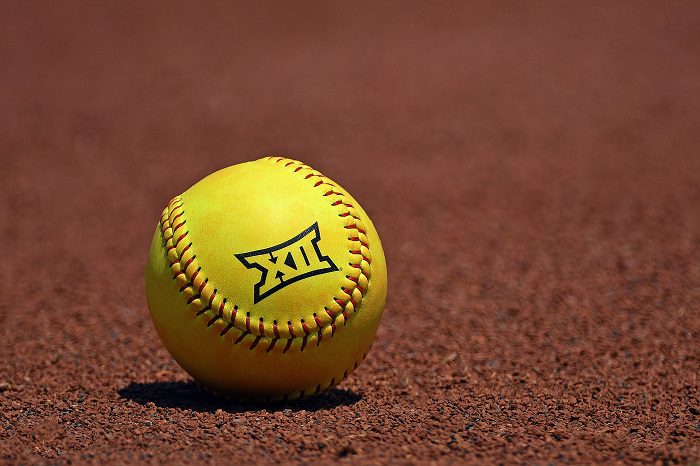 The Big 12 will have four teams in action as the NCAA Softball Tournament starts with Regional play on Friday, May 19.
No. 1 Oklahoma, No. 6 Oklahoma State, and No. 13 Texas will host this weekend at their home stadiums, while the Baylor Bears are in Salt Lake City, where No. 5 Utah will play host.
There are plenty of storylines to follow this weekend around the country but these are the five things you need to watch for on Regional weekend.
Can Oklahoma State Knock Off the Rust and Conquer the Shockers?
We are all aware by now that Oklahoma State probably got a little more than it deserved when the selection committee awarded them the No. 6 overall seed in the tournament. After starting 39-3, the Cowgirls tumbled to a 41-13 record by losing 11 of their last 13. Two of the Pokes' losses were to Wichita State and now the Shockers have landed in the Stillwater Regional.
OSU has lost each of its last five, including an 8-7 heartbreaker to the Kansas Jayhawks in the Big 12 Tournament. Can they get things turned around and treat the Regional as a fresh start heading into the postseason? I think they can, but it's going to take a huge effort. Getting Wichita State, who's had your number all season, is a tough draw for Kenny Gajewski and the Cowgirls.
That being said, playing in front of your home crowd during the postseason is a huge advantage for Oklahoma State. If they've successfully hit the reset button since last Saturday and can get some momentum heading into a likely matchup against WSU in the second round, it will do wonders for their chances.
I still like the Cowgirls to come out of this Regional as the last team standing, but they'll need to look more like the team we saw in early April for that to happen.
How Many Runs Does Oklahoma Give Up in Norman Regional?
Oklahoma comes into the NCAA Softball Tournament as the runaway favorite to win it all, but they'll need to take care of business one weekend at a time. This weekend, the Sooners will host Cal, Missouri, and Hofstra. While Cal and Missouri have the ability to give the Sooners a little bit of trouble, OU should enter next week without another blemish.
The Sooners' pitching staff features Nicole May (0.60 ERA), Alex Storako (0.75 ERA), and Jordy Bahl (1.15 ERA), combining for a nation-leading 0.86 team ERA. However, there is another arm that we'll likely see this weekend that has Sooner Nation excited about the future, too. Freshman LHP Kierston Deal was the No. 1 overall player in the Class of 2022 and has appeared in 16 games and made three starts in 2023.
Over 23.1 IP, Deal maintains a 0.90 ERA and has surrendered three hits while recording 26 strikeouts. With manageable opponents in town this week, it's likely that we will see Deal get some action in the circle, which will be invaluable for her going forward.
So, the question still stands: how many runs will the Sooners give up this weekend? Last year, the Sooners outscored opponents 37-2 in Regional play. That offense was a bit more potent, but this pitching staff is much better equipped with a healthy Jordy Bahl and Alex Storako aboard. I'm not telling you to expect a shutout for the weekend, but it wouldn't surprise me whatsoever.
Does Texas Rise to the Challenge or Fold Under Pressure?
I have just one concern about Texas entering the tournament, and that is their inexperience in postseason atmospheres. The Longhorns have one of the most impressive groups of freshmen in the nation with Reese Atwood, Leighann Goode, Citlaly Gutierrez, Ashton Maloney, and Viviana Martinez all making the All-Big 12 Freshman team in 2023.
However, when things got tough last season, veterans like Janae Jefferson and Hailey Dolcini stepped up and made the plays necessary to keep Texas alive in the tournament. Against Texas Tech in the Big 12 Tournament, the Longhorns found a way after trailing most of the way. There will be moments like that for Texas somewhere along the way, and I'll be interested to see if someone steps up in a big way when they need it most.
With Seton Hall, Texas A&M, and Texas State in Austin this weekend, the young Longhorns will at least get a taste of what it's like to play in front of a home crowd during the NCAA Tournament. While A&M is good enough to make this Regional interesting, I still think Texas can make it out of Austin this weekend.
Staying focused and taking things one inning at a time will be important for UT, and if they can do that, they should find themselves packing up to head to Knoxville next week.
Can Baylor Play the Underdog Role Again in Salt Lake City?
The Baylor Bears have shown up time and time again as the underdog this season, beating a top five teams six times in the 2023 regular season. Now, they'll be the "underdog" again in Salt Lake City after the Utah Utes earned the No. 15 seed with a win over UCLA in the Pac-12 Championship game.
My biggest question here is: Is Baylor really the underdog in this Regional? In the NCAA's RPI, Utah is 18 and Baylor is 19. In D1Softball, the roles are reversed with Baylor being one spot ahead. Utah, Ole Miss, and Southern Illinois are formidable opponents for a Regional, but I really like where Baylor sits in the pecking order.
Now, I'm not saying that the Bears will walk right through this weekend without an issue. That's not what I expect, either. If Baylor is going to walk out of Salt Lake City as the last team standing, it's going to take a gutsy, gritty game or two.
The good news? That's what Baylor has been great at all season long. If Glenn Moore can get the team that showed up against Texas a couple of weeks to make it to Utah, they ought to be headed to Los Angeles this time next week.
Does UCF Have Enough in the Tank to Challenge Florida State?
They might not be in the Big 12 yet, but softball fans had better get familiar with the Knights before next season. In 2023, UCF went 39-19 and 15-3 in conference play, ending the AAC tournament with a run-rule victory over Tulsa to claim the conference auto-bid.
Now, the Knights have a much taller task ahead of them: taking on the Tallahassee Regional, hosted by No. 3 Florida State. I've gone on record saying that Florida State is the team with the best chance to challenge Oklahoma for the national championship in June, and I stand by that statement. With Kathryn Sandercock in the circle and a host of big bats, the Seminoles are the real deal.
So, can UCF challenge them? Yes, but I'm not sure they can beat them twice. UCF is 1-11 against Top 25 RPI teams in 2023, while Florida State is 15-6 against the same level of competition. Plus, the Knights have South Carolina to deal with in the opening round, and that won't be easy after the run the Gamecocks just had in the SEC tournament.
It's the NCAA Softball Tournament, so anything can happen and we've seen crazier things before. However, I just don't see Florida State exiting the tournament early two years in a row.