Trending Now
Brett Yormark Faces Big 12 Skepticism Over UConn Interest: Report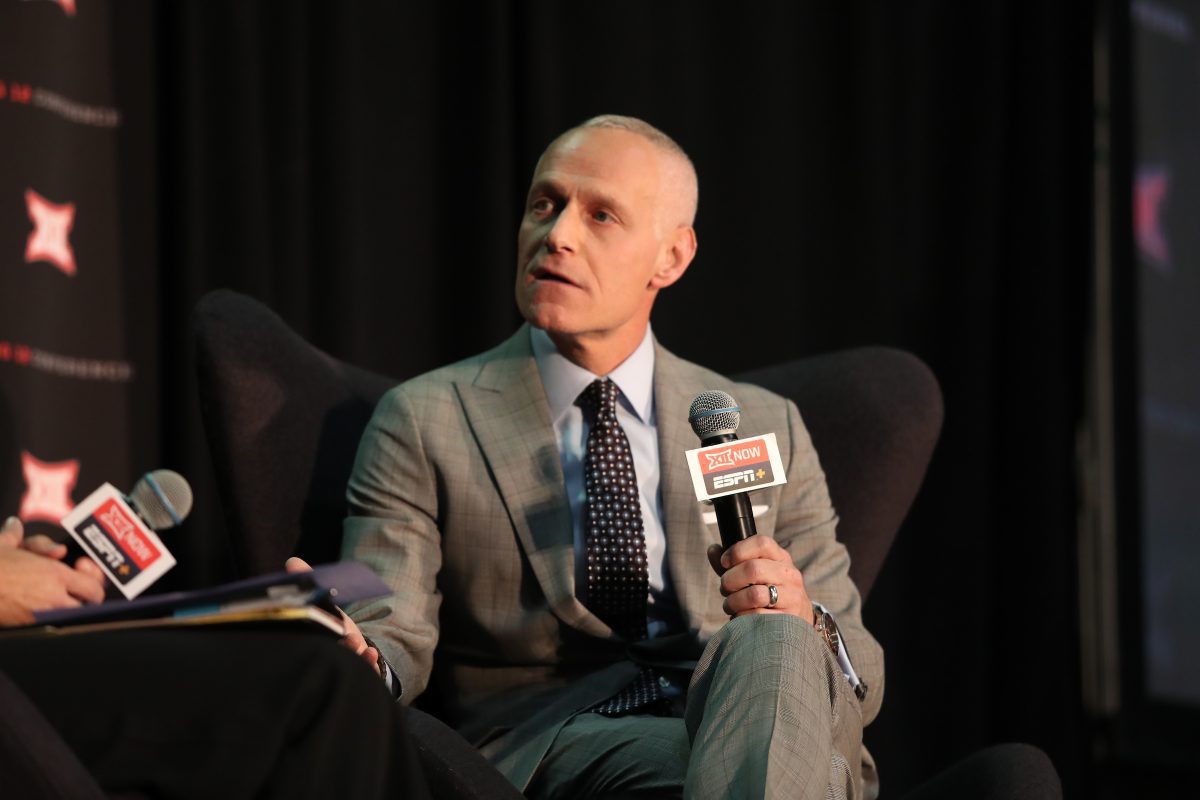 The Big 12 is in a position to play offense, when it comes to conference expansion, for the first time since conference realignment shook the foundations of college athletics over a decade ago.
With the Pac-12 struggling to find a legitimate television deal that will keep all parties involved happy, there has been an opportunity for the Big 12 to expand westward, a primary goal of Commissioner Brett Yormark.
However, the schools of interest (Colorado, Arizona) are willing to wait it out and see what the final offer will be later this summer, leaving Yormark to sit on his hands until the Pac-12 has an offer on the table to discuss.
While that is going on, the ever-progressive Big 12 commissioner is looking for other ways to expand and reportedly has an interest in bringing the University of Connecticut aboard. The reigning national champions of men's basketball would more than fit in when it comes to basketball, but what about other sports, like football?
In 2022, the Huskies finished over .500 for the first time since 2010, when they won a share of the Big East and played Oklahoma in the Fiesta Bowl. The program isn't exactly a money-maker as it stands, and would certainly need some time to catch up to the standards of the Big 12.
So, why would Yormark want to add a school like UConn? Well, as The Athletic puts it, Commissioner Yormark is more forward-thinking, rather than focusing on what's happened in the past.
"Yormark views these expansion prospects more from a professional sports lens, seeing things in terms of future upside more than past achievements," says The Athletic. "He's looking at programs he can invest in by helping build up their brands so they eventually make the Big 12 more valuable when it's time for the next TV deal in 2031."
While that's good and all, what does the rest of the conference think about adding a school like Connecticut? Well, there's skepticism that it's what's best for the conference as a whole, as The Athletic points out.
"One challenge for Yormark, if he determines UConn is part of his plan, would be building consensus among his board of Big 12 presidents and chancellors. There's some skepticism among league sources about whether UConn would become accretive in value for the conference. Yormark has enjoyed strong support from his board to pursue what he thinks is best since he was hired last July. It's easy for presidents and ADs to get on board with importing Pac-12 schools and the value they would drive as full-share members. But going in this direction would likely take much more discussion and convincing."
So, what is Brett Yormark's end goal with expansion talk that seems to point in any direction if the number is right? Well, it's not so much about just adding teams. As Yormark has stated in the past, expansion needs to be additive. The incoming schools need to add legitimate value to the conference as a whole. But, Yormark isn't just trying to poach a few schools here and there. He's trying to ensure the stability of his conference is long-term, and ready to hold strong when the stuff really hits the fan.
"There's a belief among administrators both in and out of the Big 12 that Yormark's envelope-pushing plans go far broader than simply poaching a couple of Pac-12 schools or leaning into basketball pedigree," The Athletic says.
"He's trying to position the Big 12 to be the third-strongest power conference moving forward — or perhaps the third and final power conference standing, if instability within the Pac-12 and ACC leads to exits that break open those leagues. Yes, the most valuable schools would flock to the SEC and the Big Ten, were they to garner invites. But what about that second tier? Schools like Louisville, Virginia Tech, Georgia Tech or Duke could be fits for the Big 12 if the dominoes fall this way. It might be worth waiting to see what happens elsewhere before making expansion decisions."