Trending Now
Big 12 Commissioner Brett Yormark Recently Visited UConn For 'Exploratory Visit': Report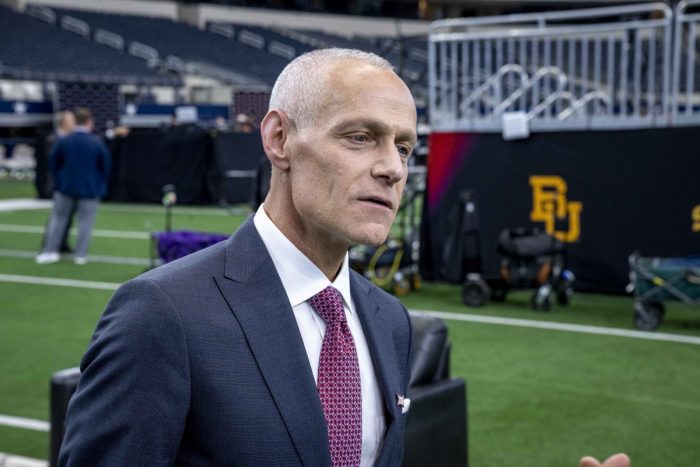 As the Big 12 expansion rumors continue to circulate around the college sports world, UConn has emerged as a team that may be of interest to Big 12 commissioner Brett Yormark.
The Huskies are fresh off a National Championship in college basketball and according to a new report, Yormark was recently in Stoors, Connecticut for a visit that was considered "very exploratory", according to Boardroom's Russell Steinberg.
This comes one day after a report in The Athletic suggested that Yormark was continuing to express interest in the Huskies, but there has been some skepticism from other decisionmakers, such as Big 12 presidents and chancellors.
"One challenge for Yormark, if he determines UConn is part of his plan, would be building consensus among his board of Big 12 presidents and chancellors. There's some skepticism among league sources about whether UConn would become accretive in value for the conference," The Athletic noted.
UConn would certainly check off two important boxes for Yormark: 1) A highly-successful basketball program that builds the Big 12 into what the SEC has become in football, which is the undisputed top league in the country. 2) A presence in the New York City TV market, where plenty of UConn alums reside and call home.
However, there will be hurdles here, such as whether or not it's a fit for the Huskies, who just left the AAC for the Big East, and have enjoyed much more success being back in their regionally-based conference. Also, what is the football element to this move? Do the Huskies want to be ae part of a conference again in football? Does the Big 12 have interest in the Huskies for football?
There are clearly still more questions than answers on this potentially budding relationship between the Big 12 and the UConn Huskies, but both sides would be foolish to not continue having conversations and exploring the potential fit for both sides.
Check out our YouTube page (and subscribe!), where we talked about the Big 12-UConn dilemma this week.