Baylor Bears
Friday Big 12 Baseball Six-Pack: West Virginia Clinches Share of Big 12 Title Despite Series Loss to Texas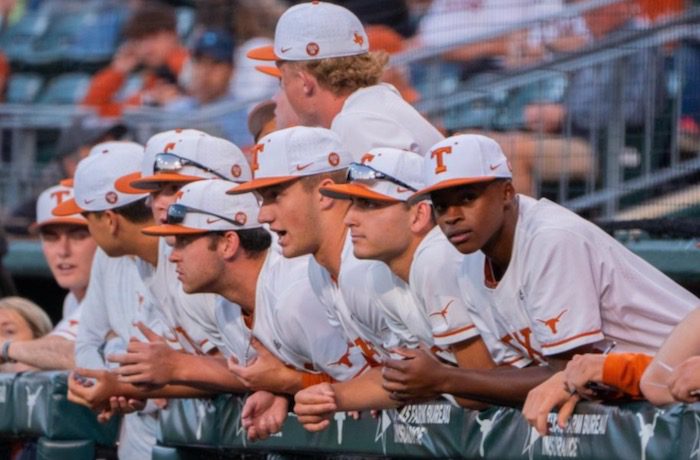 Is there anything better than cold beer and baseball? It's a combination that is hard to beat during the season. No matter what kind of beer you drink (or how many), let's take a look at some of the best action on the Big 12 baseball diamond from Friday with a nice six pack.
Best Game
Kansas at Texas Tech
The Jayhawks shocked the Red Raiders on Thursday so with their postseason hopes on the line, Texas Tech really needed to bounce back on Friday. Tech wasted no time scoring as they put up four runs in the first three innings.
However, Kansas tied the game in the fourth inning thanks to back-to-back home runs by Luke Leto and Collier Cranford.
Texas Tech would recapture the lead in that same inning with a pair of sac-flies, but the Jayhawks wouldn't go away as Michael Brooks hit a big home run in the fifth inning. Tech ended up scoring again as they went up by two runs but once again Cole Elvis came up big hitting a two-run blast in the eighth that tied the game at seven.
Both teams went scoreless in the ninth as the game went into extra innings. But the game didn't go too far into extras as Gavin Kash hit a walk-off home run. His home run may have just saved Texas Tech's season for the moment, and they will need to win on Saturday to keep their postseason hopes alive.
Best Win
Texas Over #6 West Virginia
After crushing the Mountaineers on Thursday night, the Longhorns continued their dominance on Friday. West Virginia got on the board first with Landon Wallace's solo home run, but Texas quickly answered with a four-run first inning which was highlighted by Eric Kennedy's two-run blast.
The home runs didn't stop for Texas as both Jared Thomas and Dylan Campbell went deep in the second inning to make it a 7-1 game.
West Virginia tacked on another run in the third inning but that didn't do much at all to change the outcome. Porter Brown drove in a run for Texas in the fourth before Peyton Powell went deep in the sixth.
From there both teams traded runs as Texas held on for the 10-4 victory. With the win, Texas takes the series and now has a chance to clinch a share of the Big 12 title with a win on Saturday. Meanwhile, West Virginia still needs to win one more game to win the conference title outright.
Worst Loss
#25 Oklahoma State
It was weird seeing Oklahoma State get shutout after putting up 13 runs on Thursday. The Cowboys offense just couldn't get going at all as Oklahoma pitcher Braden Carmichael completely shut them down. While the loss certainly stings, Oklahoma State still has plenty to play for on Saturday. They need to win the series and if they do, they will clinch a share of the Big 12 championship if Texas can also beat West Virginia.
Friday MVP
Texas Tech 1B Gavin Kash
While his numbers may not impress people, Gavin hit the game winning home run in extra innings against Kansas on Friday night. His home run may have just saved Texas Tech's season.
Pitcher of the Day
Oklahoma LHP Braden Carmichael
We saw some great performances on Thursday night, but none were greater than Braden Carmichael's. He pitched a complete game and allowed just four hits while not allowing a single run. That is extremely impressive considering the fact that he faced one of the best lineups in college baseball.
Best Home Run
Texas Tech 1B Gavin Kash
Is there anything better in baseball than a walk-off home run? I didn't think so.
Full Scoreboard
Texas: 10, #6 West Virginia: 4
Oklahoma: 5, #25 Oklahoma State: 0
TCU: 8, Kansas State: 1
Texas Tech: 8, Kansas: 7