Big 12 News
Oklahoma State Rolls Wichita State 6-0 in Stillwater Softball Regional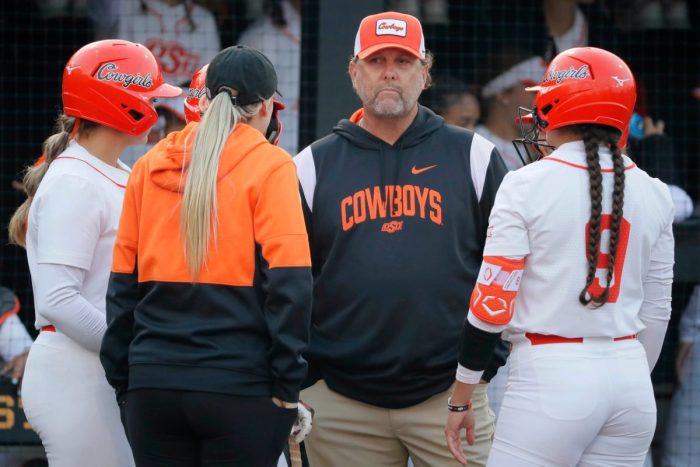 The Oklahoma State Cowgirls got their revenge against Wichita State with a 6-0 win over the Shockers in their NCAA Regional game in Stillwater on Saturday afternoon.
The Cowgirls were fresh off a 9-0 win over UMBC on Friday in their first game of the NCAA Regional. Meantime, Wichita State got by Nebraska 6-5 in their opening-round game on Friday.
This was the third meeting between the two teams with Wichita State taking both regular season matchups, 8-7 back on April 4th, and 3-1 in 8 innings on April 18th.
But in this game, obviously the most important of their three meetings, Oklahoma State got on the board in the first inning with a Kiley Naomi ground-out RBI single. Then, OSU tacked on three in the fourth inning on a fielder's choice, and then two RBI singles from Morgyn Wynee and Taylor Tuck. Another run in the fifth and the sixth shut the door for OSU on the Shockers.
Lexi Kilfoyl was in the circle for the Cowgirls and went six innings giving up just four hits with six strikeouts.
Oklahoma State extended its NCAA Regional winning streak to 11 games with the win on Saturday, all of which have happened at the NCAA Stillwater Regional.
Oklahoma State Softball will look to lock up their Regional win and advance to the Super Regionals if they win on Sunday where they will play whichever team advances out of Saturday without losing a second game in the double-elimination Tournament. UMBC and Nebraska face off following the Oklahoma State-Wichita State game, and the winner will play Wichita State on Saturday evening. The winner of that game will take on Oklahoma State on Sunday at 3:00 p.m.
If Oklahoma State wins on Sunday, they advance, but if they lose, it will be a winner-take-all rematch on Sunday afternoon.