Baylor Bears
Saturday Big 12 Baseball Six-Pack: West Virginia, Texas, and Oklahoma State Share Big 12 Title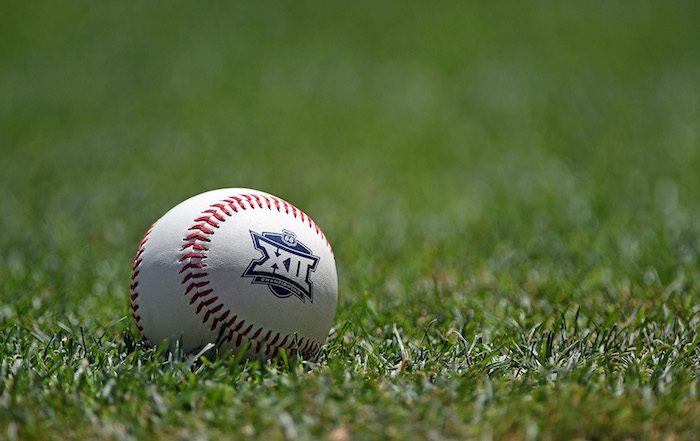 Is there anything better than cold beer and baseball? It's a combination that is hard to beat during the season. No matter what kind of beer you drink (or how many), let's take a look at some of the best action on the Big 12 baseball diamond from Saturday with a nice six pack.
Best Game
TCU at Kansas State
Believe it or not, there weren't that many great games in the Big 12 on Saturday. Sure, plenty of them were important but a lot of them were blowouts. However, this one was not because it was great all the way until the very end.
TCU scored the first run of the game in the fourth inning when Brayden Taylor hit a solo home run.
Kansas State also scored a run in that same inning, but TCU took the lead back in the fifth thanks to a sac-fly. A Karson Bowen home run and a bunt helped TCU take a 4-1 lead going into the bottom of the ninth inning. That's where things started to get interesting. A wild pitch and a sac-fly put up two runs for Kansas State to pull them within a run. Then with two outs, Kyan Lodice was up to bat. Lodice hit a deep shot to left center and for a second it looked like it was about to be a tie game. Instead, Elijah Nunez robbed him of a home run.
This was a huge series win for TCU as they kept their postseason hopes alive. Meanwhile, this one really stings for Kansas State as they may be on the outside looking in when it comes to the tournament. Both teams may need to make a run in Arlington next week just to get to a regional.
Best Wins
Texas Over #16 West Virginia
#25 Oklahoma State Over Oklahoma
I decided to go with Texas and Oklahoma State here because I couldn't pick just one. The Longhorns completed a sweep over West Virginia to earn a share of the Big 12 title. Luckily for them, they got to celebrate with the trophy in Austin.
As for Oklahoma State, their big win over Oklahoma also earned them a share of the Big 12 title.
And while there may not have been a trophy present, it is still a big accomplishment for them. Both teams did a great job on Saturday and took care of business by winning big.
Worst Loss
West Virginia
I know Kansas got run-ruled by Texas Tech, but I need a moment to talk about West Virginia. Going into their series with Texas, they needed just one more victory to win the Big 12 title. Instead, they were absolutely demolished by Texas down in Austin. The Longhorns put up 29 runs in three games against the Mountaineers which is crazy considering how good West Virginia's pitching has been. Texas outscored them by 20 runs this weekend and not one out of their three games were close. I know West Virginia still won a share of the Big 12 title but they had a golden opportunity in front of them to win it outright and they couldn't get it done. Plus, there is a good chance that West Virginia will lose their national seed because of what happened this weekend.
Saturday MVP
Texas Tech Catcher Hudson White
Hudson had a monster day against Kansas as he went deep twice. The first one was a grand slam in the first inning and the second one came in the fourth inning where he hit a two-run blast.
Pitcher of the Day
Texas Tech RHP Zane Petty
Another Texas Tech player gets recognition for Saturday and rightfully so after their dominant win over Kansas. Zane pitched five full innings and didn't allow a single run. He also struck out six batters during his time on the mound.
Best Home Run
Oklahoma State LF Nolan Schubart
I know Hudson White hit a grand slam but this home run from Nolan Schubart was hit a mile.
Full Scoreboard
Texas: 7, #6 West Virginia: 3
#25 Oklahoma State: 11, Oklahoma: 1
TCU: 4, Kansas State: 3
Texas Tech: 15, Kansas: 1
Baylor: 5, CSU Bakersfield: 2