Big 12 News
Texas Softball Beats Texas A&M 2-1 in Austin Regional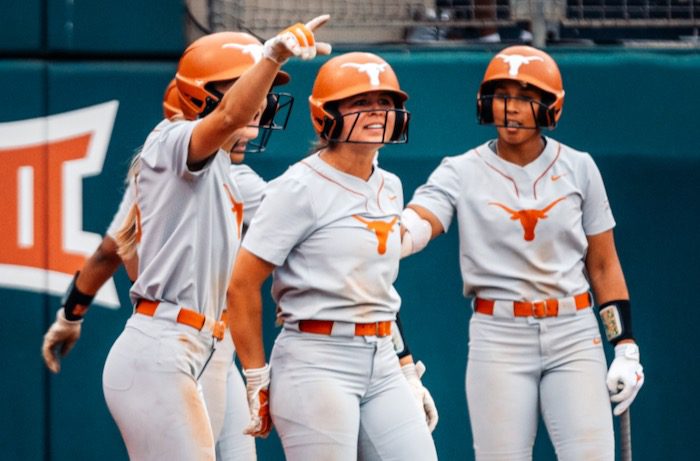 In a classic match up of two former, and soon-to-be-renewed, rivals, the Texas Longhorns took care of business against Texas A&M in their second game of the NCAA Softball Regional with a 2-1 win.
The Longhorns were fresh off an 8-0 run-rule win over Seton Hall in Game 1 of the NCAA Regionals, which also happened to be Texas' first-ever combined no-hitter in UT postseason history. Meantime, Texas A&M snuck past Texas State 2-1 in their first-round game on Friday.
The game got off to a slow start before Texas A&M scored the first run of the game in the top of the third with an Amari Harper RBI single. But Texas would get that run back and more, with the help of Harper. Bella Dayton grounded into a fielder's choice that scored the tying run, but then a throwing error by Harper at second base allowed Alyssa Popelka to score to make it 2-1 Texas after three innings, which would be all the scoring on the day.
Citlaly Gutierrez was in the circle on Saturday and gave up three hits and one run over five innings of work to improve to 14-5 on the season. Sophia Simpson closed the two with two hitless innings for UT.
This is the 23rd time Texas has played in an NCAA Softball Regional and they're looking to follow up on last year's magical ride to the College World Series Championship, where they lost to Oklahoma.
Texas Softball will look to lock up their Regional win and advance to the Super Regionals if they win on Sunday where they will play whichever team advances out of Saturday without losing a second game in the double-elimination Tournament. Seton Hall and Texas State face off following the Texas-A&M game, and the winner will play A&M on Saturday evening. The winner of that game will take on Texas on Sunday at 1:00 p.m.
If Texas wins on Sunday, they advance, but if they lose, it will be a winner-take-all rematch on Sunday afternoon.