Big 12 News
Oklahoma Advances to Super Regionals With 16-3 Win Over Cal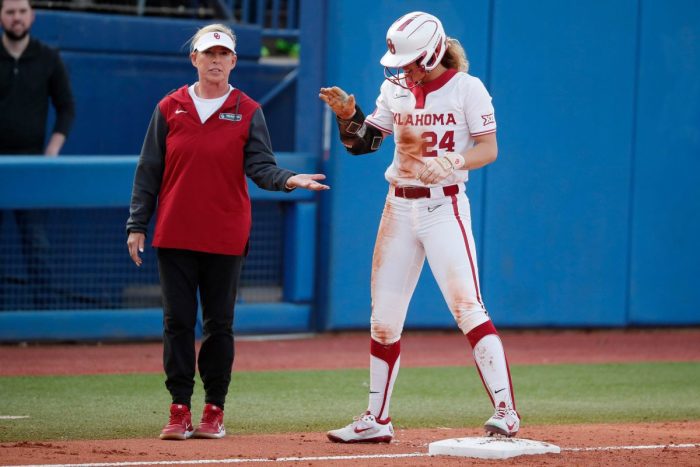 The Oklahoma Sooners have rolled to another Super Regional after beating the Cal Bears 16-3 on Sunday in Norman.
Oklahoma came into the game winning their first two matchups 11-0 against Hofstra and then Missouri on Saturday afternoon. Both victories were of the run-rule variety. Meantime, Cal lost its opener to Missouri on Thursday but then won two games against Hofstra and Mizzou on Saturday to advance to Sunday's Regional Finals.
While the Sooners are known for having the best bullpen in the country, the pitchers didn't need to play perfectly to secure the win. Alex Storako started for the Sooners and went 2.2 innings before being pulled for Nicole May. Storako earned her 18th win of the season on Sunday after giving up three runs on five hits, with one strikeout on the day.
In this game, the Sooners' bats were hotter than ever, most notably Tiare Jennings and Alyssa Brito. Patty Gasso's squad was dominant from the opening pitch as Sunday's game marked the fourth time this season that the Sooners had six home runs in a single game, a mark they achieved in the top of the third.
Tiare Jennings headlined the group by being the hardest person to send back to the dugout, without crossing home plate. Jennings went 4-4 with two home runs, a double, and a single on the day, putting together one of the best hitting displays in Sooners' postseason history. Alyssa Brito added some runs to the board early with a deep homerun shot in the first inning, before following herself up with another bomb in the third.
In an offensive clinic, the Sooners totaled six home runs, with two from Jennings and Brito and Cydney Sanders and Jocelyn Erickson adding one a piece.
With the win, OU (54-1) improved their nation-best and program-record win streak to 46 games, just one game shy of the NCAA all-time record set by 1996-97 Arizona. The last loss for the Sooners came in February against the Baylor Bears.
This is Oklahoma's 13th straight trip to a Super Regional dating back to 2008 (2020 was canceled due to COVID). The Sooners are set to play either Clemson or Auburn in the Super Regionals in Norman, which gets underway on Thursday.