Basketball
Postscripts: Big 12's Goals Met as No. 3 Revenue Conference, Mixed Messaging From Pac-12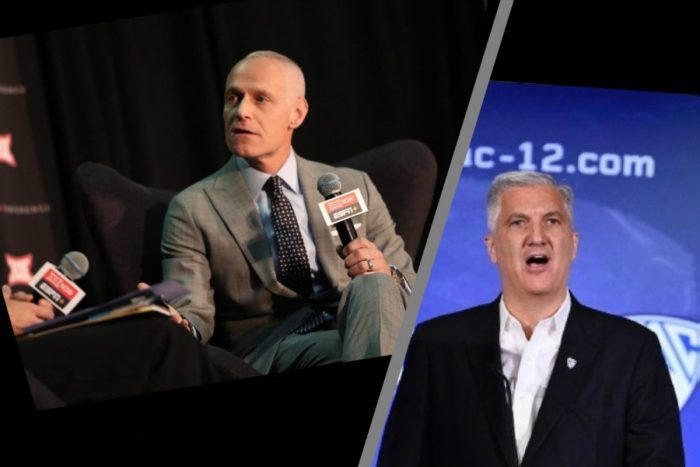 What's going on in the Big 12 and beyond? I expand and explain every Sunday in Postscripts at Heartland College Sports, your home for independent Big 12 coverage.
This week, it's time to count the money, one Pac-12 AD is still bullish on togetherness and Raegan Pebley's final act as a Horned Frog.
The Big 12 is No. 3
I've said and written plenty that the Big 12's long-term goal is to be No. 3 in revenue generation for its member schools. The horse is out of the barn in terms of catching the Big Ten and the SEC. But No. 3 is completely attainable.
In fact, the Big 12 may already be there.
Earlier this week the five Power conferences revealed their revenue generated and their team payouts for the fiscal year 2021-22 (or the 2021-22 athletic year).
Now, the Big 12 DID generate the least amount of revenue of the five conferences at $480.6 million. That's well behind the Pac-12, which generated $580.9 million.
But, when it came to per-team payout, the Big 12 was third at $42-44 million. The Pac-12 was fifth at $37.1 million. The ACC — which has been talking like it's the No. 3 league all week — ranged from $37.9-$41.3 million per school.
Now, the schools don't get all the total revenue. And the Big 12's advantage at the moment is that it has 10 teams. But divide the raw numbers and something stands out.
Divide the Big 12's $480.6 million by 10 and you get $48.6 million. That's a difference of $4.6 million per team when you look at the high end of the team payout.
Now look at the Pac-12. Divide $580.9 million by 12 and you get $48.4 million. That's a difference of more than $10 million per team when you look at the payout.
I find the gap interesting. That's $136.8 million in revenue the Pac-12's teams aren't getting. The Big 12 teams, meanwhile, aren't getting just $46 million. What am I missing? More importantly, what are those teams missing? Is that the gap related to running the Pac-12 Networks?
Something to keep in mind. That fiscal year was the last year that Bob Bowlsby was in charge. So none of new commissioner Brett Yormark's initiatives are taken into account.
In two weeks we'll get a preliminary idea of what the Big 12 schools can expect from fiscal year 2022-23 when they have their annual meeting.
While winning this battle to share revenue at a higher level than the Pac-12 and the ACC likely feels good to the Big 12, you can also see why they hired Yormark. It's also clear why he's been given plenty of leash to generate more revenue. For instance … more Big 12 Eats! And, beer, too (not that we at Heartland condone imbibing in any way, wink, nod).
That $100 million gap between the Big 12 and the Pac-12 is what the league wants to make up. That's why Yormark is here. He won't be able to do it on WVU-inspired pepperoni rolls alone.
It's also a gap the Pac-12 can't afford to lose as it negotiates its next TV deal.
This Week in "As The Pac-12 Turns"
So not much happened this week. But one athletic director — Arizona State's Ray Anderson — is reading from the Pac-12's Kumbaya hymnal.
He told the Speak of the Devils podcast that "I'm very confident in the long-term viability. The 10 schools are solid."
He also told them the media rights deal may not be done until July or August. He also said the thought of expansion is there and it could come "quickly."
The Pac-12 may want to accelerate that timeline. Why? San Diego State — one of those potential expansion targets — must pay the Mountain West a $17 million buyout if it decides to leave for another conference for the 2024-25 athletic year. The buyout jumps to three times that if they decide to do so after July 1.
Remember what their athletic director, JD Wicker, said recently? We're either going to be in the Pac-12 or the Big 12.
The end of June could be really interesting.
Raegan Pebley's Final Act at TCU
Coaching changes can elicit a lot of emotions. Many came up when Raegan Pebley's time as TCU's women's basketball was done in March. The program needed a change. It was a mutual agreement. Nine years and no NCAA Tournament appearance.
When coaches get fired or leave their job, they usually head out of town. Pebley stuck around for a couple of months. She had one last thing to do — walk at graduation.
Pebley has her master's degree and if you're in the Dallas-Fort Worth area you'll likely hear on the call of Dallas Wings games this season. Wherever she goes next, she'll have her degree in hand.
The UConn Twist
I'm sure we'll have a lot more time to talk about UConn and the Big 12, but it's clear that Yormark is out there kicking the tires. As long as it's additive, strategic and generates revenue for the Big 12 — and doesn't put a drag on the league — every option should be considered.
While I can't say for certain, I believe that Yormark has been broad license by the league's membership to explore all expansion options. I also believe there is a pecking order. But any additions are going to be approved by the league's presidents and athletic directors, not Yormark. He's there to do the due diligence and present the options, should the Big 12 get to that point.
UConn to the Big 12? I like it, but only if there's a larger swath of east coast basketball schools coming with them. If it's just UConn, I think it's just as likely the Huskies say no.
You can find Matthew Postins on Twitter @PostinsPostcard