Baylor Bears
CBS Sports Ranks Power Five Coaches Heading into 2023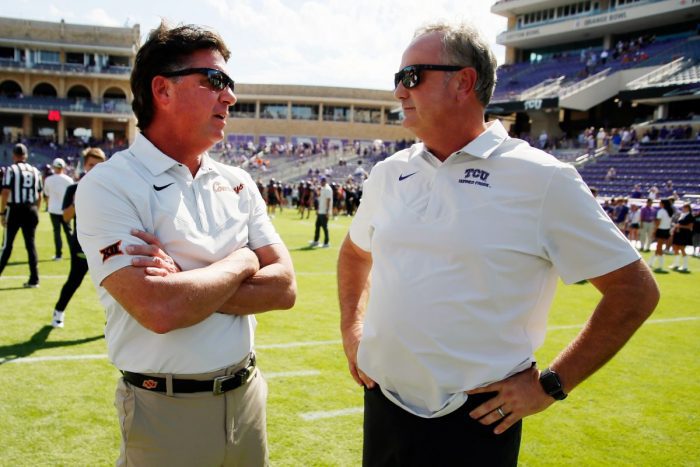 CBS Sports' Tom Fornelli recently ranked the Power Five college football head coaches entering the 2023 season from No. 1 to No. 69.
It should come as no surprise that Nick Saban, the Godfather of Alabama football, ranks as the No. 1 coach in America, followed by his former pupil, Kirby Smart.
The Big 12 is well represented in this list though, with four coaches breaking into the Top 25. TCU's Sonny Dykes tops the list for the Big 12 at No. 11 after leading the Horned Frogs to the National Championship game in 2022-23.
Based on CBS Sports' rankings, here's how the Big 12 coaches stack up against one another and what Fornelli had to say about each of them.
1.) Sonny Dykes, TCU (No. 11)
He didn't win the Big 12, but reaching the College Football Playoff National Championship will do wonders for your ranking. TCU was the Cinderella story of the 2022 season, going undefeated in the regular season before pulling off an upset of Michigan in the Fiesta Bowl semifinal. Sure, the championship was a mess, but Dykes got TCU to the national title game. That's one helluva introduction.
2.) Chris Klieman, Kansas State (No. 12)
Winning your conference warrants a giant leap forward, which is what Klieman did after Kansas State won the Big 12 last season. The Wildcats played spoiler, avenging their regular-season loss to TCU by denying the Horned Frogs a perfect season. Any time you're replacing a legend at a school, there's concern you'll never emerge from their shadow, but the steady build Kansas State has made under Klieman has to have Wildcats fans feeling great about where this program stands with the Big 12 on the precipice of a new age.
3.) Mike Gundy, Oklahoma State (No. 17)
Oklahoma State finished with a 7-6 record last year, tied for the Cowboys' worst since Gundy took over in 2005. That's a testament to how strong of a program Gundy has built in Stillwater, Oklahoma, and he has the track record that buys him some benefit of the doubt. After all, the last three times his teams went 7-6, he followed it up with an average of nine wins the next year.
4.) Lance Leipold, Kansas (No. 23)
Seriously, what else needs to be said about Leipold other than he had Kansas ranked last season? The Jayhawks started 5-0, and while they had a rough finish to the season to end up 6-7, those six wins are more than KU have compiled in any season since Mark Mangino went 8-5 in 2008. Leipold built a program from essentially nothing at Buffalo and appears to be on the way to doing the same thing in Lawrence, Kansas.
5.) Dave Aranda, Baylor (No. 28)
 It's no surprise to see Aranda fall out of the top 25. He probably got too much credit in our rankings last year following a 12-2 season and a Sugar Bowl appearance. However, after going 6-7 in 2022, that season is the only winning year Aranda has had in Waco. I'm still a fan and expect more winning seasons in the future, but this is a pretty fair spot for now.
6.) Gus Malzahn, UCF (No. 34)
The former Auburn coach returns to our rankings as UCF joins the Big 12, and The Gus Bus still gets plenty of respect for what he accomplished in the SEC. Malzahn is 18-9 in his two seasons with the Knights.
7.) Matt Campbell, Iowa State (No. 35)
OK, here's how these rankings work. When you win more games than you should at a school nobody expects to win a lot of games, you rocket up the rankings. But if you dare have one subpar season and fail to live up to the expectations you set, you will be punished severely. Campbell is the latest example. So what if he's responsible for the most successful run in program history? He went 4-8 last year. He stinks now. Just in case it isn't clear, I am not criticizing Campbell with these comments. I'm criticizing my colleagues.
8.) Steve Sarkisian, Texas (No. 37)
What happens if Quinn Ewers doesn't get hurt against Alabama? Where does Texas finish, and where is Sark ranked in this alternate universe? We'll never know. Instead, the Longhorns went 8-5 but were never serious contenders in the Big 12, so Sark moves up two spots and nothing more.
9.) Kalani Sitake, BYU (No. 41)
The 2023 season will be BYU's first in the Big 12, but the Cougars have played schedules featuring plenty of Power Five opponents under Sitake. They've gone 56-34 in Sitake's seven seasons.
10.) Joey McGuire, Texas Tech (No. 46)
I was skeptical of the McGuire hire at Texas Tech, but I've quickly come around after one season. My fellow voters seem even higher as he climbed 16 spots up to No. 46 after an 8-5 record last season. More importantly, Tech's 5-4 mark in the Big 12 was the first time it finished a season with a winning record in the league since Leach's final season in 2009. Three coaches have tried and failed to do so, and McGuire did it in his first year.
11.) Dana Holgorsen, Houston (No. 48)
With Houston moving to the Big 12, Holgorsen is our first coach from the four new schools to join the Power Five this season. Of course, this will not be Holgo's first foray into the big-time as he went 61-41 at West Virginia. Aside from the 12-2 season in 2021, his tenure at Houston has been mostly underwhelming.
12.) Brent Venables, Oklahoma (No. 52)
 After Lincoln Riley shocked the world with his move to USC, Venables said all the right things when he returned to Norman, Oklahoma, but not much went right afterward. Not only did Riley take a lot of key players with him to USC, but the Sooners dealt with injuries to key players all year. Hopefully, Venables' second season will provide fewer challenges.
13.) Scott Satterfield, Cincinnati (No. 54)
Perhaps the fact that Satterfield fell 11 spots in these rankings is why he seemed so eager to leave Louisville for the opening at Cincinnati. Satterfield has had plenty of success in his career, but he didn't have nearly enough of it with the Cardinals.
14.) Neal Brown, West Virginia (No. 59)
I'm somewhat surprised Brown is still in our rankings. After the Mountaineers went 5-7 last season, there was some speculation Brown could lose his job as the program hasn't been able to break through in his four years. He drops seven spots in our rankings, but he'll get one more crack at it.