Big 12 Previews
NCAA Softball Preview: Oklahoma Hosts Clemson in Norman Super Regional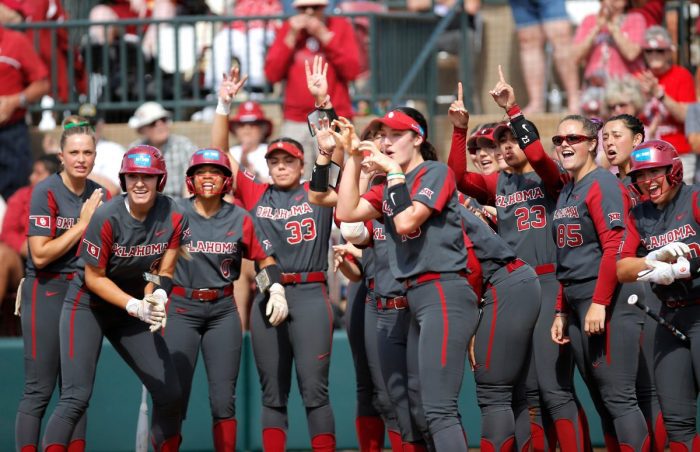 The Oklahoma Sooners (54-1) absolutely dominated the field in the Norman Regional, proving their worth as the top overall seed with three-straight run-rule victories to reach the Super Regionals. In 16 innings of play this weekend, the Sooners outscored opponents 38-3 with wins of 11-0, 11-0, and 16-3.
Meanwhile, the Clemson Tigers (49-10) played a total of four games in their Regional, three of them coming against the Auburn Tigers. After getting through the first two games unscathed, Clemson dropped the first contest on Sunday to Auburn, 5-2. In the if-necessary game, Clemson flipped the script, winning 5-1 to advance.
Here's everything you need to know about the Sooners and Tigers before their Super Regional matchup.
TALE OF THE TAPE
No. 1 Oklahoma (54-1)
What more can be said about this Oklahoma team? The Sooners hit 10 home runs and scored 38 points in the Norman Regional while holding opponents to just eight hits over three games. Their nation-leading ERA of 0.83 tells the story of the pitching staff and their .988 fielding percentage, also a national best, shows just how elite the Sooners are defensively. At the plate, Oklahoma is starting to catch fire at the right time with transfers Haley Lee and Cydney Sanders starting to get hot, along with mainstays like Jayda Coleman, Tiare Jennings, Alyssa Brito, and Kinzie Hansen swinging the bat as well as they have all season.
No. 16 Clemson (49-10)
The Clemson Tigers are probably the best No. 16 seed I've seen in this tournament over the last several years, with their strength of schedule (48th) likely being the culprit for their seeding. The Tigers rank second nationally in ERA (1.31) and are led by USA Softball Player of the Year Finalist Valerie Cagle (1.15 ERA). Cagle rakes at the plate too, with 19 home runs and a .464 average. As a team, Clemson ranks seventh in fielding (.980), 17th in batting (.318), 14th in scoring (6.23), and 10th in on-base percentage (.414). Simply put, the competition for Oklahoma will be much stiffer this weekend.
SUPER REGIONAL SCHEDULE
LOCATION: MARITA HYNES FIELD; NORMAN, OKLAHOMA
Game 1: Friday, May 26, 2:00 p.m. CT (ESPN2)
Game 2: Saturday, May 27, 1:00 p.m. CT (TBD)
Game 3: Sunday, May 28 (if necessary)
ONE THING TO WATCH
Valerie Cagle threw 17.0 total innings and 198 pitches this past weekend to advance past Auburn in the Clemson Regional, with 10.0 innings and 125 of those pitches coming on Sunday. Will that play a factor with just five days turnaround before playing the best offense in the country? The Sooners' lineup presents a unique challenge for opposing pitchers, with power hitters throughout the lineup. With pressure being consistent from 1-9, OU can press just about anyone, and fast. Regardless of how fresh she is on Friday, the Sooners will certainly test the bullpen depth of Clemson in this series. If the Tigers can find a way to take down OU on Friday, they could rest Cagle on Saturday and throw her Sunday. However, beating the Sooners has proven tough this season, let alone twice in three games.