Big 12 Previews
NCAA Softball Preview: OSU Hosts Oregon in Stillwater Super Regional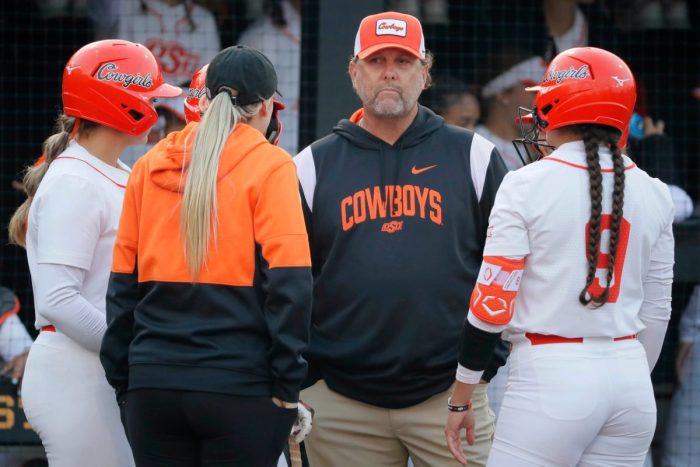 The Oklahoma State Cowgirls (44-14) made the turnaround needed to get out of a tough regional, taking down each UMBC, Wichita State, and Nebraska once to get through the field. Kelly Maxwell seemed to look more like the player we've gotten used to seeing, and the defense behind her was solid.
Meanwhile, the Oregon Ducks (38-15) went to the Fayetteville Regional and made a statement. After beating Notre Dame 5-4, the Ducks walloped Arkansas 10-4 on Saturday and then 14-4 on Sunday to advance to the Stillwater Super Regional.
Here's everything you need to know about the Cowgirls and Ducks before their Super Regional matchup.
TALE OF THE TAPE
NO. 6 OKLAHOMA STATE (44-14)
Oklahoma State entered the tournament on a five-game skid, but has now won three in a row to begin tournament play and has looked more like the team that ranked No. 2 for several weeks this season. After outscoring opponents 20-2 in regional play, the Cowgirls look primed to make a fourth-straight run to Oklahoma City. With Maxwell combining with Kyra Aycock and Lexi Kilfoyl to make a strong pitching staff, plus Rachel Becker and Micaela Wark leading the offense, OSU is a team to watch if they can get back to midseason form.
OREGON (38-15)
Oregon looked like the team that should've been hosting a regional last weekend, and made a statement by blowing out the Razorbacks twice this weekend. Similar to OSU, the Ducks entered the tournament on a four-game losing streak before ripping off three straight wins in regional play. Ducks' right fielder Ariel Carson is coming off a 10-RBI weekend, with seven runs batted in on Sunday against Arkansas. The Ducks have struggled in the circle this season, with a 2.68 ERA, which is good for 57th nationally.
SUPER REGIONAL SCHEDULE
LOCATION: COWGIRL STADIUM; STILLWATER, OKLAHOMA
Game 1: Thursday, May 25, 8:00 p.m. CT (ESPN2)
Game 2: Friday, May 26, 5:00 p.m. CT (ESPN2)
Game 3: Saturday, May 27 (if necessary)
ONE THING TO WATCH
Which team can keep the fire going after getting back to playing good softball last week? Both OSU and Oregon needed to reset entering the tournament and did so, going 3-0 a piece. These teams met way back in February in Puerta Vallarta, Mexico, with Oklahoma State kicking off its season with a 3-0 win ove the Ducks. We've seen both of these teams endure hills and valleys since then, and a lot has changed. I expect this series to come down to a battle between the Oklahoma State bats and the Oregon pitching staff. If Oregon can keep the Pokes from playing their game offensively, then they'll likley have the upper hand in this series. However, if OSU can keep the bats going, their superior pitching staff should win the day.