featured
2023 Big 12 Baseball Tournament Preview: Four Things to Watch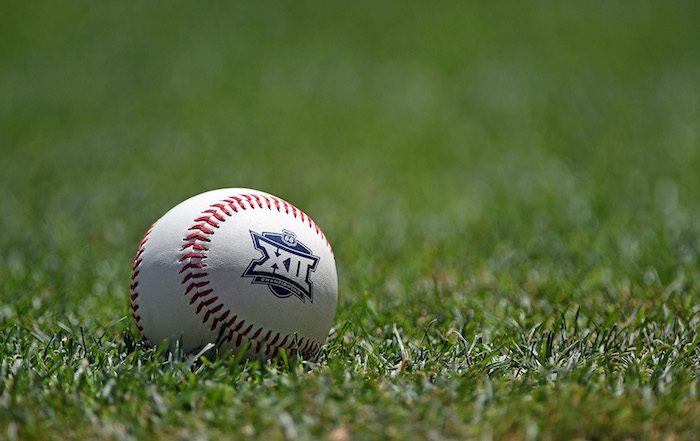 The regular season is in the books as we now turn our attention to the Big 12 baseball tournament in Arlington.
While three champions have already been crowned, there is still plenty to play for as teams look to make their final impression before selection Monday.
Here are my four things to watch for the Big 12 baseball tournament and you can find the full Big 12 tournament schedule right here.
Who Will Win?
Obviously, we have some great teams in this conference, and truly anyone could win. However, there are some teams that are playing better than others at the moment. Right now, Texas is playing some really good baseball. They just completed a sweep over West Virginia and looked dominant doing it.
They have the best pitching duo on the mound with Lucas Gordon and Lebarron Johnson Jr. and their offense is scorching hot as they have six players in their lineup hitting over the .310 mark.
I know Oklahoma State is good too, but take a look at the bracket. The Longhorns have a much easier path to the championship game, and they get Kansas in the first game as well.
Who will be Cinderella?
We have seen in years past that sometimes a team can catch fire at the right time. Last season Oklahoma got on a roll and won the Big 12 tournament and eventually made it to the finals. Will we see another team like that? While I don't believe so, I do have a team to keep an eye on because TCU has quietly turned things around in Fort Worth. A month ago, they weren't even in the postseason discussion and since then they have won ten out of their last twelve games. I have said all season that the talent is there for TCU and maybe they are finally starting to put the pieces to the puzzle together.
Who Wants to Host a Regional?
There are just three teams in the Big 12 that have a legitimate chance at hosting a regional in my opinion. Of course, those three teams just happen to be the same three that split the Big 12 title on Saturday.
West Virginia is one of those teams despite having a disappointing weekend down in Austin. They had three chances to win the conference outright and instead, they ended up sharing the Big 12 title with two other teams. Their national seed hopes appear to be over, but they still have a good chance at hosting a regional in Morgantown if they can make a run in Arlington.
The same can be said for Texas and Oklahoma State. Both teams are ranked and both teams have a top 25 RPI. There is a small chance that two out of these three teams end up hosting a regional, but I don't see a scenario where all three end up hosting. It's going to be something to keep an eye on this week.
Who is on the Bubble?
I talked earlier about Texas, West Virginia, and Oklahoma State. No matter what happens in this tournament, all of those three teams are safe getting in. However, there are four other teams playing in Arlington that aren't exactly locks to make the postseason. TCU, Kansas State, Texas Tech, and Oklahoma are all projected to make the tournament according to D1 baseball but as well all know, not every one of those teams will make it.
When I look at the tournament bracket, I think Oklahoma and Kansas State have a tough road ahead of them. The Sooners get Oklahoma State right off the bat and as one of the last few teams projected to make the tournament, a loss in that first game could really set them back. Meanwhile, Kansas State faces a hot TCU team but even if they lose that game, they will likely play Kansas next.
As for TCU, I like their chances of making a small run. If they can do that then they are definitely in. However, I do have some concerns about Texas Tech. We all know they have a great offense, but do they have enough pitching to win a few games in Arlington? I am not sure that they do.