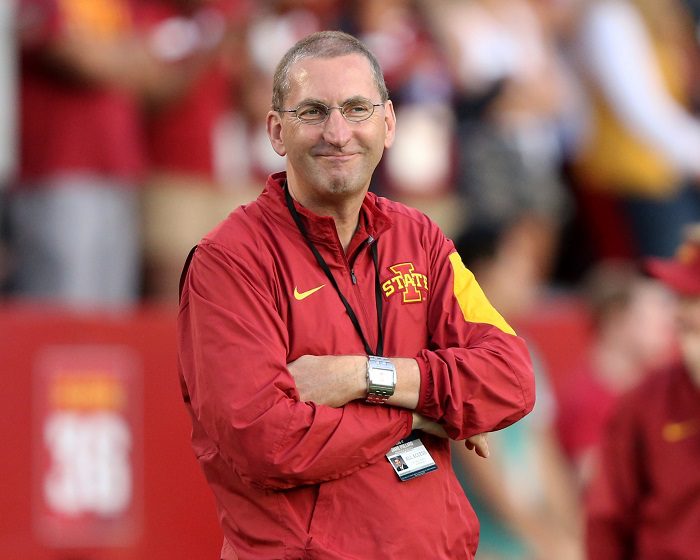 The Big 12 has seen more seismic activity with an everchanging and shifting college landscape over the last decade and a half than any other conference in the business.
Texas A&M, Colorado, Nebraska, and Missouri all decided to part from the conference for one reason or another in 2011 and 2012. TCU and West Virginia came aboard to alleviate those losses.
Then, in 2021, it was announced that Oklahoma and Texas were jumping ship for the SEC. BYU, Houston, Cincinnati, and UCF were added in response to the losses.
Realistically speaking, the Big 12 has been in a perpetual state of defense for nearly half its existence and Iowa State athletic director Jamie Pollard has been around to see it all.
However, his attitude toward the future of the Big 12 is a little different now than it's been in years past.
"I never have felt stronger about the fabric of the Big 12," Pollard said Tuesday, according to The Athletic. "I've done this for 18 years. Quite frankly, for 16 1/2 years, I still have the scars, the scabs, the bruises from the Big 12 being the conference that was ready to implode."
After Oklahoma and Texas leave, the Big 12 will actually have 12 members for the first time since 2011. And from Jamie Pollard's perspective, the conference is perfectly content with that remaining the case, should an opportunity to expand not readily present itself.
"What we wanted to do is be positioned that if there were other conferences that had issues, that the Big 12 would be a great landing spot," Pollard said. "But we don't need anybody to come to the Big 12. So we're not actively looking to expand. But if the opportunity exists, we're ready to expand.
"We feel really good about what the future holds with the four new members coming in this year. Those fan bases are excited. Their institutions are fired up. And we think we're in a really good spot."
The Big 12 is in a really good spot, especially when you consider what's going on with the Pac-12 and ACC. With both of those conferences squirming at the moment, the Big 12 is primed and positioned to be the next-best conference behind the Big Ten and SEC, who are ahead of the pack by a wide margin.
Now, though, the Big 12 is out of defensive mode for the first time in about 15 years, and that alone speaks for itself.