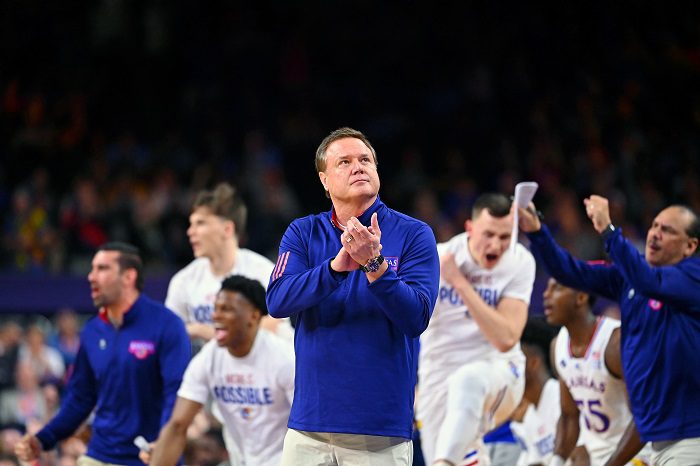 The Kansas Jayhawks will have many new faces in Lawrence, Kansas by the time basketball season comes around this fall. Head coach Bill Self will have his work cut out for him as he continues to re-tool the roster during the offseason, through incoming freshmen as well as the transfer portal. The recent big announcement that Kevin McCullar Jr. will be making his way back to the University of Kansas for one more season is great news for Self and Jayhawk nation.
Here is what we know so far:
Returning players from the 2022-2023 roster who logged meaningful minutes during the season:
DeJuan Harris Jr, Guard,
RS Senior KJ Adams Jr, Forward
Junior Kevin McCullar Jr, Forward, RS Senior
These are your staple players and leaders heading into the season. These are the guys Self trusts the most and knows they understand what it takes to make it through a tough Big 12 season. Harris will continue to be relied on to run the offense, distribute the ball, and play All-American defense. Adams stepped up his game last season and will look to add more variety to his arsenal this offseason as he prepares for another run with the Jayhawks. McCullar returning is the biggest and best surprise for Self, who was looking to fill a few more holes as the summer was drawing closer. McCullar adds another element that is irreplaceable. He is a veteran presence, one of the best defenders in America, and can give a boost on offense at times as well. These are the key three to the upcoming season. Walk-ons that will likely be back include Wilder Evers, Dillon Wilhite, Michael Jankovich, and Charlie McCarthy.
Players who graduated left for the NBA, or transferred to a different school:
Gradey Dick, Guard
Bobby Pettiford Jr, Guard
Joseph Yesufu, Guard
Kyle Cuffe Jr, Guard
MJ Rice, Guard
Jalen Wilson, Forward
Zach Clemence, Forward
Cam Martin, Forward
Zuby Ejiofer, Forward
Ernest Udeh Jr, Center
That is a lot of moving parts. Dick and Wilson just finished up at the NBA Combine and are looking ahead to their professional careers. That makes eight players who decided to leave the Jayhawks after the 2022-2023 season. Part of that is due to incoming freshman or transfer portal additions potentially pushing some of these guys down the depth chart. KU only has a certain amount of scholarships to give and these guys want to have playing time. That's the good and the bad of the transfer portal all wrapped up into one. Kansas can get some of the best players, but they'll lose some depth in the process. Who are the new faces joining the Jayhawks this summer?
Incoming Players to the Kansas Roster:
Hunter Dickinson, Center, Senior
Parker Braun, Power Forward, Senior
Arterio Morris, Point Guard, Sophomore
Nick Timberlake, Guard, Senior
Elmarko Jackson, Guard, Freshman
Chris Johnson, Guard, Freshman
Marcus Adams Jr, Small Forward, Freshman
Jamari McDowell, Guard, Freshman
Kansas added the "Freshman Four", a nickname that has been coined on the Heartland College Sports podcast, Jayhawker Talker. All of these guys are talented enough to break into the rotation with Jackson as a potential starter. Hunter Dickinson, the highest-rated prospect in the transfer portal, was Self's prized possession this offseason. Dickinson will give the Jayhawks experience and size they were lacking in 2022. Braun will be an off-the-bench player who won't garner a ton of minutes but can still play a role on this team. Morris and Timberlake will be the first guys off the bench and would be inserted into the starting lineup if Jackson isn't playing up to the hype or if there is an injury to any of the starters.
Things are really starting to come together for the Jayhawks and they still have another scholarship to give. This could be one of the most talented rosters Bill Self has ever constructed. Only time will tell if the team will be able to gel together and make a run at another Big 12 or National Title. The pieces are in place for this new group, along with the returning three starters, to make an immediate impact. It's an exciting time to be a part of Jayhawk nation!