Big 12 News
Ben Abram Leads Oklahoma State Past Oklahoma Again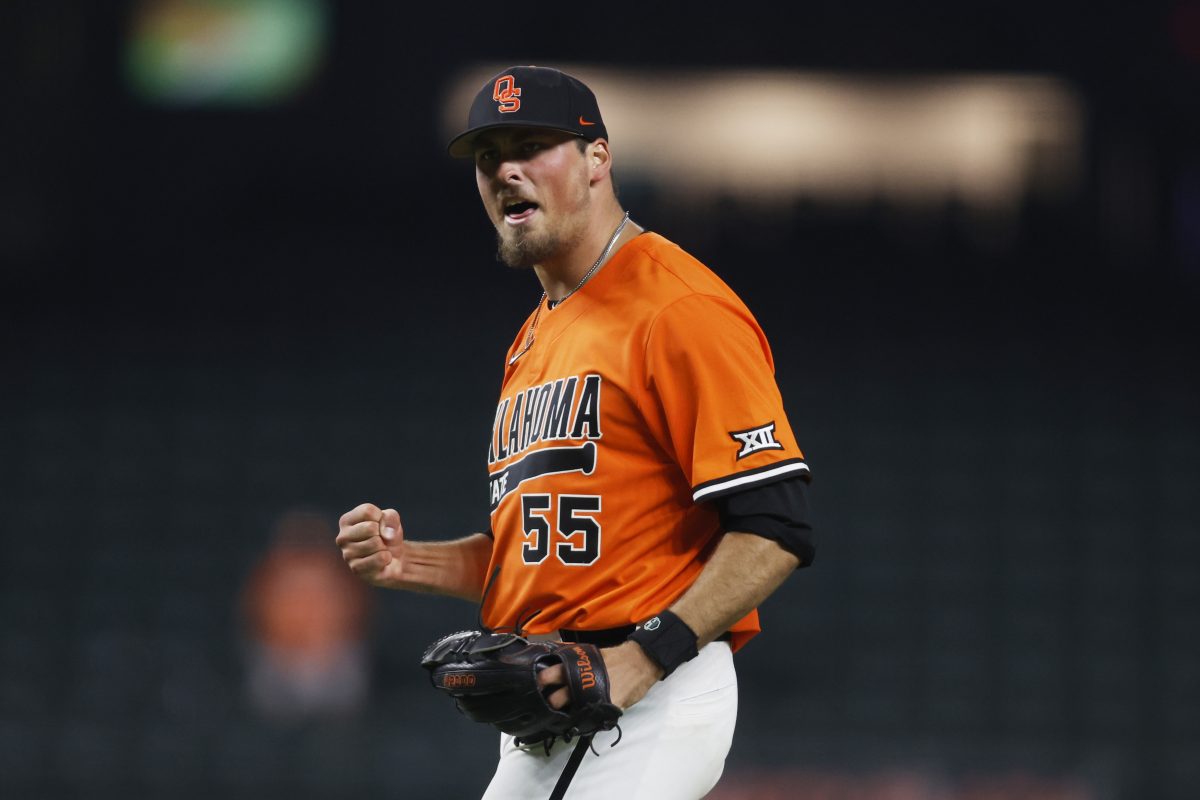 ARLINGTON, Texas — For the second time in less than a week, Oklahoma State starting pitcher Ben Abram took it to his former team.
It just so happened that his former team is the Cowboys' arch-rival, and Friday's 8-3 win over the Oklahoma Sooners in the Big 12 Tournament sent the Cowboys (39-17) into another elimination game on Saturday against Texas Tech.
It also sent the Sooners (31-26) home, perhaps for good. Baseball America had the Sooners as a 'First Four Out' for the NCAA Tournament before their loss to the Cowboys.
If the Sooners don't get to the NCAA Tournament, then they have 'Diesel' partially to blame. That's what they call Abram.
The Sooners may as well call him dominant, because that's what he's been against them in the past two meetings.
It was emotional for Abram to say the least.
"He competed exceptionally well," OSU head coach Josh Holliday said. "I'm super proud of what a great job he's done. In his last two starts, both having come against Oklahoma, he's been very mature about how he approached it. We obviously know he was there for a good amount of time. He has a lot of friends on that team and he has a lot of emotions about this experience. And yet he put those aside and competed like a mature pro."
On Friday Abram went six innings, giving up six hits, one run and struck out three. This was just six days after facing the Sooners for the first time since leaving Norman.
In the regular-season finale he went five innings, gave up four hits, one run and no walks while striking out four. He threw 68 pitches. The Cowboys won, 11-1.
That's 11 innings, 10 hits allowed, two runs allowed, one walk allowed and seven strikeouts. He threw fewer than 70 pitches in each starts.
That's locked in.
"I'm sad," Holliday said. "It's only one year I could spend with him. He's my kind of guy. He roots for his teammates like crazy. And then on the days that he pitches, it comes back around this direction."
Abram was happy to see his defense come through for him on Friday. Outfielder Carson Benge had a couple of great catches and the Cowboys turned a fifth-inning double play that helped keep the Sooners from adding runs.
"I think I said double play (in my head) probably 100 times," Abram said of that fifth inning. "That's the only thing I was thinking about making the pitch and getting a double play, and like a miracle it just happened."
What happened after he left on Friday wasn't on him. The Cowboys' bullpen gave up two runs in the top of the seventh. But the Cowboys' offense picked Abram and the bullpen up with two runs in the bottom of the seventh to push the lead back to five runs.
It all set up perfectly to give Abram his eighth win of the season. That's nearly as many wins as he had in his four seasons with Oklahoma.
Abram was never a full-time starter with the Sooners, but he received plenty of use, especially last season.
For the Sooners he went 9-5 with a 5.34 ERA in 53 games, but only 14 as a starter. He struck out 112 in 123 innings. Last season he was used primarily as a reliever.
Given the chance to be a full-time starter for the Cowboys, he's delivered on what the San Diego Padres saw in him back in 2018, when they drafted him in the 37th round out of Georgetown, Ontario, Canada.
He turned down the pros for the Sooners. And then he transferred to their arch-rival after last season.
Now, Abram will be in the draft pool again come July. Based on this season, he's proven that he's worth something more than a 37th-round pick.
The Cowboys can be grateful he's proven that with a potentially deep NCAA Tournament run awaiting them.
You can find Matthew Postins on Twitter @PostinsPostcard