Big 12 News
Bill Self Shares He Had Another Heart Procedure in Fall of 2022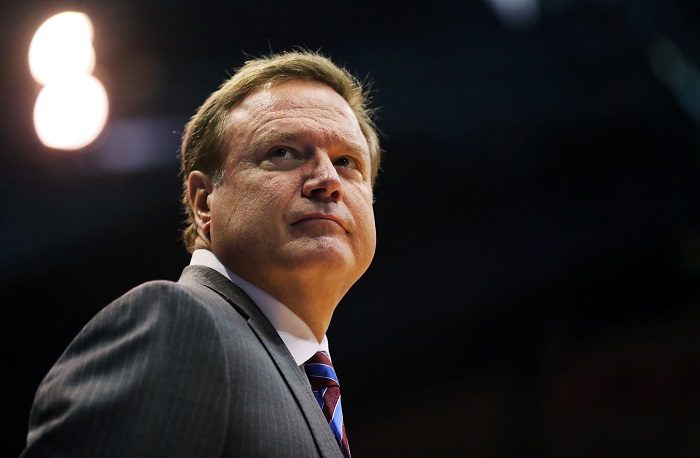 Kansas basketball has been busy this offseason retooling a roster that lost 10 pieces from a season ago, including guard Gradey Dick and forward Jalen Wilson among others.
The Jayhawks are coming off a 28-8 season that ended in the second round of the NCAA Tournament with an early tournament exit courtesy of Arkansas. Head coach Bill Self wasn't on the bench for the tournament, or even the Big 12 tournament for that matter, due to a medical emergency that held him out.
Now, we know that Self had a heart catheterization to treat blocked arteries in his heart on March 8, and his recovery from that procedure was more important than anything else. But now, Self can sit and reflect on the work that he's done this offseason to ensure that 2023-24 starts off right when this year's squad shows up for summer workouts on June 6.
"I'm fine now. I feel good," Self said on the Field of 68 Podcast from his vacation home in Florida. However, as Self discussed his health scare this past season, he revealed that he'd also had a heart procedure during the fall of 2022.
"I've had a heart issue going back to the fall that I didn't let anybody know about. I had a valve replaced — aorta valve replaced — which is pretty common," Self said. "I mean it's not like it's a huge deal. It happens with a lot of folks and was told I would feel better immediately."
He went on.
"I just felt OK. I didn't ever feel better immediately. I had some lingering things kind of going on," Self added. "The day before the Big 12 tournament I had an episode where obviously it became much more than what it had been. I got great care. They took me to KU Med Center and KU Hospital. I got a couple of stents put in there immediately."
The good news is, Self looks and says he feels much better now after some much-needed rest, and looks at his health scare as "a learning experience."
"I've taken a lot of things for granted in my life health-wise and I'm sure a lot of folks have," Self said. "Now it has made me think a little bit, dive into some things maybe like eat right (and) exercise."