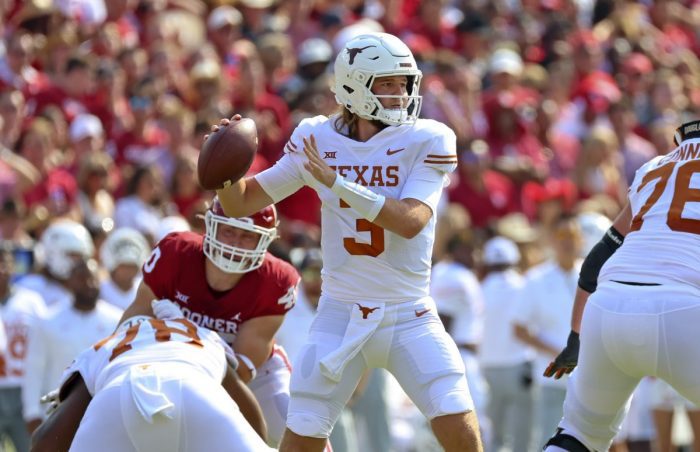 The Red River Rivalry is one of the most heated matchups in all of sports, and this past year gave the Texas Longhorns all kinds of momentum in the rivalry's recent history.
A 49-0 shellacking of Oklahoma in the Cotton Bowl last fall marked the biggest shoutout victory for the Longhorns over OU in 118 total meetings. One of the biggest reasons for UT's success in that game was Quinn Ewers, who played a whale of a game in his first experience in the game.
Ewers threw for 289 yards and four touchdowns on the day, completing 67.7 % of his passes in route to the blowout. However, that win would be the height of Ewers' 2022 season, as he would struggle down the stretch and make costly mistakes, which is par for the course for a freshman.
However, he might not get the same kind of patience from head coach Steve Sarkisian this season, as the Longhorns head into a "prove-it" year.
SoonerScoop's Carey Murdock, a new addition to the On3 site, isn't so sure that Ewers will even face Oklahoma this season if he continues to struggle out the gate in 2023.
"My question is — will there be a quarterback controversy? Will there be pressure on him to play well? Because of one young Mr. Five-star on the bench," Murdock said. "If he doesn't play well to start the season, I don't know that Oklahoma faces Quinn Ewers in that game."
Murdock is hinting at five-star phenom Arch Manning sitting on the bench as a true freshman. Could he push Ewers for the starting job this year? Maybe, but if I was going to be worried about someone taking Ewers' job this season, it would be Maalik Murphy.
Murphy looked stellar in Texas' spring game and has plenty of talent to be the guy in Austin. The question is, how much progress did Ewers make this offseason? In games against Alabama and Oklahoma last season, Ewers looked like the player he was touted to be. However, a three-interception game against Oklahoma State and another bad game against TCU, he showed some flaws as well.
There will be unspeakable pressure on Texas this season, with an early game against the Crimson Tide and a likely top-10 rankings to start the season. Can Ewers handle the heat, and if he can't, howl long will he hold off the other members of one of the nation's best quarterback rooms?