Big 12 News
Texas Softball Season Ends in Super Regionals With 9-0 Loss to Tennessee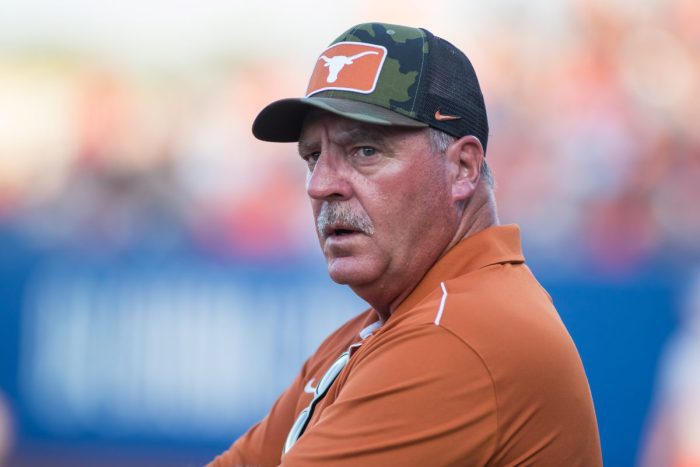 The Texas Longhorns 2023 softball season came to an end on Saturday afternoon in a 9-0 loss against the Tennessee Volunteers in the Knoxville Super Regional Round of the NCAA Tournament.
The Longhorns fought to keep their season alive on Saturday following a 5-2 loss in Game One on Friday, but with the fourth-ranked Volunteers seeking their first trip to the WCWS in eight seasons, Texas was sent home early in the Super Regional.
In this game, freshman pitcher Citlaly Gutierrez got the start for the Longhorns and went 5.2 IP, giving up four hits, three runs, and ended her day with four strikeouts. She, along with the help of the Longhorns defense, kept the Volunteers at bay giving up one run through the first five innings.
The sixth inning became a problem spot as the Longhorns gave up two runs to the Volunteers on fielding errors. Head coach Mike White elected to bring in Sophia Simpson to relieve Citlaly Gutierrez in the 6th inning and with a new pitcher in the circle for Texas, Tennessee turned things up a notch. After an RBI single from freshman catcher Destiny Rodriguez, a fielding error on a muffed throw allowed the Volunteers to round the bases and go up 3-0.
The Longhorns entered the seventh inning down just three runs but after multiple walks, hits, errors, and a pitching change, Tennessee loaded the bases with one out. The play of the game for the Volunteers came on a single with bases loaded from junior infielder Giulia Koutsoyanopulos who cleared the bases with an inside-the-park grand slam to put the game out of reach.
Texas' 2023 softball campaign comes to an end at the hands of the Tennessee Volunteers, and while Mike White's team looked to be one of the best teams in the nation, the Longhorns ended their season in a game that featured more errors than total hits.