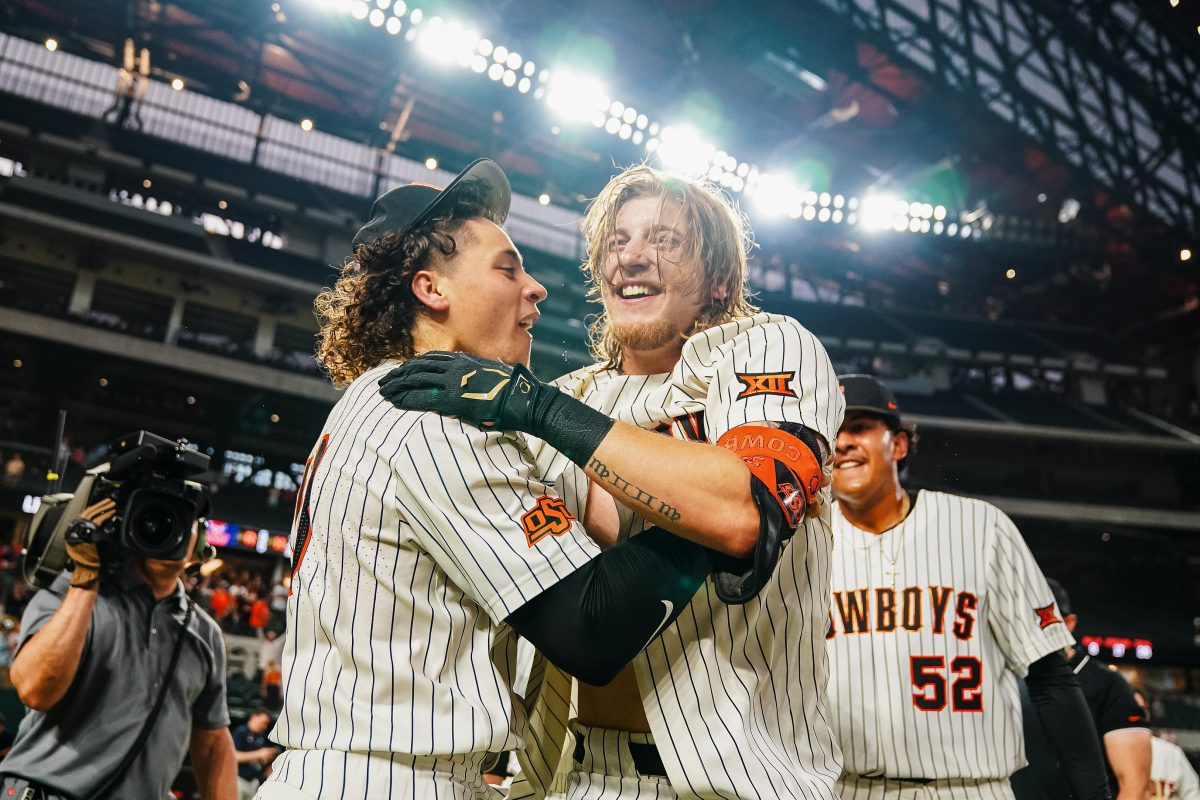 ARLINGTON, Texas — Aidan Meola hit the third home run of his Oklahoma State career in the Cowboys' 6-5 win over Texas Tech in the Big 12 Tournament semifinals.
That's not even the interesting part.
The interesting part is the confluence of events that led him to hit a walk-off home run that set off the Oklahoma State fans in Globe Life Field like a tinder box and led the Cowboys (41-17) in to the Big 12 Championship Game on Sunday against TCU.
Or, put another way by Cowboys coach Josh Holliday, it was a "pretty magical thing."
"I think he's had one or two live at bats and for him to sit there in that situation against an excellent pitcher and drill a home run right there," Holliday said shaking his head.
So here's what happened:
Roc Riggio started at second base for the Cowboys in their second game of the day (OSU beat Tech, 8-1, in their first game, setting up a true elimination game). But in the seventh inning he fell ill. That led coach Josh Holliday to put Brennan Holt in his place. That lasted an inning.
In the eighth, Holliday turned to Beau Sylvester to pinch-hit. As luck would have it, Sylvester — a .158 hitter — clobbered his second home run of the season, part of a five-run rally that erased a 5-0 Texas Tech lead.
Sylvester can do a lot of things. He can catch. He can play first base. He can even play outfield. But a second baseman he is not.
Enter Meola, a second-year infielder from Palm Beach Gardens, Fla.
He's grown as a player this year. He's improved into a .300 hitter. He even has two home runs (against Utah Tech and Dallas Baptist). But he's played less than 30 games, thanks to torn ligaments in his thumb suffered in a game against Baylor that required surgery.
Meola didn't want to miss time, but the injury had other ideas. He was "aggressive" in his rehab, in Holliday's words, and was able to return in time to get on the field twice in May — once against Kansas State and once against Oklahoma.
He didn't have an official at-bat in either game. In fact, Meola hadn't even taken the field in the Big 12 Tournament until he took the field after Sylvester pinch-hit for Holt, who took over second base for Riggio. Meola was about as cold a pinch-hitter as one could possibly imagine.
And then this happened.
"He carries great karma in the way that he goes about everything he does, and it came back to him right there," Holliday said.
A lot happened for Oklahoma State on Saturday. They scored 14 runs in two games, blew out the Red Raiders in one game and rallied from five runs down in the other. A pinch-hitter that batted .158 homered. A reliever, Gabe Davis, struck out two Red Raiders back-to-back to preserve the tie.
And then Meola. Well, let Holliday explain it.
"Karma is a real thing in this game, it's a real thing in life, and that was a kid (Meola) who got injured, had to have surgery, that came back from his surgery hard and pushed because he wanted to get back to help this team and the moment presented itself and so, it was a pretty magical day for our team," Holliday said.
You can find Matthew Postins on Twitter @PostinsPostcard