Trending Now
Pac-12 Hired Two Sports Economists Who Projected Market Value for Media Rights Comparable to Big 12: Report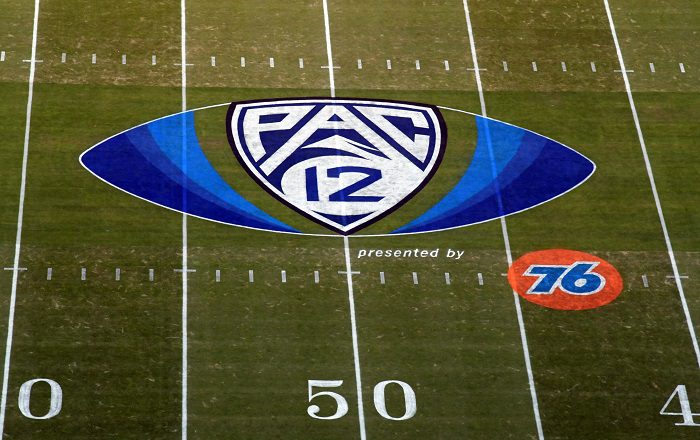 The biggest question looming over the college sports landscape is what, or if, the Pac-12 Conference will land a TV deal that justifies keeping the 10 remaining teams together in some capacity.
No one knows the answer, however with each passing day the Pac-12 doesn't have a deal, the more likely it is a team like a Colorado may ultimately jump ship and rejoin the Big 12 Conference.
The Pac-12 is trying to land a TV deal that is in the similar ballpark to the extension the Big 12 signed through 2031 for about $31 million per team, per year, on average. And according to media consultant and former Emmy-award winning producer Jim Williams, the Pac-12 recently hired two sports economists who projected the league could get itself into the range of where the Big 12 is in its next deal.
This follows up what has been a rough week for the Pac-12 on the news and rumors front.
Reports surfaced earlier this week that ESPN and the floundering conference were not having any "substantive talks" at this time. "ESPN and the Pac-12 are having no substantive talks at this time, according to sources," reported Andrew Marchand from the New York Post. "ESPN passed on the Big Ten, Sunday Ticket, Premier League, Champions League, and MLS, so the idea that it will be completely out on the Pac-12 is not in the least bit surprising. Things can always change, and maybe the Pac-12 can figure out a creative way to get ESPN involved, but right now that seems very unlikely."
The Big 12 has been waiting patiently to see how the Pac-12 television deal negotiations go down, but with each passing day, a deal of substance seems to be less and less likely. Meantime, Colorado is likely still basking of the glow of profiting over $200,000 from its spring game.
We'll see how this plays out for the conference, but needless to say, two sports economists can give whatever projections they want, but ultimately the marketplace will decide whether the Pac-12 is worth a similar number to the Big 12.