Basketball
Postscripts: Pac-12 Empty Words, McCullar Back to Kansas, Big 12 Baseball Tournament Location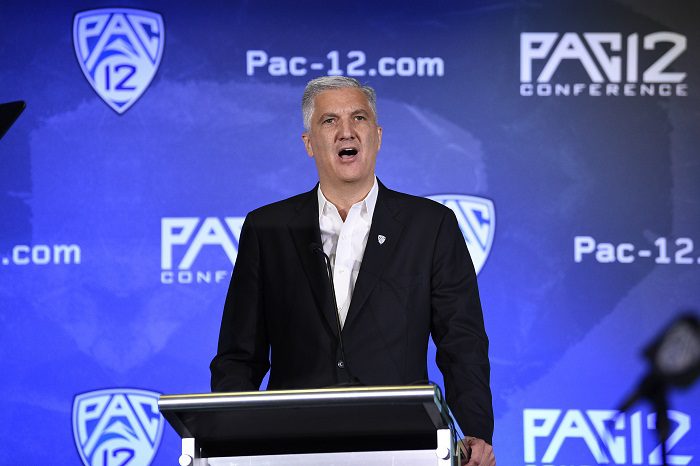 What's going on in the Big 12 and beyond? I expand and explain every Sunday in Postscripts at Heartland College Sports, your home for independent Big 12 coverage.
This week, Kevin McCullar is coming back, more Rick George quotes, does the Big 12 Baseball Tournament need to move and more.
Kevin McCullar and the NBA Get it Right
Kevin McCullar's return to Kansas is proof that the NBA Draft process is far and away the best of the four major sports.
McCullar — as he did after last season when he was with Texas Tech — declared for the NBA Draft but retained his college eligibility. Because the NBA and the NCAA are, well, smart on this particular issue, McCullar was allowed to go through the entire process — including individual visits with teams and participation in the NBA Scouting Combine (if invited, and he was).
Contrast that with the NFL, where you can get a draft grade from the NFL before declaring but can't talk to team officials or go through formal workouts until you declare, and when you do your eligibility is gone.
The NBA is giving players like McCullar — who is a borderline NBA Draft pick — a chance to make an educated decision about the future.
By the NCAA allowing McCullar to retain his eligibility, he has a place to go if he feels he's not ready, or if he feels he won't get picked.
Too many players in college sports declare early, in my opinion. But at least the NBA and the NCAA gives them an out that the NFL doesn't. To me, if you're not a lead-pipe lock draft pick and you have eligibility remaining, it's in your best interest to stay in college.
The Kansas City Star's Shreyas Laddha spoke to McCullar's father, Kevin Sr., and this quote summed up the process perfectly.
"Everybody was telling (him), 'Hey, we like what you do and you're going to have a long pro career,'" he said. "But at the same time, nobody can really say, 'Hey, we want to take you at the 47th pick' or 'We can take you.' You're not hearing those kinds of words. It's all a gamble. But one thing is for sure: (Bill) Self wanted him back. It's an easy plug. … With the timetable, you don't really have time to sit there and play what if — you're going to go with (what) you're guaranteed."
Why go back to Kansas? Someone like McCullar will get great coaching, all the playing time he wants and less pressure to scrape out a living on the edges of pro basketball outside of the NBA. Plus, the NBA will still be there next season.
And, he has a benchmark. In fact, he has two now — the one he got last summer and the one he just got. He can see where he improved, and where he needs to improve.
You saw what it did for Ochai Agbaji and Jalen Wilson? It could do the same thing for McCullar.
Even if McCullar ultimately isn't an NBA Draft pick one day, he's built relationships that will be useful in trying to get a job in the league. I don't see him as a high-level scorer in the league. But he does everything else well, especially the dirty work stuff some stars don't want to do. That's the sort of thing that can keep you in the NBA for a decade or more.
In this case, I think McCullar made the right call. And the NBA and NCAA have made the right call giving McCullar and others in his shoes the chance to find out without penalty.
This Week in "As The Pac-12 Turns"
Colorado athletic director Rick George said more than a month ago there was no truth to a rumor that the school was leaving the Pac-12 that week. Of course he was also commenting to a tweet from an account that no one knows who owns, so take that for what it's worth.
What George said earlier this week to BuffZone was a bit more believable and credible. But it's also the same line that Pac-12 athletic directors and presidents have been parroting as media rights negotiations have dragged on this spring.
"We're members of the Pac-12, we're proud members of the Pac-12 & we've got to see where our media rights deal lands & where our conference goes. In a perfect world, we'd love to be in the Pac-12, but we also have to do what's right for Colorado at the end of day. We'll evaluate things as we move forward."
In other words, we're Pac-12 members until we see the bag and then we'll decide. That's what that comment amounts to. And, at this stage, I don't blame George. Why?
Earlier this week reports surfaced that ESPN and the Pac-12 were not having any "substantive talks" at this time. "ESPN and the Pac-12 are having no substantive talks at this time, according to sources," reported Andrew Marchand from the New York Post. There's a lot of competition for the sports media dollar right now and ESPN is apparently being choosy.
So the beat goes on. Colorado's Board of Regents are scheduled to meet in a special board meeting on Tuesday and Wednesday. That could mean absolutely nothing when it comes to media rights.
As for the Big 12, when compared to the other two leagues it's competing with — the Pac-12 and the ACC — it's the model of stability. Earlier this week, Iowa State athletic director Jamie Pollard said the league is not looking to actively expand, in an interview with The Athletic. That should make Pac-12 fans happy, right?
That doesn't mean the body isn't willing, as they say.
"What we wanted to do is be positioned that if there were other conferences that had issues, that the Big 12 would be a great landing spot," Pollard said. "But we don't need anybody to come to the Big 12. So we're not actively looking to expand. But if the opportunity exists, we're ready to expand.
So, which conference is having issues right now? I can't put my finger on the name …
The easiest way to stop all the chatter is for the Pac-12 to make a deal, and it's a deal that looks tougher and tougher to make with every passing day.
A Big 12 Big League Feel
I covered the Big 12 Baseball Tournament this weekend in Arlington, Texas. In fact, I covered it for the second straight year. The tournament was at Globe Life Field, the home of the Texas Rangers.
I cover the Rangers for Inside the Rangers, which is part of Fan Nation and Sports Illustrated. So I spend a lot of time here. I appreciate the newness of the venue. I especially appreciate not sweating in July, thanks to the retractable roof. Plus, no rainouts.
But as a venue for a conference baseball tournament, I'm not a fan. Why? Atmosphere. There simply wasn't much of any. When you can hear the catcher's glove pop in the right-field bullpen during the game, you have an atmosphere problem. The weekend got a little better, in terms of that, but not by much.
I never covered the tournament when it was in Oklahoma City. Perhaps it's different at a minor-league baseball venue. But at a 40,000 pro baseball stadium, you're not going to get he kind of atmosphere you're going to get at, say O'Brate Stadium in Stillwater.
I'm sure the players loved playing at an MLB park. That's a memory for a lifetime. But the league should look in another direction, in my opinion.
Ashley Joens, Creative Bucket Getter
Former Iowa State star Ashley Joens is a rookie with the WNBA's Dallas Wings. In fact, she's one of three rookies that made the Wings roster.
Most teams like to throw up halfcourt shots at the end of shootarounds to have a little fun. Friday was no exception as the Wings prepared to face the Seattle Storm.
Joens ended up playing pinball with the shot.
You can find Matthew Postins on Twitter @PostinsPostcard