Big 12 Basketball
Oklahoma Sooners Women's Basketball 2023-24 Offseason Roster Tracker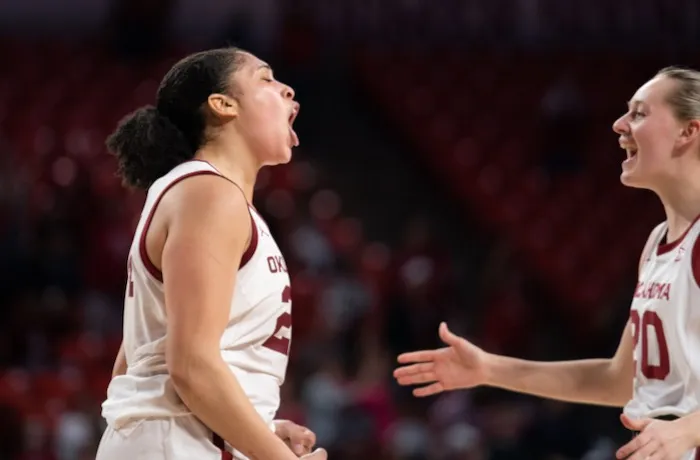 The Oklahoma Sooners are working on assembling their 2023-24 women's basketball roster and we'll track every move here throughout the offseason.
Departures
G Ana Llanusa: The oft-injured guard had a healthy final season for the Sooners, averaging 11.8 points and 3.8 rebounds per game.
G Taylor Robertson: She completed her pursuit of the Division I career 3-point record, met Steph Curry and averaged 11.3 points per game.
F Madi Williams: Like Llanusa and Robertson, Williams had a tremendous final season. She led the team with 15.7 points per game and was named All-Big 12 First Team.
C Emma Svoboda: She played in just five games last season and ended up transferring to Kent State after the season.
Arrival Via Transfer
G Lexy Keys (from Oklahoma State): Keys opted to transfer after the season and ended up with the Cowgirls' Bedlam rival after she averaged 9.5 points and 3.9 rebounds last season. She emerged as one of OSU's best defenders.
Expected to Return
G Kayla Cooper: She played in just six games last season, but she was a Top 70 national player and a key member of the 2022 recruiting class.
C Beatrice Culliton: Culliton carved out a backup role as a true freshman, averaging 10 minutes and 4.2 points and 3.0 rebounds per game.
G Aubrey Joens: The sister of Iowa State legend Ashley Joens assumed a bench role for the Sooners in her first season in Norman, averaging 6.1 points and shooting 41.4 percent from the 3-point line.
F Kiersten Johnson: Johnson averaged 9.2 minutes per game as a true freshman and averaged 3.0 points and 2.2 rebounds per game.
F Jordan Moser: The daughter of Oklahoma men's coach Porter Moser played in three games last season and returns for her senior season.
G Reyna Scott: The freshman played in 24 games as a back-up to the team's seniors and averaged more than nine minutes per game.
F Liz Scott: Under-recognized by the overall Big 12 community, Scott started all 33 games and averaged 8.6 points and 6.3 rebounds per game.
G Nevaeh Tot: A second starter set to return next season, Tot was the team's leader in assists with 121, and also put up 7.5 points per game.
G Kennady Tucker: Tucker returns after playing in all 33 games, averaging 17.7 minutes and 2.7 points per game.
G Kelbie Washington: She was injured all of last season for the Sooners, which was a shame as she was coming off a 2021-22 season in which she averaged 6.7 points after she got additional playing time after Llanusa's injury. She should be healthy for next season.
G Payton Verhulst: She transferred in from Louisville at midseason and had to sit out the rest of the season. She should be ready to go next season.
F Skylar Vann: Vann has been the top bench player in the conference for the past two seasons. In 2022-23, she averaged 11.5 points and 6.8 rebounds per game. Next season she should be a sure-fire starter.
Class of 2023 Recruits
C Landry Allen, 6-foot-3 (Tuttle, Okla.): The Sooners kept the center home and add to a burgeoning frontline. The four-star prospect was considered the No. 2 prospect in the state when she signed in November.
F Sahara Williams, 5-foot-10, West High School (Waterloo, IA): Coach Jennie Baranczyk reached back into her old backyard (she used to be the head coach at Drake in Des Moines) and snagged the five-star guard who was considered a Top 25 player by two different recruiting services.
You can find Matthew Postins on Twitter @PostinsPostcard