Big 12 Previews
2023 Women's College World Series Preview: Oklahoma State vs. Florida State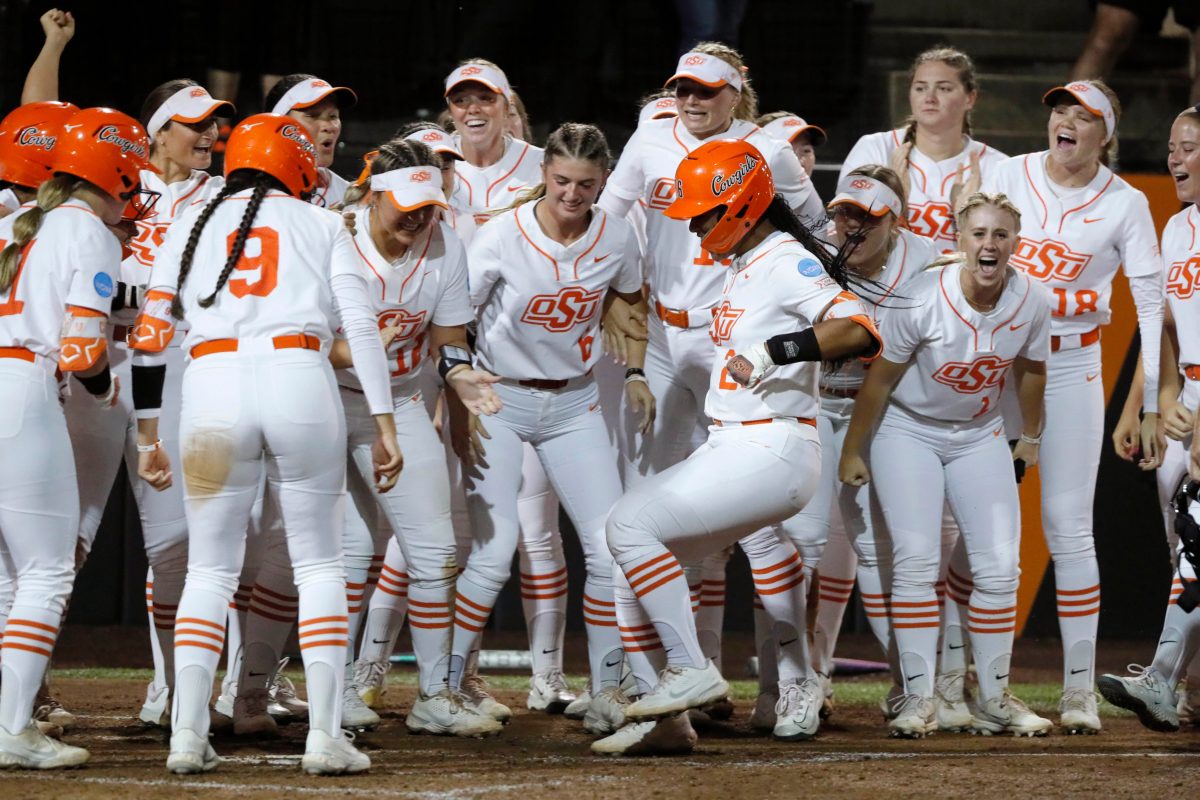 Oklahoma State has returned to the Women's College World Series for the fourth straight year, joining Arizona, Arizona State, Florida, Oklahoma, and UCLA as the only schools to ever accomplish that feat.
Behind strong pitching and an offense that has sprung back to life, Oklahoma State looks like a prime contender to play itself into the Championship series next week.
However, Florida State is thinking the same thing and will hope to draw even with the Cowgirls for 2023 after dropping two of three in Stillwater earlier this year.
Here's everything you need to know about the Cowgirls and Seminoles ahead of their WCWS Matchup.
GAME INFO
LOCATION: HALL OF FAME STADIUM; OKLAHOMA CITY, OKLAHOMA
DATE/TIME: THURSDAY, JUNE 1; 6:00 P.M. CT
NETWORK: ESPN
TALE OF THE TAPE
NO. 6 OKLAHOMA STATE (46-14)
Oklahoma State has looked much more like the team that held onto the No. 2 spot for a large portion of the regular season since the tournament started, and a lot of that is thanks to a resurgent offense. Through Super Regionals, the Cowgirls have outscored opponents 37-3, and haven't had a game closer than two runs along the way. Lexi Kilfoyl's been at her best and it appears that Kelly Maxwell is coming back into her own down the stretch. If that duo can keep working the way it has been, Oklahoma State is a legitimate threat to take home a trophy next week.
NO. 3 FLORIDA STATE (55-9)
Florida State's success has been much like Oklahoma State's this season when at its best: a strong pitching staff leads an offense with the propensity to score runs in bunches. However, like the Cowgirls, the Seminoles' offense can disappear at times. In their lone tournament loss thus far, Florida State was shut out 4-0 against South Carolina. In the following game, FSU mustered up just one run, but thanks to a perfect game from Kathryn Sandercock, it was enough. Against Oklahoma State, the Noles will need to find some offense in order to move on.
PLAYERS TO WATCH
Kelly Maxwell, LHP, Oklahoma State
Since tournament play began, Lexi Kilfoyl has allowed just one earned run in 16.2 IP. In addition, she's only allowed seven hits in that time, giving OSU a legitimate second arm to pair with Kelly Maxwell down the stretch. Kenny Gajewski has leaned on Kilfoyl in some big moments this postseason, allowing Maxwell to take some time and rejuvenate some of her stuff and if Friday's game against Oregon was any indication, the time off did her well. In a complete game shutout, Maxwell struck out eight, walked none, and allowed two hits. With her back in a groove, OSU is formidable in the circle.
Kathryn Sandercock, RHP, Florida State
As a First-Team All-American selection, Katheryn Sandercock has been fantastic for Florida State in big moments all season. She's thrown 21.2 innings in this tournament and has allowed just two earned runs in that time. Known primarily as a ground-out pitcher, Sandercock has 15 Ks through Super Regionals and 39 groundouts in that same stretch. Perhaps the biggest development for FSU this season has been the arrival of Makenna Reid. The freshman earned Second-Team All-American status with a 12-0 record and a 0.93 ERA over 75.0 IP. Adding her to the mix in the circle has proven difficult for the Noles' opponents.
ONE THING TO WATCH
Which team can strike first? That will be the biggest question in this game in what I expect to be a pitchers' duel. With the way these staffs have been throwing, it wouldn't surprise me to see a 1-0 or 2-1 score in the end, which we've seen a lot of from both of these squads.
If it does become that kind of game, can Oklahoma State stand up to the pressure? Those low-scoring affairs are what bit them at the end of the season, and they've looked much more comfortable and free with several runs on the board. Against Florida State, those runs might be hard to come by.
While I think it'll be a test, OSU seems to be well past their late-season skid and I expect them to find a way to battle if they can't crack Sandercock. This might be the best matchup in the opening round of the WCWS, so buckle up and enjoy it.