Baylor Bears
Oklahoma Softball Lands Five NFCA First-Team All-Americans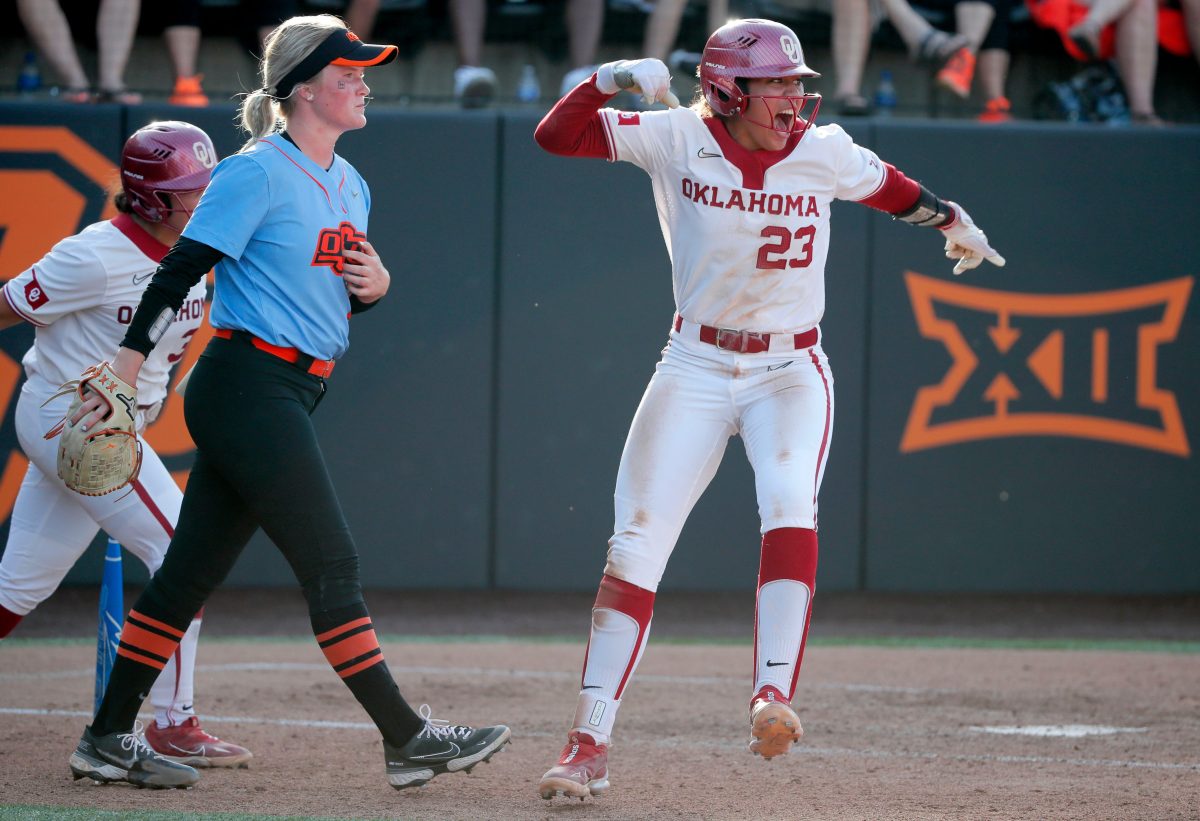 The Oklahoma Sooners are the standard in college softball in 2023, so it should come as no surprise that they landed five players on the NCFA First-Team All-American list.
Tiare Jennings (2B), Alyssa Brito (3B), Jayda Coleman (OF), Jordy Bahl (P), and Kinzie Hansen (C) highlight the first-team list for OU. Tennessee and UCLA both has two selections on the first-team tying for second nationally.
Alabama, Washington, Oregon, Florida, Georgia, Clemson, Arkansas, Wichita State, and Auburn all had one selection apiece.
Three Big 12 players made the NFCA second team, with Oklahoma State's Kelly Maxwell (P) and Rachel Becker (2B), as well as Baylor's Shaylon Govan (1B), getting the nod.
Oklahoma State also had two selections on the NFCA third team, with Lexi Kilfoyl (P) and Kiley Naomi (SS) both being listed.
Here's a look at the list, courtesy of NFCA.org.
NFCA First-Team
| Position | Name | School |
| --- | --- | --- |
| P | Ashley Rogers | Tennessee |
| P | Megan Faraimo | UCLA |
| P | Montana Fouts | Alabama |
| C | Terra McGowan | Oregon |
| 1B | Baylee Klinger | Washington |
| 2B | Tiare Jennings | Oklahoma |
| 3B | Alyssa Brito | Oklahoma |
| SS | Skylar Wallace | Florida |
| OF | Kiki Milloy | Tennessee |
| OF | Jayda Coleman | Oklahoma |
| OF | Jayda Kearney | Georgia |
| Joan Joyce UT/P | Valerie Cagle | Clemson |
| DP or UT/Non-P | Rylin Hedgecock | Arkansas |
| At-Large-SS | Sydney McKinney | Wichita State |
| At-Large-SS | Maya Brady | UCLA |
| At-Large-P | Jordy Bahl | Oklahoma |
| At-Large-P | Maddie Penta | Auburn |
| At-Large-C | Kinzie Hansen | Oklahoma |
NFCA Second-Team
| Position | Name | School |
| --- | --- | --- |
| P | Kathryn Sandercock | Florida State |
| P | Kelly Maxwell | Oklahoma State |
| P | Alana Vawter | Stanford |
| C | Kayla Kowalik | Kentucky |
| 1B | Shaylon Govan | Baylor |
| 2B | Allee Bunker | Oregon |
| 3B | Megan Grant | UCLA |
| SS | Erin Coffel | Kentucky |
| OF | Yannira Acuña | Arizona State |
| OF | D'Auna Jennings | Duke |
| OF | Alex Hannold | Missouri |
| UT/P | Taylor Roby | Louisville |
| DP or UT/Non-P | Karly Heath | Louisiana |
| At-Large-2B | Taryn Kern | Indiana |
| At-Large-1B | MaKenna Gibson | Tennessee |
| At-Large-2B | Rachel Becker | Oklahoma State |
| At-Large-P | Autumn Pease | Minnesota |
| At-Large-P | Chenise Delce | Arkansas |
NFCA Third-Team
| Position | Name | School |
| --- | --- | --- |
| P | Lexi Kilfoyl | Oklahoma State |
| P | Sydney Berzon | LSU |
| P | Mariah Lopez | Utah |
| C | Taylor Krapf | Minnesota |
| 1B | Julia Cottrill | Texas A&M |
| 2B | Sydney Kuma | Georgia |
| 3B | Makena Smith | California |
| SS | Billie Andrews | Nebraska |
| OF | Sami Reynolds | Washington |
| OF | Mihyia Davis | Louisiana |
| OF | Ashley Trierweiler | Santa Clara |
| UT/P | Brianna Copeland | Indiana |
| DP or UT/Non-P | Kayla Konwent | Wisconsin |
| At-Large-P | Ruby Meylan | Washington |
| At-Large-DP or UT/Non-P | Taylor Minnick | Indiana |
| At-Large-C | Autumn Owen | Marshall |
| At-Large-SS | Kiley Naomi | Oklahoma State |
| At-Large-SS | Kayla Roncin | Boston |