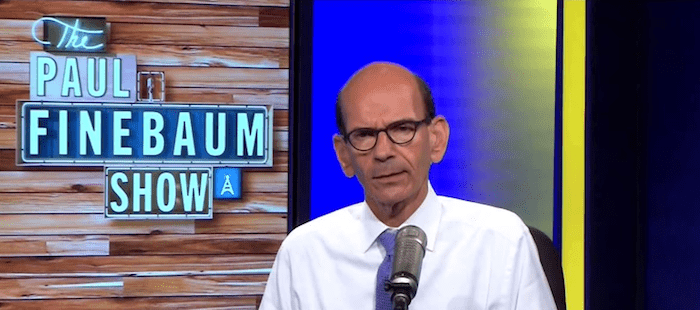 The Mouth of the South, Paul Finebaum, typically doesn't have much good to say about the Big 12, if anything at all.
Most of the time, when he ends up in headlines coinciding with Big 12 news, its because he has something ridiculous to say about the conference, like last year when he claimed that nobody would be watching the Big 12 Championship Game.
Well, Finebaum is back in the headlines on Wednesday, but this time around he seems to be advocating for the Big 12, instead of against it.
In a recent episode of McElroy and Cubelic, Finebaum was asked which conference was in a better spot as it currently stands in college football and expansion: The Big 12 or the ACC?
"I believe it's the Big 12 because the Big 12 is ascending, Greg," Finebaum said. "The Big 12 looks like it made a very good move with the four schools that they got. I mean, we may have looked at it on the day it happened and go 'Well that's not exactly Southern Cal and UCLA and Oklahoma and Texas, but they're all quality in their own way. So the Big 12 still seems to be desirous. I mean, you mentioned Rick George from Colorado. That might not be the end of it. Who's trying to get in the ACC today? Nobody. Who's trying to get out? Everybody."
The Big 12 will officially add BYU, Cincinnati, Houston, and UCF on July 1, 2023, and it appears that it may not be done with expansion.
Recent reports suggest that Colorado is seriously considering a return to the Big 12, and that could cause the other Four Corner schools to follow suit. Gonzaga and UConn have been rumored to be interested in coming aboard as well, making the Big 12 an incredibly attractive conference right now.
Meanwhile, the ACC is doing everything it can to keep its members intact and the Pac-12 is well, the Pac-12.