Big 12 News
Big 12 Conference to Launch In-House Commercial Sales Division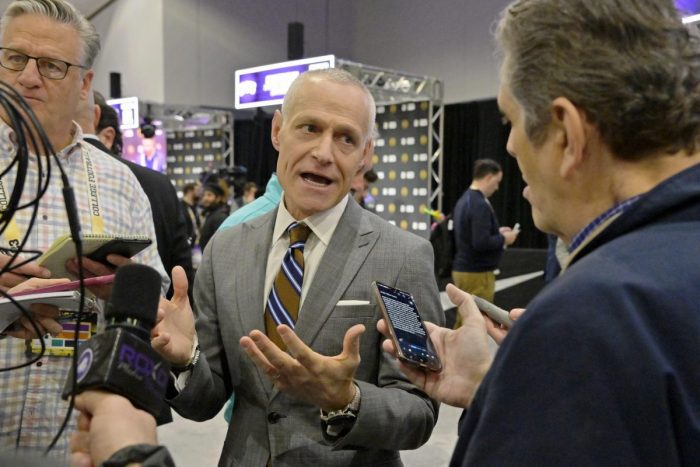 The Big 12 is set to launch an in-house commercial sales division for the first time in the conference's 27-year history, according to a press release on Thursday.
With the conference taking complete control of its commercial business, the Big 12 will also be hiring Sean Desmond, the Big 12's first-ever Vice President of Sales to lead commercial efforts.
Desmond will report directly to Big 12 Commissioner, Brett Yormark. Additionally, the Conference is hiring Austin Greenstein as Senior Director of Ticketing and Partnerships. Greenstein, most recently with Fenway Sports Management and the Boston Red Sox, will report to Desmond.
According to the release, the Big 12 Conference's commercial outreach strategy will be executed at the local, national, and international level. The Conference will use its in-house sales engine to maximize current revenue streams – which includes Big 12 Championships – as well as establish new opportunities.
One of the first commercial sales opportunities the Conference will pursue is the title partner for the 2024 Big 12 Pro Day. Additional opportunities include the partnership rights of the Big 12 replay operations room and its entire gameday venue monitoring operation, the Conference's 2023 summer activations in New York City's Rucker Park, as well as other newly introduced IP.
"As we continue to innovate the Big 12 Conference, controlling our commercial business is a crucial step," said Commissioner Brett Yormark. "Through our commercial sales division, the Big 12 will look to grow each aspect of our Conference, enhancing existing revenue drivers and establishing new ones. Following his five years leading commercial sales in the college athletics space, we are thrilled to welcome Sean Desmond to the Big 12 family."
In addition to sponsorship sales being led internally, the Conference will lead all its ticketing sales and operations for its championships and new events. The Conference will continue to work with LEARFIELD on a project-by-project basis and will tap into its vast resources, including ongoing relationships with LEARFIELD businesses CLC and SIDEARM, as the Conference continues to innovate and grow.
Since Brett Yormark took over as Big 12 Commissioner last summer, he has done an incredible job in modernizing the conference's business structure and stabilizing the league heading into the future. This move further allows the conference to determine its own path forward, which is just one more reason to be excited about what's ahead for the ascending Big 12 conference.