Trending Now
Deion Sanders' Hire 'Significant Factor' in Brett Yormark's Interest in Colorado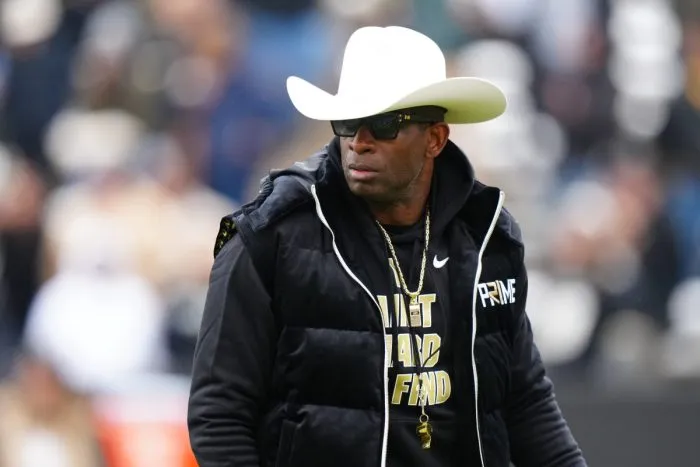 The Athletic's Stewart Mandel recently reported that Colorado has been the "most receptive" Pac-12 school in discussions with the Big 12, which aligns with several other reports that have come out in recent days.
Last week, Berry Tramel of The Oklahoman said that the Buffaloes were ready to commit to the Big 12 "soon." Then, on Wednesday, CBS Sports' Dennis Dodd reported that Colorado has held "substantive talks" with the Big 12, and could cause a domino effect if it were to leave.
So, with all of this smoke that Colorado and the Big 12 are meeting, it's not really a question of whether the conference is interested in adding the Buffaloes, it's if they can get them to come back to a conference they left just over a decade ago.
What is it that makes Colorado such an attractive expansion target for the Big 12? Well, there's the obvious familiarity, and the fact that adding one could mean adding four.
However, Stewart Mandel also points to one of the most polarizing personalities in college football as a selling point for Brett Yormark.
The splashy hire of Deion Sanders to revive the Buffaloes' football program has been a significant factor in Yormark's interest. The Pro Football Hall of Famer has almost instantly made Colorado nationally relevant in his first six months on the job and is viewed as an ideal fit for Yormark's stated vision of a "younger, hipper, cooler" conference. Fox Sports announced Wednesday that Colorado's first two games under Sanders are getting the "Big Noon Kickoff" time slot this fall. The Buffaloes had a sellout crowd of more than 47,000 for its spring game in April, one year after counting 1,950 in attendance for its previous spring game.
Mandel also points out that Colorado is also located in the No. 16 rated television market and would present a perfect travel partner with BYU, who is set to join the Big 12 in exactly one month.
Stay tuned Big 12 fans, because it seems that things are really starting to heat up between the Big 12 and Colorado as we head into the summer months, and it might not be long before the dominoes start falling.