featured
WCWS: Three Thoughts on Oklahoma State's 8-0 Loss to Florida State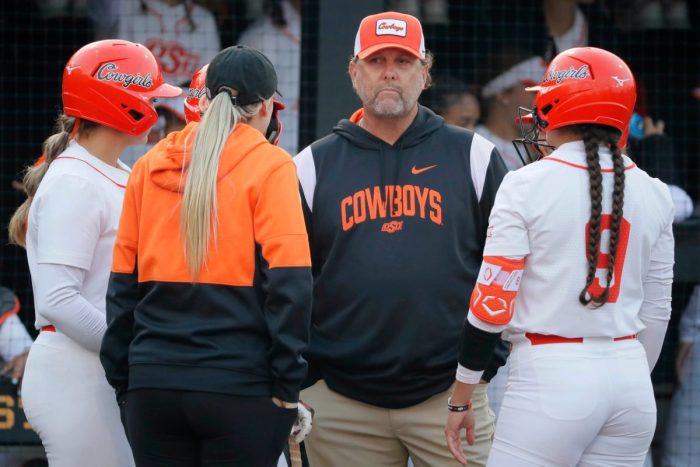 In Game 3 of the Women's College World Series, it was Florida State who advanced in the winners' bracket with a 8-0 (6) victory over Oklahoma State.
Despite a rain delay that lasted nearly two hours, the Seminoles were dominant in this game behind the arm of Kathryn Sandercock.
The loss sends Oklahoma State to the losers' bracket, where they will face the loser of Game 4 between Washington and Utah (postponed). Meanwhile, Florida State will face the winner of that game.
Here are three thoughts on the game and what it means going forward.
Kathryn Sandercock Does It Again
Florida State has leaned on Kathryn Sandercock in big moments since she arrived in Tallahassee, and tonight was no different. The senior out of McLean, Virginia was spectacular yet again, as she's been all season long.
In 5.0 IP, Sandercock walked two and surrendered four hits, but she struck out four and retired 10 more via flyout or groundout. Of her 88 pitches, 58 were strikes, and it seemed as if she was one step ahead of Oklahoma State the entire way.
After five, and a 7-0 lead, Florida State opted to bring in Mack Leonard, who went 1.0 inning with one strikeout on just 12 pitches.
The win moves Sandercock to 27-3 on the year and advances her team into the winners' bracket where they'll face the winner of Washington and Utah on Saturday night.
Haven't We Been Here Before?
Just three innings into the game, officials declared a rain delay that lasted one hour, 46 minutes. That was on top of the game being delayed an hour and 14 minutes. So, when play resumed just before 10:00 p.m. CT, the game was exactly three hours behind schedule.
Sound familiar? If not, let me jog your memory. Back in 2023, the Seminoles and Cowgirls faced off in the Women's College World Series, in a game that was severely delayed but had to be played due to time constraints with the tournament. So, at approximately 11:50 p.m. local time, the game started and wasn't officially over until 2:18 a.m. local time.
What's even crazier is, that game featured Kelly Maxwell against Kathryn Sandercock, with Florida State prevailing. Sandercock was 26-3 after that game in 2021, and entered this game with a 26-3 record. Meanwhile, Kelly Maxwell was 15-5 after that game in 2021, and entered this game with a 16-5 record.
Can you say Deja Vu? Luckily, that 2021 game ultimately changed the rules at the WCWS, with extra days now in place so that games can be postponed to the next day.
Cowgirls Facing Elimination on Friday
With the loss, Oklahoma State drops to 0-1 in Oklahoma City and has no room for error the rest of the way. Despite dominating their way through regionals and super regionals, the Cowgirls found themselves on the wrong side of a dominant performance tonight, but this isn't the end of the road.
Kenny Gajewski's group will have to pick themselves up and turn this around quick too, because their first elimination game will be on Friday against either Washington or Utah.
With Kelly Maxwell only going 2.0 innings, I would expect her to be available tomorrow, but don't be surprised if OSU decides to go with Lexi Kilfoyl. The Alabama transfer has become a reliable starter in this tournament, and her presence in the circle might be just what the Cowgirls need to get things turned around.
Either way, they'll be facing a potent Pac-12 offense, with both Washington and Utah capable of lighting up a scoreboard. If the Pokes can't manufacture some runs, like they couldn't tonight, it could be "two-and-que" for Oklahoma State.